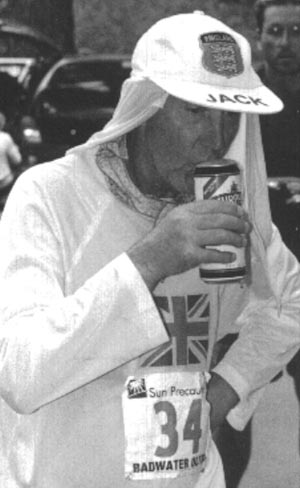 Name: Jack Denness
City: Rochester
State: Kent
Country: England
---
Nationality: English
Occupation: Semi-retired
Birthday: 2-2-1935
Age: 66 years
T-Shirt: Medium
---
Number of Years Running: 24 Years
Number of Marathons: 105
Distances:
50k-NORTH DOWNS ULTRA RACES
Gravesend,Kent, England.
Every year-1986 to 1999
Completed all in times of approx.4hrs.
---
50mi-Various track races in UK
Completed all in time of approx.10hrs
---
100km-100 KM ASSOCIATION CLUB CHAMPIONSHIPS
London England. 12 hrs.
---
100mi-80 Mile European/World Trail Running Championships.
South Downs,Petersfield to Eastbourne,England
Every year-1984 to 1997
Completed all in times of approx. 21hrs.
---
100mi+-
9xBadwater races (details below)
Previous Badwater Racing: 1991 56hrs-19mins 1998 57hrs 39mins
1992 58hrs-19mins 1999 54hrs 06mins
1993 50hrs 25mins 2000 58hrs 37mins
1994 59hrs 25 mins
1996 56hrs 13mins
1997 D.N.F.
Previous Badwater Crewing: 2000 Crewed at the beginning for Chris Moon's return to Badwater ( D.V 300 )
Previous Badwater Clinic
---
Best Ultra Run Experience:
"OUT&BACK".ie:Completed Hi-Tec Badwater 1994 race, then back to Badwater to complete the "DEATH VALLEY 300"
---
Weird Experience:
Seeing Space-ships--Ghost Waggons,The Old Red Devil, Vintage cars--Bank notes and Christmas cards on trees etc, in most of my Death Valley races,Yes of course hallunications!
---
Challenge:
With out any doubt it must be the "Death Valley 300" which I completed in 1994,becoming joint 5th to achieve this challenge. Why do it? Just had to do it, couldn't resist the challenge
---
Why:
It is the challenge doing something that people say cant/shouldn't be done by seniors,my aim is to prove that it is possible and "enjoyable"
---
Why badwater:
I race in Badwaters because it is one of the toughest races in the world,well organised,with comradeship amongst the competitors second to none.
---
Other Exp.:
None
---
Media:
UK Newspapers
---
More Media:
None
---
Charity:
Yes,most certainly, The Rotary Club Of Medway (UK)charity for disabled childrens dream holidays.
---
English: yes
Crew English: yes
Hike: no
Permit: yes