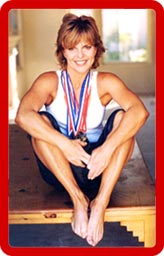 Name: Shannon Farar-Griefer
City: Calabasas
State: Calif
Country: USA
---
Nationality: American
Occupation: Fitness Spokesperson
Birthday: May 21, 1961
Age: 40
T-Shirt: small
---
Number of Years Running: 9 years
Number of Marathons: 9
Distances:
50k-Bulldog 97' 5:51
Bulldog 98' 6:34
Bulldog 00' 6:41
Cuyamaca 98' 6:45
San Juan Trail 7:05
Holcomb Valley 7:09
Baldy Peaks 9:46
Dam Tough Run 97', 6:34
Sadomasochist 97' 6:40
Ridgecrest 98' ?
Ridgecrest 99' ?
---
50mi-San Juan Trail 99' 11:18
San Juan Trail 98' ?
Bishop High Sierra 00', 12:42
Bishop High Sierra 99'
Bishop High Sierra 98'
Leona Divide 97'
Leona Divide 98'
Leona Divide 99'
Leona Divide 00' 12:03,
Avalon 98'
Avalon 99'
Avalon 00' 10:14
Pacific Crest Trail 99', Fire on course
Pacific Crest Trail 00' 12:31
Winter Park, CO, 97' 11:29
---
100km-Angeles National Forest 99'
---
100mi-Rocky Racoon 98' 28:49,
Rocky Racoon 99' 30:00
---
100mi+-
Previous Badwater Racing:
Previous Badwater Crewing: 2000, paced and crewed Jay Grobeson who placed 7th overall and 3rd American, particpated in Badwater training clinic and have been training on the course.
Previous Badwater Clinic I've just enjoyed the people and Ben and Denise and their help with all of us who were training or out there getting acclimated to the heat to pace a competitor.
---
Best Ultra Run Experience:
They are all an experience to me. We all have good days and bad days and I will always remember each race. I think my first hundred was my greatest experience, because I went to a place that I've never been to...and I like it so much that I went back for more. This was Rocky Raccon in 1998
---
Weird Experience:
After 50 miles things get a little weird, but again my first 100 because of my halucinations of the football helmet on my head, when actually it was just my head phones and a hat.
---
Challenge:
I still see all of the races as challenging, some are more because maybe you are not having such a great day or the other many reasons that occur. I still see each race as a challenge in it's own sense.
---
Why:
Because I love the outdoors and the beauty of the earth that I am running on. You learn to love the mountains and the desert and the rain and the heat, whatever conditions you are in, you know you better love this place.
---
Why badwater:
After participating in the Badwater training clinic and pacing Jay in the year 2000, it validated my fantasy of some day doing the race. Ben and Denise were a big part of my decision as they saw that I had the Badwater bug.
---
Other Exp.:
Triathlons, and a one day Adventure race
---
Media:
I have been asked by Fox 11, Channel 4 and others and I have not thought about it yet as I am just now focusing on me being there and when I decide if I want media coverage I will know then.
---
More Media:
Again same as above
---
Charity:
I am currently running for the Special Olympics for the mentally retarded and Camp Ronald McDonald whcih benefits the children with cancer. I run all my races for charity, I coudn't do this type of sport for myself only. I think it would be a bit selfish when I have such a gift and there are people in the world who have to suffer, I don't have to, but sometimes during these long runs I do, it's those people who don't have a choice who get me through.. I am running all my races to raise money and awarerness for the charity I am running for.
---
English: yes
Crew English: yes
Hike: yes
Permit: yes