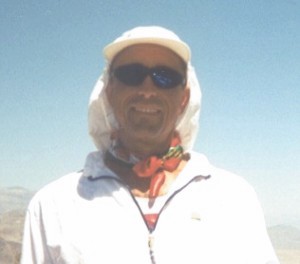 Name: Rick Nawrocki
City: Torrance
State: CA
Country: USA
---
Nationality: American
Occupation: Graphic Designer
Birthday: 07/02/55
Age: 46
T-Shirt: XL
---
Number of Years Running: 9
Number of Marathons: 11
Distances:
50k-Seven
Bulldog, Malibu Culo Gordo, Santa Monica Mountains
---
50mi-Four
Dick Collins Fire Trail 50
American River
---
100km-One
I can't remember the name.
---
100mi-Two
Rocky Racoon
Kettle Moraine
---
100mi+-One
Badwater
Previous Badwater Racing: 2000 Badwater 33rd Place 55:04:18
Summit of Mt. Whitney 79:52:30
Previous Badwater Crewing: Crewed in 1999 for Scott Weber with his wife Theresa
Previous Badwater Clinic 4th of July 2000
---
Best Ultra Run Experience:
Coming into Lone Pine the 3nd morning about 7am and being greeted by Denise & Shannon. Then while eating breakfast & having my feet worked on by "The Blister Queen" Denise Jones Ben comes up and sits down and elbows me and says (with the enthusiasm of a 10 year old at Christmas) "Isn't This Great," he knew how happy I was, getting close to living my dream...compleating Badwater. But then getting ready to leave Denise & I made eye contact a few time & she knew the feelings I was having about finishing, what had gotten me thru all the battles with cancer over the last year. We both had tears welling up in our eyes...but it was going up the beginning of the Portal Road that they came pouring out...tears of happiness, more than I can explain.
---
Weird Experience:
The 2nd night after going thru check point # 4 and heading down towards Keeler with all the smoke in
the sky and limited lights I was trying to use the road seemed like a tunnel and along the sides I saw all kinds of lawn furniture & buildings...till I would shine my light on it & see it was, desert foliage (cactus, plants, etc.)
---
Challenge:
Badwater 2000
Because of what I had to go thru with Non-Hodgkins & then B-Cell Lymphoma. My Nutrition Coach & Friend Cathy Sassin @ Gold's Gym (Premier Adventure Racer) gave me an actual Passport for the Eco-Challenge & that is how I deal with treatments, like a long Adventure with many PC's. This was my Race starting in January 2000
***PASSPORT CONTROL***
PC1) Being told I need to get Biopsy on my arm.
PC2) Biopsy & 25 internal stitches.
PC3) Getting thru being told I have another form of Cancer, B-Cell Lymphoma.
PC4) CAT Scan.
PC5) MRI
PC6) Waiting to see if I'm accepted for Stage III Clinical Trial.
PC7) Bone Marrow Biopsy (4th One)
PC8) Signing wavier & accepting Experimental Medication (Liquid Radiation).
PC9) Waiting to see if Ins. will cover Stem Cell Harvest.
PC10) Learning how to Inject my-self w/ Neupogen. *SS Harvest APPROVED*
PC11) Stem Cell Harvesting done on Monday
& Tuesday 5/22 - 5/23, 2000
(3.6 Million Sem Cells Harvested)
PC12) Starting 1st Infusion of Rituxan.
PC13) Infusion #2 Rituxan, backed w/ ZEVALIN
Experimental Liquid Radiation @ UCLA
PC14) Weekly blood test & visual on bumps (Tumors).
PC15) Badwater Heat Training July 4th Weekend.
PC16) More Dr. appointments right up till departure.
PC17) COMPETE IN BADWATER 135 and then Summit Mt. Whitney.
---
Why:
To help me deal with my Cancer. The way I look at it, if I can go through over 100 Dr. appointments, scans, biopsies, treatments & assorted things in the last year, I can run One Mile at a Time to total 135. Then while I'm going thru treatments & things seem bad I think, If I can run Badwater or a 100 mile race one mile at a time, I can do this (no matter how bad it is) one day at a time to save my life. I look at treatment as just one more part of my training, like running, weights & eating healthy, It MUST be done to compete!!!
---
Why badwater:
Because it the most challenging race I can think of without getting into adventure racing. Adventure races take a Team and I don't want to let my Team down if Chemo or other treatments make it so I can not race or be up to 100% what the team deserves.
---
Other Exp.:
Just Mountain Biking for a few years in the Santa Monica Mountains.
---
Media:
No
---
More Media:
No
---
Charity:
AHA (Athletes Helping Athletes) Because it's a fairly small charity & they could use the help. It's also for a very good cause, The Challenged Athlete Foundation. The money raised helps pay for prosthetics & things they need to be able to race & compete.
---
English: yes
Crew English: yes
Hike: yes
Permit: yes