The 2003 Badwater Ultramarathon Webcast

---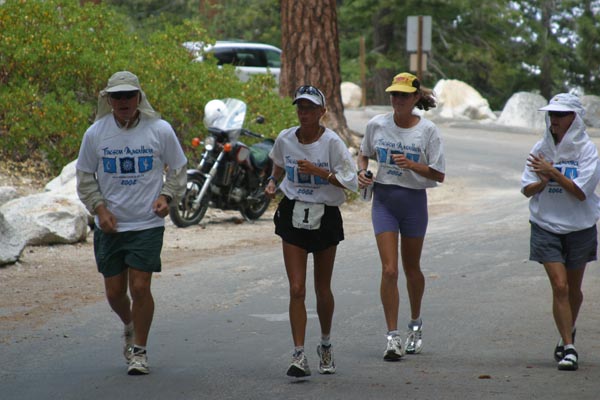 Runners Bear Temperatures Nearing 130 Degrees as Reed Defends her Overall Title
By Amit Mehrotra
Pam Reed was running across Death Valley, Tuesday afternoon, braving temperatures of 130 degrees. Her four-person, two-van crew scrambled to spray her with water every quarter-mile.
At mile 42 at about 5 p.m., she asked her friend and crew-member Susy Bacal, "Do you think it's hot today?"
Reed wasn't concerned. She had just passed the second and third-place men. The top male, Christopher Bergland, was just a few miles ahead. She had 93 miles to catch him, but she did it in 58 miles at 6:47 a.m.
Reed defended her title in the 135-mile Kiehl's Badwater Ultramarathon. She finished in 28 hours, 26 minutes, and 52 seconds. Last year the 42-year old mother from Tucson, Arizona became the first woman to win the race and set the women's course record in 27 hours and 56 minutes.
Dean Karnazes, from San Francisco, Calif., won the men division and placed second overall with a time of 28 hours, 51 minutes, and 26 seconds. Karnazes, 40, was accepted to enter the race only three weeks ago.
"I only can do what I can do," said Reed, following the race. "I mean, I only run one way anyway. I just do it the same way all along."
The course begins in Badwater, Death Valley, the lowest point in the Western Hemisphere at 280 feet below sea level, and ended halfway up the 14,494-foot high Mount Whitney, the highest point in the contiguous United States. It featured 72 runners, reached a low temperature in the 40's on Mount Whitney and included a total ascent of 13,000 feet and descent of 4,700 feet. Runners have 60 hours to finish.
The race began as "personal feat" in 1977 when Al Arnold became the first person to complete the 146-mile trek to the top of Mount Whitney.
It became a yearly "race" in 1987. Now, about 70-80 runners go through an extensive application process to qualify.
"They're people who are interested in pushing the limit physically, but also as a path to discovering more about who they are," said race director Chris Kostman.
"People doing this event are not crazy. This is just what they excel at. To them this is like other people running a (five-kilometer race) or a marathon."
The vast majority of the runners are college-educated professionals. Runners ranged from age 31 to 70. At age 70, Ben Jones from Lone Pine, Calif., became the oldest person to start the race. A three-time finisher, Jones dropped out at mile 37.
"I had a fever of 101," said Jones. "Van temperatures were being recorded as high as 135. I decided I was running out of time. I only had a 100 miles to go."

"You have the blisters, you have the heat exhastion, you have runners, unaware, yelling at their crew," said Greg Minter, a two-time finisher working on the race staff this year. "After about 17-18 hours you really want to sleep. You may have hallucinations, which can vary from very mild to characterized images. Last year I saw a dinosour around mile 108."
Reed was constantly being sprayed by her crewmates, who were either running or biking alongside her. She ran on an all-liquid diet, never wore sunscreen and never changed her shoes.
Last year she ran seven marathons, six 50-mile races and three 100-mile races. Ten days before last year's Badwater Ultramarathon, she ran a 100-kilometer event in Montanta. Three weeks after the race, she ran a 100-mile race in Leadville, Colo.
"She's a wind-up toy," said Bacal. "She's a machine out there. She just keeps going."
Reed is straight to the point. She says exactly what she feels. Her race mentality is consistent. Her friends say she has an aura of ambivalence and invincibility about her running, much to the bewilderment of Reed herself.
Why does she do it?
"It's wonderful to do really well and win. This is not the reason I do this," Reed said last year. "If I didn't ever win again, I guess I would be disappointed, but it wouldn't stop me from (running). I do it, because its' (for) my sanity."