The BADWATER ULTRA CUP comprises Badwater Cape Fear in March, Badwater Salton Sea in May, and Badwater 135 in July. Those runners who complete all three full-distance events in the same calendar year will be featured on the Badwater website and their virtues will be extolled throughout the Internet and in future editions of BADWATER Magazine.
Racers currently registered for all three 2014 Badwater Ultra Cup events are:
| | | | | | | | | |
| --- | --- | --- | --- | --- | --- | --- | --- | --- |
| First | Last | City | State | Country | Nationality | Age | M/F | BW Veteran? |
| Lorie | Alexander | Calgary | AB | Canada | Canada | 55 | F | Yes |
| Bob | Becker | Fort Lauderdale | FL | USA | USA | 69 | M | Yes |
| David | Coats | Houston | TX | USA | USA | 53 | M | Yes |
| Jeff | Gleason | Wexford | PA | USA | USA | 56 | M | Yes |
| Frank | McKinney | Delray Beach | FL | USA | USA | 51 | M | Yes |
| Phil | Nimmo | Mansfield | TX | USA | USA | 50 | M | No |
| Anthony | Portera | White Plains | NY | USA | USA | 43 | M | Yes |
| Eric | Spencer | Miami Beach | FL | USA | USA | 35 | M | No |
| Bill | Thompson | Moon Township | PA | USA | USA | 48 | M | Yes |
BADWATER® CAPE FEAR
The BADWATER® ultra running experience comes to the East Coast for the first time when the inaugural BADWATER CAPE FEAR race takes place on Bald Head Island, North Carolina on March 22, 2014. Registration is now open. Besides featuring a 50km/51-mile ultra running race, this new event is designed as a Spring Break Vacation and Badwater Family Reunion at a remote island get-away. The race features a twelve-mile warm-up on the car-free, one-lane-wide roads of Bald Head Island, followed by either 19 or 39 miles of running on the wild and secluded sandy beach between Cape Fear and Fort Fisher. The race is held along the Atlantic Seaboard with spectacular views of the Frying Pan Shoals to the east and wild and undeveloped marshlands to the west. It is a dramatic, invigorating, inspiring setting to experience Cape Fear in all its grandeur! There will be multiple social events and outdoor activities held in the days before and after the actual race, so we encourage everyone to make a 3- to 5-day trip out of the adventure and bring their family, friends, and club mates! Remember, there can only be one first edition and one chance to say "I was there!" More info and registration.
BADWATER® SALTON SEA
This remarkable race, first held in 2013, challenges 25 teams of three ultrarunners - running together for the duration, not in a relay - to tackle an unimaginable traverse of Southern California deserts and mountains. Scheduled for May 5-6, the race covers 81 miles (130km) non-stop from below sea level at the shoreline of the Salton Sea, across, up, and over Anza-Borrego Desert State Park, to the top of Palomar Mountain with a dramatic view of the Pacific Ocean. Applications are now being accepted for the 2nd edition of this highly acclaimed race. More info and registration.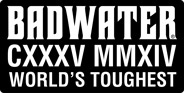 BADWATER® 135
"The World's Toughest Foot Race" is going through an evolution this year because of permitting issues with the National Park Service. Scheduled for July 21-23, the new and improved 135-Mile World Championship event will feature an incredible route based in Lone Pine, CA and which does NOT pass through Death Valley National Park. The 2014 route features over 19,000 feet of elevation gain, two dramatic ascents into the Sierra Nevada to 10,000 feet and 8300 feet, and a 15-mile, self-supported, dirt road trek to Cerro Gordo, an authentic ghost town. As always, the finish line is at Mt. Whitney Portal. More info (registration is closed for 2014).
---
BADWATER® IMMERSION
Immerse yourself in the world of ultra running and Badwater with some of the biggest names and most insightful coaches, promoters, and professionals ever assembled. Come to learn, to have fun, to expand your horizons, to learn the secrets of longevity, health, and more in this jam-packed weekend get-away held at a southern California desert oasis. Come to Badwater Immersion on May 2-4 in Borrego Springs, CA. The program includes two morning runs through Borrego Springs, Yoga Tune Up® and Yoga For Athletes classes, a three-hour hike, and four sessions of programs on subjects such as Designing a Multi-Year Plan to Compete in a Pinnacle Event, Crewing 101, Finding a Balance in Your Life, Mental Aspects of Ultra Sports, and Conquering Your Life's Badwaters. Presenters include Marshall Ulrich, Jimmy Dean Freeman, Frank McKinney, and Laurie Kostman, plus an all-star panel of Badwater veterans for a round-table Q&A. More info and registration.