In 2020, Join Us for a Brand New Vision of Ultra Stage Racing in the Republic of Artsakh!
We will host a six-day, point-to-point, 150 to 170 mile (240-270km) trail race in September of 2020. Runners will follow the Janapar Trail from northeastern Armenia into and across the Republic of Artsakh, transecting nearly the entire country.
While the route will be incredibly beautiful and challenging, the race itself will also be a culturally immersive experience. Each day's route will pass through one or more villages, while the overnights will be in villages and towns. You will eat the local, super healthy, incredibly fresh food. You will enjoy Armenian music, dance, and culture. Along the way, you will visit – sometimes off the clock – 1000-year-old Armenian churches, monasteries, and archaeological sites. And while you will run as part of an international field of runners, you will be embraced, surrounded, and supported by the people of Artsakh and their Armenian food, music, language, and culture.
The race will start in Vardenis, Armenia and cross into the Republic of Artsakh during the first day's stage, which will conclude in Tsar, Artsakh: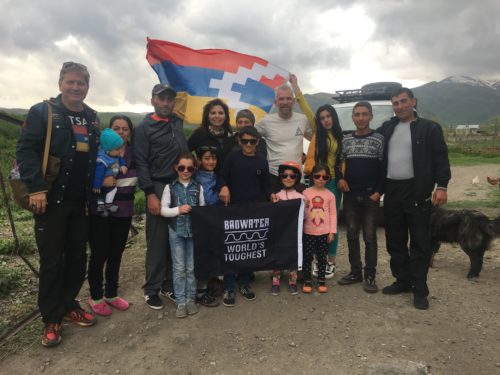 Leaving Tsar, the race route will follow the Janapar Trail and pass through the Artsakhian villages and towns of Karvajar, Zuar, Dadivank, Getevank, Vaghuahas, Vank, Gandzasar, Kolatak, and Patara during the first five days.
Stage five will finish in the gorgeous capital city of Artsakh – Stepanakert – at the "We Are Our Mountains" sculpture affectionately known as "Mamik-Papik." Created in 1967 (like your race director), this is the symbol of Artsakh, and will also be the symbol of this race, featured in the race logo, t-shirt, hat, race magazine, and finisher awards.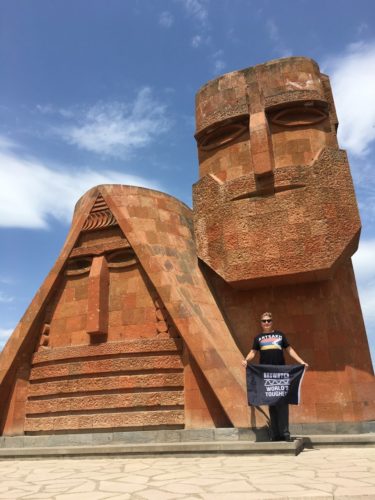 After an overnight in hotels, the final stage will begin at Stepanakert Republican Stadium:

Following festivities at the stadium and then running a few laps around the track while locals cheer for the runners, the runners will traverse a canyon and ascend to the historic city of Shushi:
From there, the runners will tackle an out-and-back leg through fabled Hunot Canyon, one of the world's most beautiful places and home to the awe-inspiring Umbrella Waterfall: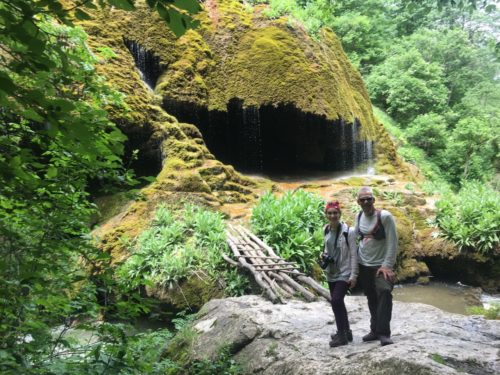 After a turn-around in Karintak and ascending out of Hunot Canyon, the race will finish back in Shushi with an overnight in hotels and a celebratory evening with Armenian food, music, and a final deep immersion in Artsakhzi culture. Buses will transport runners back to Yerevan the next morning.
Support and Format: Stages will start and finish in or near villages each day. (Daily distances and elevation profiles will be provided here in late September, 2019.) Runners will pass by waterfalls, hot springs, and thousand-year-old churches and monasteries and through more than a dozen Artsakhian villages on a combination of single-track trails, jeep tracks, dirt roads, and short connecting paved roads. A tent village will be set up each night for the first four stages, while the last two stages will include overnights in hotels and restaurant or catered dining (in Stepanakert and Shushi.) Personal and overnight gear will be transported by the organizers throughout the race; runners will only need to wear and carry what they need to use and eat on the trail each day. Numerous breakfasts and dinners will be provided, details to be announced.
Registration and Field Limit:Many, many more details about this remarkable new event will be posted here in June and then further in September of 2019. We anticipate opening registration on approximately October 1, 2019 with a field limit of just 50 runners for the inaugural race.
The Mountainous Republic of Artsakh – formerly known as Nagorno Karabakh during the Soviet era – is a democratic, Christian, Armenian homeland located just east of Armenia itself. It's an absolutely gorgeous place, covered almost entirely in pristine, green, forested mountainous with trails and pathways dating back literally thousands of years. Artsakh is home to beautiful, fascinating towns and villages, ancient sites, natural wonders, Christian churches dating as far back as the 4th Century AD, the history city of Shushi, the gorgeous capital city of Stepanakert, and much more.
Artsakh is a must-see for any serious traveler, adventurer, and runner!
Artsakh is just a short flight from Europe and easily reached from anywhere in the world. (International flights arrive through Yerevan, the capital of Armenia, which is just a few hours drive west of Artsakh.)
For more information about visiting Artsakh, visit www.artsakh.travel
For more information about the Janapar Trail, click here.
Trail marking and development is primarily performed by Trails For Change NGO, a non-governmental organization which we support. Click here for their website and click here for their Facebook page.