Mustang trail race from Natacha Giler on Vimeo.
Mustang is a special place – ask anyone who's been there. It offers a captivating mix of Tibetan culture in a kaleidoscopic landscape hidden behind the Himalayas.
The Mustang Trail Race takes you on a journey through this landscape, running, and racing way out there in another world.
"Looking back now at the experience, I feel as if the race became a kind of nine day meditation. When I try to remember what I thought about in Mustang, I realize that I really didn't think about a whole lot of anything. Expressed another way, perhaps I thought and talked about a lot, but those things lingered only for the present moment, and then were gone. There are plenty of things I remember: the wide open sky, the snowy peaks above the eroded, haunting landscape, the artwork in the caves and monasteries, the exceedingly friendly local people encountered along the way, the conversations with my new friends. I realize now that I was living almost entirely in the moment, and more than that, I was just noticing and absorbing everything as it happened without judgment. It seems as if nothing was better or worse than anything else. I had virtually no expectations going into this race, and so there was nothing to compare what actually happened with. The routine day in and day out was so similar: everything became either running, recovering, or enjoying the company of others and exploring new towns, places, or spiritual traditions while doing one of these two things. Never was I uncomfortable, never did I wish that things were any different, pine for anywhere else, or look at what was happening and desire something different. It all just was, as it was. A beautiful thing! A mindset I feel lucky to have discovered, as wide open as the land itself." Andy Wellman, USA
"The Mustang Trail Race has left an indelible mark on me. Everything good about trail running: cultural exploration, adventure, challenging oneself, and the camaraderie that comes from multi-day races, was present in huge quantities. Similarly to a great book, or amazing album, I could bore my friends to death by begging them to experience the Mustang Trail Race for themselves." – Matt Moroz, UK
I feared disappointment. Mustang is undoubtedly a hyped destination … but I was blown away by the landscape, the villages, the trails, and the company. Apparently Mustang is much more powerful than any hype effect. – Roger Henke, Netherlands
"This race is a once in a lifetime opportunity. You will experience adventure in an ecosystem unlike anywhere else on the planet — through high red desert, dramatic canyons, villages of twelve households, with Annapurna and Dhaulagiri looming in the background. You will be challenged by the running and the altitude and nurtured by the views and the wonderful people with whom you're experiencing these timeless communities. An absolute must do." – Kathryn Sall, USA
Saturday, 10/17: Arrival in Kathmandu (El. 1400m)
Kathmandu has long been described in poetic terms, as a Shangri La, an ancient mystical city nestled high in the Himalayas. Hold on tight to those thoughts! Kathmandu is a rapidly urbanising Asian city and these days its magic is swamped by a wave of messy development, but magic is there, if a little hidden, and you'll experience it very soon.
We'll collect you from the airport and drive you to your hotel which takes about 15 minutes to reach. Time is short here on the outward journey as we will fly to the lakeside town of Pokhara on Sunday afternoon. On Saturday we'll give a briefing at the hotel, though to save time we'll have sent you an information pack to read before you arrive. We'll do some administration in preparation for getting the necessary permits and then you're free to relax and recover from the flight, get a massage, or head out to see the heritage sites.
Sunday, 10/18: Pokhara (El. 827m)
Dawn on Sunday morning is an ideal time to experience surreal Swayambhunath, aka "The Monkey Temple," or the enormous stupa at Boudhanath.
We fly from Kathmandu to Pokhara on Sunday afternoon. Flights in to the mountains only leave early morning so we must stop off here overnight. Pokhara is at an elevation of around 800m and famous for its mountain views from the shores of Phewa Lake. We can relax in the hotel garden and do a final kit check. Any missing equipment can be bought in the many stores along the lakeside strip. We'll eat at a lakeside restaurant and retire early for a 4:30am start.
Monday, 10/19: Jomsom (El. 2800m)
The flight is an experience in itself, and a lesson in scale. In a tiny Twin Otter plane, we squeeze between two of the world's highest mountains, through the world's – in a technical sense at least – deepest gorge. Imagine you're a dragonfly flying through a doorway.
Jomsom is a little bit Wild West, a small village acting as district headquarters, with small areas of cultivated land surrounded by the dry landscape of the ancient Tethys Sea. The fault between the Indian and Eurasian tectonic plates is just a few kilometres from here. The steep north face of Nilgiri, the Blue Mountain, is unmissable, and will be a geographic constant through the coming days.
After tea, a snack, and a short briefing, we're going to take a hike. We're at high altitude, and so spend this day hiking as a group acclimating. A steep climb brings us to a pass where we can survey the landscape. We take tea in a seldom visited village called Phalyak, and continue to Kagbeni, the fort village which acts as the gateway to Upper Mustang. The mules will carry our gear bags, and this is the only day when they will beat us to the day's end point. We can visit the crumbling monastery, and walk through the narrow alleys of this medieval village, and gaze into Upper Mustang which looks at the same time empty, desolate and wholly inviting.
Tuesday, October 20: Stage 1:
Kagbeni (El. 2900m) to Tsaile (El. 3100m)
15km / Gain 538m / Loss 316m
This is the first stage run in earnest. Again this stage cannot be so far because of altitude, and we do run as far as we can at a safe altitude. After running along a jeep road built to service a new apple farm, we gain trails and pass through two ancient villages which set the scene for Mustang. The running is fast with the exception of the climb on the second half on a goat herders trail. There is a steep climb up to Tsaile, a fortress-like village some 50m above the Kali Gandaki river.
Wednesday, October 21: Stage 2:
Tsaile (El. 3100m) to Ghemi (El. 3520m)
25.5km / Gain 2083 / Loss 1580m
Today you'll experience the first check-in, check-out checkpoint at a cave monastery where Guru Rinpoche, the Second Buddha, was said to have meditated on his journey teaching Buddhism across the Himalayas. This gives you time to be shown around the cave by the cave's warden. On this stage we begin to appreciate Mustang's frequently changing landscapes with glimpses to the Grand Canyon-esque Kali Gandaki gorge. It's one of the longest stages with very runnable trails. Worth a walk in the afternoon around Ghemi and the fields behind it backed by organ pipe cliffs marked with disused caves.
Thursday, October 22: Stage 3:
Ghemi (El. 3520m) to Lo Manthang (El. 3840m)
21km / Gain 1097m / Loss 849m
Dhakmar means 'red cliffs.' Just outside Ghemi is the site where legend says Guru Rinpoche slaughtered an evil dragon and the cliffs are stained red with its blood. It gets worse – you'll run along its bowels (a wall of prayer-carved stones, the longest in Mustang) within the first mile, and see red claws protruding from the earth at the midway point. Highlights today include a checkpoint at an 800 year old monastery, crossing 14,000ft and the long, gentle downhill run to Lo Manthang, the tiny walled city, where nomads often graze their yaks.
To aid acclimating, we will next take Friday, October 23 as a rest day in Lo Manthang. Here we take a guided tour of the main monasteries of Lo and see the artwork that is being painstakingly restored.
Saturday, October 24: Stage 4:
Lo Manthang (El. 3840m) to Konchok Ling (El. 4100m)
29.1km / Gain 1063m / Loss 1063m
In 2007 a small cave in an impossibly remote place was rediscovered. It became known as the snow leopard cave because of the footprints found inside. It contains a collection of 55 cave paintings from 12th to 14th century depicting the life of Buddha. While they are damaged and badly in need of restoration, the wild location in this badlands landscape, and the imagination of this being a monks' dwelling, make this a treat to visit during this stage's check-in, check-out point. The route follows river valleys and crosses wide open spaces making it a runnable route.
Sunday, October 25: Stage 5:
Lo Manthang (El. 3840m) to Yara (El. 3530m)
16.0km / Gain 650m / Loss 835m
This is the shortest stage, a morning stage only, with some unusual features. After a final lap around the walls, we make a brief climb on to the hills to the south. The trail from here traverses rounded hillsides with wide open views to the surrounding hills. Then we plunge downwards along the most amazing trail curling into and out of narrow canyons dropping down to the Kali Gandaki river. It's fun.
In the afternoon after post-stage lunch in Yara, we walk 40 minutes up to Tashi Kabum, a tiny series of caves hollowed out in a cliff of clastic rock reached by a thin trail – not for the faint of heart. Inside is a chorten that once held handwritten prayer scripts and a fine painting of Chenrezig, whom Tibetans believe is incarnated repeatedly as Dalai Lama.
Monday, October 26: Stage 6:
Yara (El. 3530m) to Tanggye (El. 3240m)
18.3km / Gain 816m / Loss 1294m
We walk to Luri to start, the location of another famous monastery embedded high in a cliff. On the way we take tea in Ghasa in a traditional family home. After a short visit to the monastery, the stage begins with a fast descent back to Yara. The rest of this stage crosses a camel back of two climbs with plunging descents separated by a river which we have to cross. The trails are bizarrely rounded and twisting.
Tuesday, October 27: Stage 7:
Tanggye (El. 3240m) to Chuksang (El. 2900m)
23.9km / Gain 1168m / Loss 1523m
This is a day of continuous high altitude running across one of the most amazing trails in the Himalayas. There's a river crossing followed by a steady but relentless climb of nearly 3000 ft. What follows is a series of descents, traverses and rises on an old trade route, which slowly brings you to the crest of the Siyarko Tangk Danda. This ridge affords views in all directions, from the border with Tibet to the peaks of the Himalayas, and down into multi-hued erosion landscapes. From the finish line, we can watch other runners making the long descent from the ridge.
Wednesday, October 28, Stage 8:
Chuksang (El. 2900m) to Jomsom (El. 2800m) via Muktinath (El. 3700m)
15.1km / Gain 1184m / Loss 484m
This is a short final stage ending in the pilgrimage place of Muktinath, where 108 stone taps flow year round and an eternal flame burns which all Hindus wish to visit before they die. We pass the ancient huddle of mud houses and fields of Tangbe, after which the climb steepens into a narrow river valley. At the pass, there's a wide-open view to Annapurna and Dhaulagiri, and a long steady descent to the finish. Afterwards, we return to Jomsom by jeep or optionally on foot.
Completion and Return
In Jomsom we'll wash up after being reunited with a bag of clean clothes and proceed with a dinner and prize presentation. We'll take the first flights out of Jomsom on Thursday, October 29 back to the heat of Pokhara where we spend a couple of hours before flying on to Kathmandu.
Registration is Now Closed!

• The total fee for the event is $3250. That includes almost everything except some meals, once you arrive in Kathmandu. (You are responsible for your own international airfare, but your $3250 fee does cover all domestic flights in Nepal.) More info about what's included is here.
• To secure your spot in this event, a $500 deposit must be paid ASAP via Paypal. This deposit is refundable until eight weeks prior to October 17. (Please do not pay the entire entry fee right now via Paypal. You will be advised later about how to wire the balance of your entry fee directly to the bank account of our organizer, Richard Bull.)
• For those who want a payment plan, you can send payments throughout the year via direct wire to Richard's bank.
• The balance must be pay in full eight weeks out from the event. At that point, the fee is non-refundable.
• All registrants are encouraged to book trip insurance in case you have to withdraw from the event less than eight weeks out.
Ready to Register?
First, use this form to submit your registration information.
– Be sure to select the Badwater Presents version in October, and tell Richard that you heard about this invite from Badwater.
Second, and right away, submit your $500 deposit via Paypal via this link. (You do NOT need a Paypal account.)
After you take those two steps – and pat yourself on the back for embarking on an incredible adventure that you will never forget – please carefully reference this important page, as well as await further instructions and communications from both Richard and us.
Thank you! We are SUPER excited to join you on this one-time-only adventure!
With the earthquakes in Nepal in the news, no doubt you have questions and possible concerns about the status of the October 17-31 Badwater Presents Mustang Trail Race.
Our local organizer in Kathmandu, Richard Bull, was literally hosting the April edition of this same event when the primary earthquake took place. Though there were horrific losses in some parts of the country, the Mustang region of Nepal was essentially unaffected by the quakes and the race was held without incident. You can see the April 2015 race results here.
Richard has lived in Kathmandu for many years and has now been back home long enough to assess the situation. Please see the link below to a multi-page PDF which explains that we are "full steam ahead" with the October race. Nepal has a tourism-driven economy. Our participation this fall will benefit the local economy and will shine a positive light on the country, it's people, and its history, a nice complement to the focus of the news, which is almost exclusively the tragedy.
Richard lays it out well in the PDF, so I hope you will take the time to review it: Mustang Trail Race Update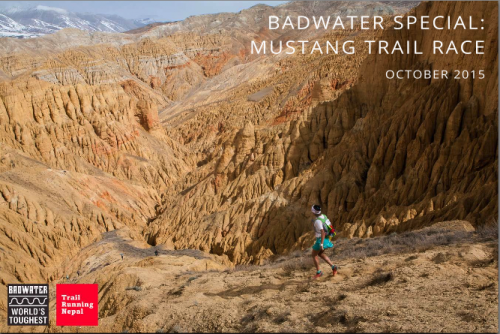 If you want to support the relief efforts directly, Richard has been recommending these organizations, "all doing good work on the ground for the long term with good people at the helm":
http://phasenepal.org/
http://cyfnepal.org/
https://dzi.org
Also, I might mention that Bryon Powell of www.irunfar.com fame participated in the recent April edition. If you need any further encouragement to join us for our October adventure, be sure to check out Bryon's posts on Facebook.
If you have any questions about Mustang Trail Race, please feel to contact us, and/or write to Richard: info "at" mustangtrailrace.org
We hope to share this experience with you in October!