Adventurecorps presents the 2006 Kiehl's Badwater Ultramarathon Webcast

---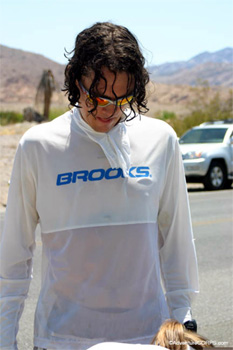 Experience: The Benefits of the Second Time Around
By Greg Minter
As most folks know, Scott Jurek won last year's race just two weeks after winning the Western States 100. This year, he passed on Western States and was focused on breaking the 24-hour mark at Kiehl's Badwater Ultramarathon.
Scott came down from Seattle before the race and stayed in Ridgecrest with Rick and Barb Miller (both are ultrarunners, and Rick completed Badwater in 2001...making them valuable crew members). From there, he could make almost daily trips into Death Valley to train in the conditions that can be imitated but not reproduced.
The humidity of race day seemed to catch up with Scott just as it did with everybody. When we caught up with one of his crew vans, wife Leah let us know that "he just wasn't drying off, so he wasn't evaporating well." While most runners know that evaporation is the primary cooling mechanism of the body, it's hard to relate how much more so that is true in race conditions where the temperature is over 120 degrees fahrenheit. The other crew members in the van, Glenn Tachiyama and Nathan Yoffa, work furiously, opening and closing coolers and boxes, making sure everything is ready as Scott approaches.
As the vans make it through the section between Furnace Creek and Stovepipe Wells, experience becomes invaluable. The section is flanked on one side by a dry lake bed, white with salt, and beyond that a rugged mountain range. In the early afternoon, the wind starts to pick up, coming down off the peaks and across the flats shimmering with heat waves. This is the section people are talking about when they describe the race as holding a blow dryer inches from your face, or standing in front of a pizza oven. With the staggered start, almost all runners hit this section at the worst time of the day, and it's when the race as a whole is most tightly concentrated. Considered by most race veterans to be the toughest.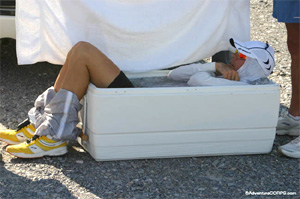 Wife Leah, who also crewed last year, relates some of the benefits of being a veteran. "We learned a lot last year that he paid for this section later, so he's taking more time through it. He's taking it slower. His weight's on, we're monitoring him more closely, he's drinking more, he's eating well, he's feeling good, he's taking more time to stay cool. This was the plan."
Scott decides to cool off his core at one point, and lowers himself gingerly into a white 100qt cooler, half-filled with water and ice. But as he does, eventual third place finisher Charlie Engle passes by and Scott says "that's enough!" He lifts himself out, being careful to dry the excess moisture so that it doesn't drip into his shoes and cause blisters, then once again, he's off.
Jurek's experience pays off. While he was still behind eventual second place finisher Akos Konya going through Darwin (mile 90), he pushed on through the night. Akos would succumb to the need for sleep and took a half hour break, a decision that may have put him into second place (Jurek ended up just 17 minutes ahead of Akos).
Still, the race was one of the most exciting in recent memory...with Konya, Jurek, Karnazes, Goggins all working furiously at the front of the pack at one time or another, Badwater does not disappoint.