AdventureCORPS Presents
The 2007 Kiehl's Badwater Ultramarathon Race Webcast
---
Akos Konya and David Goggins: Friends and Competitors
We can almost guarantee that anyone who tried to handicap the top five finishers for last year's race was unsuccessful, largely in part to two then relatively unknown runners: Akos Konya & David Goggins.
Chatting at Furnace Creek the evening before the race, Konya recalls last year's race with relative equanimity."I didn't see anyone after mile 30, but it was actually a good thing, because I did my pace, my own thing." As relatively unknown quantities, both Konya and Goggins were seeded in the first two waves of the race. "This year will be different because I'll get to see people."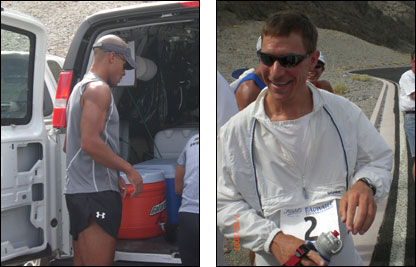 "I've run a lot more this year, since September, with a race almost every month since January. Last year I didn't start seriously training until April." The level of competition at this year's race hasn't escaped Konya's vision either. "It's insane!" he says, rattling off the names of several other favorites in perhaps the most competitive field ever assembled. Now sponsored by the Running Center in Carlsbad, Injinji, and Sun Precautions Konya hopes "just to finish. Oh, and not to hurt myself."
His counterpart on this year's race magazine cover, David Goggins, actually came to Badwater through a heartfelt impulse and a fortuitous web search. As a Navy S.E.A.L., Goggins lost several friends in Afghanistan and felt compelled to do something to help the families of his fallen compatriots.
"I'm not the kind of guy who's going to have a bake sale and sell cupcakes, though," he laughs. "I went online and looked for a way to raise some money for their families. I typed in a search for the '10 hardest things in the world' and Badwater came up." This year, once again, Goggins is running to raise money for the children of those who have been killed in service to their country through the Special Operations Warrior Foundation (http://www.specialops.org).
"I started to think about the race a lot and contacted Chris Kostman, the race director about participating. He told me I had to do some qualifying races, like a 100 miler. So I looked around and found that there was going to be a 24-hour track run in San Diego in November. I was a powerlifter, not a runner. I mean, I ran 20 minutes every other day to stay in shape, but I'd never done a marathon. I showed up at registration for the San Diego race looking more like a power lifter, too. I was 240 lbs. then, and the race director, John Metz, just shook his head. Well, I did 100 miles in a little over 18 hours, then stopped. I was done, but I had my qualifier."
It turned out that both Konya and Goggins were running the San Diego race, and became acquaintances after lots of laps around the track. "I did the H.U.R.T. 100 in January to round out my application, and finished that too. I was filling out the application for Badwater while I was recovering in my hotel bed and sent it overnight mail. Akos did that race too."
With a fifth place finish last year, Goggins still doesn't consider himself experienced. "I'm not a runner. But I have more confidence. I like to tell people that last year, the Badwater course did all the talking and I just listened. But not this year. This year we're going to have a conversation."