AdventureCORPS Presents
The 2007 Kiehl's Badwater Ultramarathon Race Webcast
---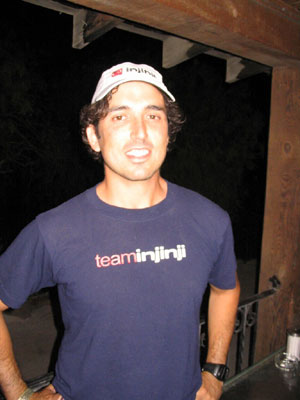 If the Sock Fits, it Must be Injinji
Products for runners come and go. Like any other market, product turnover is furious in this athletic area, and companies seem driven to constantly change their gear to find a new niche.
Maybe that's why Injinji has turned into a favorite amongst serious runners. Their immediately recognizable "toe socks" have been noted as a favorite of ultrarunners with impressive credentials and casual athletes alike. "We get our hands dirty. We run, we pace, we crew. You have to get involved," says Randuz Romay, one-third of the team (with his brother Joaquin and partner Christine Welsh) who runs the flourishing business.
"We got started with the race back in 2003, when we crewed for Monica Scholz. We'd met Monica at the San Diego 1 Day (a 24-hour track run) in November of 2002, where she tried our socks. One thing led to another and we crewed her for four years. She's been a sponsored athlete for us ever since.
"Last year, Akos Konya came in second, and we saw that he was wearing our socks when he took his shoes off at the finish line! So we also talked to Akos, and he became a sponsored athlete for us last month."
Injinji has been a great supporter of the race, and once again provided socks to all the runners participating in the 2007 Kiehl's Badwater Ultramarathon.
"We make socks for the human foot," Randuz adds. "I'd talk some more, but I have to get going, our runner is coming!" And with that he's back down on the highway in front of Panamint Springs working with Akos Konya.
For more on Injinji and their unique socks with compartments for each toe, visit http://www.injinji.com.