AdventureCORPS Presents
The 2007 Kiehl's Badwater Ultramarathon Race Webcast
---
Kiehl's & Badwater: A Perfect Partnership
"This is the spirit of adventure in its rawest form," said Kiehl's Public Relations Manager Sara Denny Roth. "It's paradise."
Standing at the finish line with fellow Kiehl's employee and past participant Christopher Bergland holding the finish line tape, Roth says she came out expecting "a spiritual retreat. I was anxious about the 130 degree weather, but Chris told me I'd be OK. And now that I'm out here, it's stunning. It's the real America out here."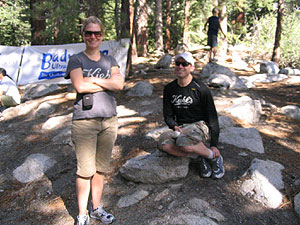 Kiehl's has been a fantastic sponsor for the race for the past five years, and it was Bergland, who finished as high as 4th place in the race, who initially approached their management team with the idea of sponsoring the event. Their focus on providing protection from extreme elements made them an instant favorite of the runners, who receive an assortment of products in their goodie bag. The company sponsors other extreme events too, including races in Greenland and ascents of Mt. Everest. The company's philosophy is perfectly reflected in Bergland, who serves as a semi-official spokesperson.
"It's just such a draw to come back and see the different parts of this course. I have waves where I get caught up in the romance of the race every few hours, where I think it'd be great to run again, but then reality sets in. Also, I really think it's a good thing to let others who want to feel the achievement have a chance to get in the race."
Bergland also recently wrote a book about the physiology of ultra-endurance events called "The Athlete's Way: Sweat and the Biology of Bliss" (published by St. Martin's Press and available at Amazon and Barnes & Noble).
"An event like this makes you realize you can always raise the bar, in a positive way. Finishing it has made it easy for me to have a more peaceful, simple life, because I know I've worked through tougher things. I keep both of my finisher medals next to my workstation, and I think about the race every day. If I'm having a tough stretch, I can just look at those medals and know I can make it."