AdventureCORPS Presents
The 2007 Kiehl's Badwater Ultramarathon Race Webcast
---
Nunez Blazes to Record Smashing Finish
This year marked the inaugural running of the Brook's Brazil 135, a Badwater distance event. When Valmir Nunes finished that race in 27:30, the time was noteworthy, but perhaps not remarkable. It was a first-time and it will take time to draw comparison between the Brazil 135 route and the Kiehl's Badwater Ultramarathon route. Through the first evening, however, as a three way duel between Nunes, Southern California dynamo Jorge Pacheco, and last year's second place finisher Akos Konya evolved, people along the entire course were talking about the Brazilian contingent.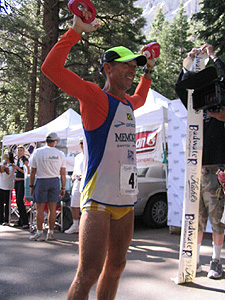 This year there were three Brazilians representing their country: Valmir Nunes (#43), Manoel de Jesus Mendes (#46) and the race's first female South American runner Monica Otero (#23).
Fighting stomach pain and nausea before Stovepipe Wells (mile 42), Nunes recovered sufficiently to continue the fight, taking mostly Hershey's chocolate syrup and Coke for energy. In spite of those difficulties, however, the early part of the race went very fast, with Nunes following Konya and Pacheco through Stovepipe Wells (mile 42) in 5:18, 5:33, and 5:39 respectively.
"We were up to six miles behind Jorge (the early leader), but," according to crew chief Mario Lacerda (a past participant himself), who translated at the finish line, "we were never worried, we felt like we were controlling the race. Our plan was to keep close tabs on runners in front of us and behind us. Valmir came only to win the race; he had no other plan."
Over the course of the evening, Nunes passed Konya, then Pacheco, flipping their early running order as they entered Lone Pine. "Valmir has a tractor stride, no matter whether uphill or downhill," said crew member Rodrigo Cerqueira.
Lacerda was ecstatic as Nunes passed through Lone Pine at mile 122. "We got the thing!" he exclaimed over and over, finally breaking into tears as he realized his runner was not only going to win, but in all likelihood break the course record.
As Valmir came to the finish line, having run strongly up the Whitney Portal road, he simply stopped and raised his hands in disbelief at his stunning time: 22 hours, 51 minutes, and 29 seconds, smashing the former record by roughly 90 minutes.
As he rested in the chair under the Kiehl's Badwater banner at the finish line, he described himself as a professional ultrarunner, but with an admirable goal. "To make friends, make new acquaintances."
"It wasn't the course, it was the race with Konya and Pacheco that was tough. It was very tight, a real challenge. I really missed Scott Jurek, but the level of competition was still very high." Part of his motivation may have come from a conversation with Scott Jurek near Stovepipe Wells. "If you beat my record," Jurek said, patting Nunes on the stomach and signing his shirt, "I'll come to Brazil and break yours." As always, the twists and turns of the competition are as winding as the roads themselves, and future years will undoubtedly bring the same level of competition that the race has offered in the past.