AdventureCORPS Presents
The 2007 Kiehl's Badwater Ultramarathon Race Webcast
---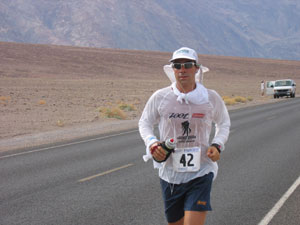 Martin Franklin - The Coleman Company
Earlier this year, The Coleman Company sponsored an expedition to Mt. Everest to product test some of their latest camping gear in the highest, coldest environment they could find. It only seemed natural that they would also seek out one of the lowest, hottest places on earth. Of course, it didn't hurt that Martin Franklin, CEO of Jarden, Inc., the company that owns Coleman, is a 2007 Kiehl's Badwater Ultramarathon rookie this year.
All race entrants received an 82-quart Coleman cooler when they checked-in before the race to preserve what they'll come to realize is one of their most precious commodities… ice. This also makes it easier for runners who travel long distances with their supplies.
Franklin, 42, from Aspen, Colorado, is no stranger to long distance events. He's completed several Ironman triathlons but wanted to do something extra special. His friend and business associate, Vito Bialla, who finished Badwater in 2002, introduced Franklin to the race. Says Bialla, "I told him that 250,000 people have done an Ironman, but only a few hundred have ever done Badwater. He said, OK, sign me up."
In addition to running the race, Franklin is part of the largest fund-raising charity project ever associated with the event. He feels these sports can be selfish endeavors so he tries to give back. Franklin wanted to do something for our troops coming back home with disabilities and help reintegrate them into society. His efforts at Badwater have raised close to $500,000 for the Wounded Warrior Project. One of Franklin's crewmembers is from WWP and Franklin calls him a heroic, amazing young boy.
Franklin sees Badwater as a great challenge and is really looking forward to it. He knows it won't be easy but feels prepared for it. At least he won't run out of ice.