AdventureCORPS Presents
The 2007 Kiehl's Badwater Ultramarathon Race Webcast
---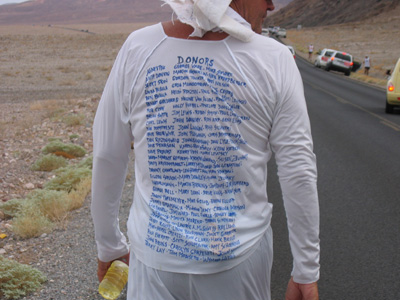 Vito Bialla - Semper Fi Fund
Vito Bialla completed the Kiehl's Badwater Ultramarathon in 2002, the 25th Anniversary of the first run from Death Valley to Mt. Whitney. He returns this year to celebrate its 30th Anniversary. So why come back?
One reason could be because you think it is the greatest race in the world. Another might be to run with your best buddy, Martin Franklin. Bialla and Franklin are both in the race this year and work together on the Board of Zoot Sports, along with Agnes Pak who is also here crewing for Vito.
But perhaps the best reason is to raise money for a good cause. Bialla is using his race this year to solicit donations for the Semper Fi Fund to help injured Marines. He has raised close to $100,000 and will wear the names of all the donors his back and carry them throughout the race for added inspiration.
Why the Semper Fi Fund? When looking at potential charities to support, Bialla found William "Spanky" Gibson, an Iraq veteran who had a leg amputated due to a battle injury. Vito liked Spanky so much that he asked him to be on his crew. Says Bialla, "It's Spanky's favorite fund so I said I'll raise money for your fund."