ON HOLD:  Hoping to make this happen in 2021!
ADVENTURECORPS will present a brand new Death Valley race in 2020!
12/24 HOURS OF FURNACE CREEK will take place June 6-7, 2020, one month prior to the 2020 Badwater 135. (Maybe June 26-27, 2021?)
Solo, as well as two-person relay, divisions are offered for both the 12-hour race (starting at either 900am OR 900pm) and the 24-hour race (with a 900am start time.)
One full aid station will be located at "The Date Grove Diner" next to the course and there will be one water stop on the far side of the course. We will have extensive food and drinks, a place for runner "drop bags," and an area for runners (or family and friends) to set up a personal "pit area" for each runner. A chip timing system will be used to track the runners.
All finishers will receive a nice 12/24 HOURS OF FURNACE CREEK Medal, while those solo runners who log 100 miles or more in the 24-hour race will receive a special 24 HOURS OF FURNACE CREEK Belt Buckle.
ROUTE:The loop is 2.3 miles around, per Strava using iPhone to measure it. Soon, we will measure the route properly with a measurement wheel, along with two GPS watches. Below is a map of the route. North is to the top. That's the Furnace Creek Airstrip over to the left and Hwy 190 is on the right.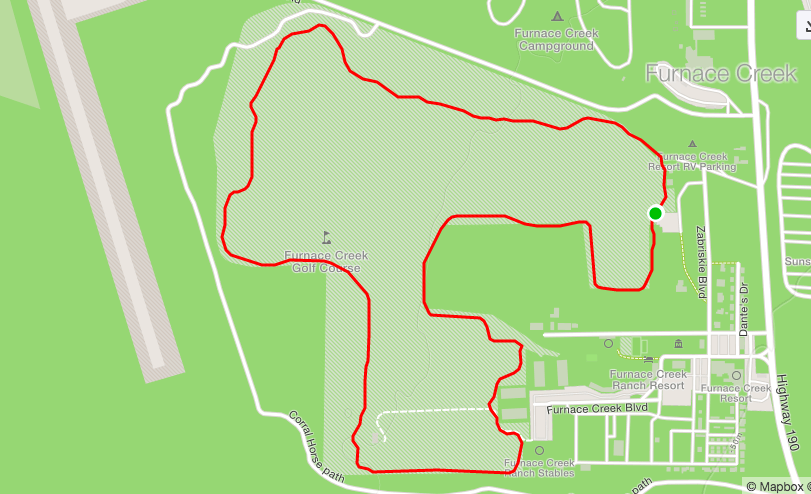 Stay tuned to this webpage for much more information!