In 2020, Join Us for a Brand New Vision of Stage Racing in the Republic of Artsakh!
In 2020, AdventureCORPS will host a six-day, point-to-point, 160-mile (260km) trail running stage race in the Republic of Artsakh, the democratic, Christian, Armenian homeland located just east of Armenia itself.
Formerly known as Nagorno-Karabakh during the Soviet era, this is a fascinating, wonderful country that few people have even heard of, and even less have visited. We aim to change both of those facts by bringing runners from all over the world to Artsakh! In fact, one of our goals is to literally #PutArsakhOnTheMap. In 2020, we hope to have 50 runners representing at least ten different countries participating.
The race will be organized in a "stage race" format, in which runners will run a certain section of the Janapar Trail each day. Each day's "stage" will be timed separately, and overall results will be calculated by adding all six days' times together. The first stage will be 22mi / 36km; the next four stages will vary from 26 to 34 miles (42 to 55km), while the final stage will be 16mi / 26km.
Beginning in the northeastern Armenian city of Vardenis at the start of the Janapar Trail, after 15 miles (24km) and at the top of a 9000-foot (2743m) pass, competitors in the Artsakh Ultra will leave Armenia and cross into the Republic of Artsakh. From here they will follow the Janapar Trail – with a few side diversions to see ancient sites – and transect the majority of this magnificent country. The six nights on the trail will include tent camping the first three nights and hotel stays the final three nights. Luggage transport will be provided each day and most breakfast and dinner meals will be provided. (Runners will provide their own energy food while running, and will be on their own for restaurant dining on two nights: Vank and Stepanakert.)
While the route will be incredibly beautiful and challenging, the race itself will also be a culturally immersive experience. Each day's route will pass through one or more villages, while the overnights will be in or near villages and cities. Runners will eat the local, super healthy, incredibly fresh food. They will enjoy Armenian music, dance, and culture. Along the way, the runners will visit – sometimes "off the clock" – 1000-year-old Armenian churches, monasteries, and archaeological sites. And while each competitor will run as part of an international field of runners, they will be embraced, surrounded, and supported by the people of Artsakh and their Armenian food, music, language, and culture.
This event is supported by the Government of Artsakh and AdventureCORPS' local charitable partner is Trails For Change NGO, the organization which is developing and signposting the trail.
Schedule of Events:
August 28, Friday: Early arrivals in Yerevan, Armenia
August 29, Saturday: Racer Check-In and Gear Check. (Hotel in Yerevan)
August 30, Sunday: Three-hour drive to Vardenis; Stage 1: Vardenis – Tsar (Camp in Tsar)
August 31 Monday: Stage 2: Tsar – Karvajar – Nor Verinshen – Zuar Hot Springs (Camp at Hot Springs)
September 1 Tuesday: Stage 3: Zuar Hot Springs – Dadivank Monastery – Zuar Hot Springs (Camp at Hot Springs)
September 2 Wednesday: Stage 4: Zuar Hot Springs – Andzavner – Vank – Gandzasar Monastery (Hotel in Vank)
September 3 Thursday: Stage 5: Vank – Hakobvank – Kachaghakaberd – Patara – Stepanakert (Hotel in Stepanakert)
September 4 Friday: Stage 6: Stepanakert – Shushi – Hunot Canyon – Shushi (Hotel in Shushi)
September 5 Saturday: Six-hour drive to Yerevan (Hotel in Yerevan if needed)
The race will start in Vardenis, Armenia and cross into the Republic of Artsakh during the first day's stage, which will conclude in Tsar, Artsakh: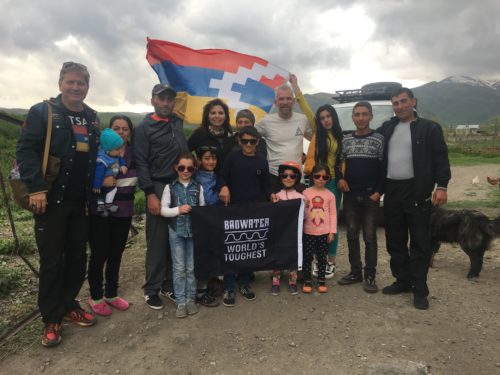 Leaving Tsar, the race route will follow the Janapar Trail and pass through the Artsakhian villages and towns of Karvajar, Zuar, Dadivank, Zuar (again), Vank, Gandzasar, Kolatak, and Patara during the first five days.
Stage five will finish in the gorgeous capital city of Artsakh – Stepanakert – at the "We Are Our Mountains" sculpture affectionately known as "Mamik-Papik." Created in 1967 (like your race director), this is the symbol of Artsakh, and will also be the symbol of this race, featured in the race logo, t-shirt, hat, race magazine, and finisher awards.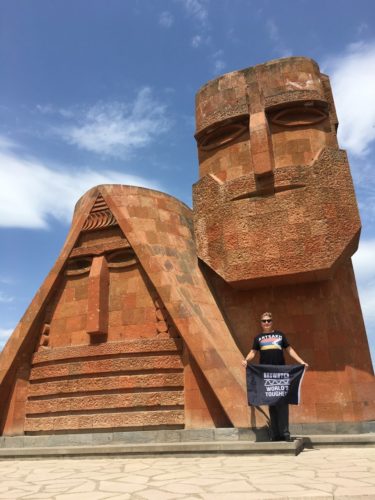 After an overnight in hotels, the final stage will begin at Stepanakert Republican Stadium:

Following festivities at the stadium and then running a few laps around the track while locals cheer for the runners, the runners will traverse a canyon and ascend to the historic city of Shushi:
From there, the runners will tackle an out-and-back leg through fabled Hunot Canyon, one of the world's most beautiful places and home to the awe-inspiring Umbrella Waterfall: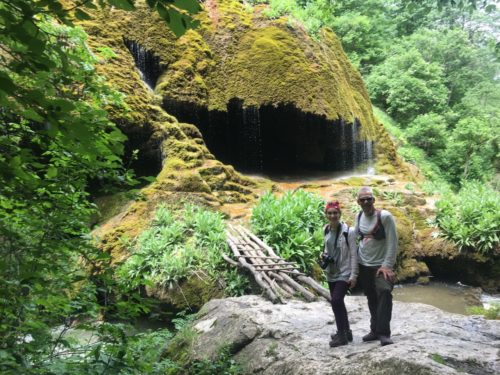 After a turn-around in Karintak and ascending out of Hunot Canyon, the race will finish back in Shushi with an overnight in hotels and a celebratory evening with Armenian food, music, and a final deep immersion in Artsakhzi culture. Buses will transport runners back to Yerevan the next morning.
Support and Format: Stages will start and finish in or near villages each day. (Daily distances and elevation profiles will be provided here in late September, 2019.) Runners will pass by waterfalls, hot springs, and thousand-year-old churches and monasteries and through more than a dozen Artsakhian villages on a combination of single-track trails, jeep tracks, dirt roads, and short connecting paved roads. A tent village will be set up each night for the first three stages, while the last three stages will include overnights in hotels and restaurants or catered dining (in Stepanakert and Shushi.) Personal and overnight gear will be transported by the organizers throughout the race; runners will only need to wear and carry what they need to use and eat on the trail each day. Numerous breakfasts and several dinners will be provided, details to be announced.
Registration and Field Limit:Many, many more details about this remarkable new event will be posted here in September of 2019. We anticipate opening registration on approximately October 1, 2019 with a field limit of just 50 runners for the inaugural race.
The Mountainous Republic of Artsakh – formerly known as Nagorno Karabakh during the Soviet era – is a democratic, Christian, Armenian homeland located just east of Armenia itself. It's an absolutely gorgeous place, covered almost entirely in pristine, green, forested mountainous with trails and pathways dating back literally thousands of years. Artsakh is home to beautiful, fascinating towns and villages, ancient sites, natural wonders, Christian churches dating as far back as the 4th Century AD, the history city of Shushi, the gorgeous capital city of Stepanakert, and much more.
Artsakh is a must-see for any serious traveler, adventurer, and runner!
Artsakh is just a short flight from Europe and easily reached from anywhere in the world. (International flights arrive through Yerevan, the capital of Armenia, which is just a few hours drive west of Artsakh.)
For more information about visiting Artsakh, visit www.artsakh.travel
For more information about the Janapar Trail, click here.
Trail marking and development is primarily performed by Trails For Change NGO, a non-governmental organization which we support. Click here for their website and click here for their Facebook page.