The 2003 Badwater Ultramarathon Webcast

---
Defending Champion Pam Reed Running Step by Step
By Amit Mehrotra
When Pam Reed came through the finish line Wednesday at 2:26 p.m., her mood was up and her stride was constant.
Reed walked only 20 to 25 miles of the 135-mile event. She never changed shoes, never wore sunscreen and ran on an all-liquid diet.
The 42-year old mother from Tucson, Arizona, defended her title, winning the overall race for the second year in a row. She finished in 28 hours, 26 minutes and 52 seconds, a half-hour slower than last year.
Dean Karnazes, from San Francisco, Calif., took second and won the men's division in 28:51:26. It was his fourth, and best, official finish
"It was tougher," said Reed, after she cooled down. "It was the competition that was hard on me. I'm not very good at it. So, I can't believe I did it."
Last year two of the top men dropped out of the race and Reed became the first woman to win the event, setting the women's course record at 27:56.
This year she had to work. Reed dropped three of the top men who had led from the start. She passed two between the Furnace Creek (mile 27) and Stove Pipe Wells (mile 42).
One man remained and at 6:37 a.m. Wednesday morning, she passed Chris Bergland, who led the race for 100 miles.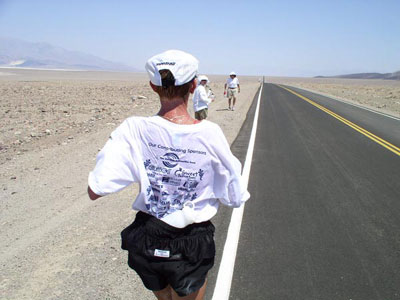 Karnazes never led the race, but gained 25 minutes on Reed through the climb up Mount Whitney. He had passed Bergland earlier.
"I knew Pam would be up there and I'd be chasing her the whole time," said Karnazes.
He said that as a San Francisco resident he gets very little heat training.
"It was as close to hell as I ever want to get. This was the fourth time I've done this event and that was by far the most intense conditions."
For Reed, it was her most intense race. She was helped by a crew of four friends, who were regarded by officials and other crew members as one of the most attentive.
"I only do what I can do," said Reed. "I mean, I only run one way, anyway. I just do it the same way all along."