2022 Badwater Salton Sea Webcast
---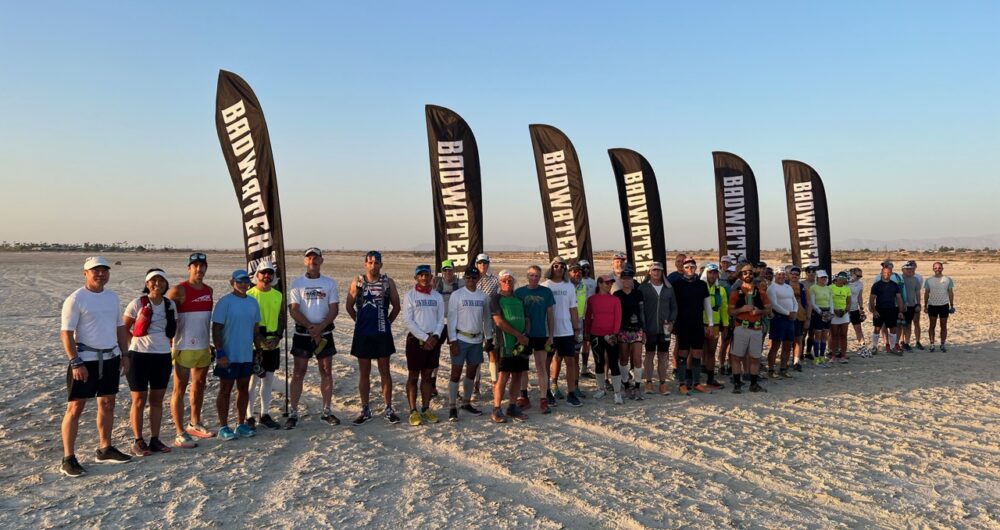 AdventureCORPS®, Inc. hosts the Badwater® Salton Sea 81-Mile Ultramarathon annually in late April. The ninth edition took place Saturday-Sunday, April 30 – May 1, 2023 on a course stretching across Imperial and San Diego Counties.
This remarkable event challenges teams of two or three ultrarunners – running together as duos or trios for the duration, NOT in a relay – to tackle an unimaginable traverse of Southern California deserts and mountains. The race begins at 630am, Saturday morning on the shore of the Salton Sea and concluded 28 hours later high atop Palomar Mountain. Each team of runners was accompanied by a personal support team which tended to all their needs. 
This year 47 runners – comprising 22 two- or three-person teams – competed, representing sixteen US states and nine nationalities: Canada, Cayman Island, Denmark, El Salvador, Mexico, Mongolia, Philippines, United Kingdom, and USA. There were 9 women and 38 men, 14 veterans and 33 rookies. The age range ws 27 to 69.
Of the 22 teams, 11 finished as an intact, complete team. Just 29 of the 47 entrants finished the race.
The 81-mile (130km) BADWATER Salton Sea route begins on the shores of the seemingly post-apocalyptic Salton Sea in Salton City, CA at an elevation of 234 feet below sea level and traverses two mountain ranges to its finish line atop Palomar Mountain, the almost tallest mountain in San Diego County at an elevation of 5500 feet. There is a total elevation gain of over 9000 feet along the route. Eight of the 81 race miles pass through Anza-Borrego Desert State Park on a single track trail from Borrego Springs to Ranchita, creating a race route which is a mix of road and trail. 
Badwater Sponsors and Partners include Pure Vitamin Club, NSNG Foods, Joe Nimble Footwear, Montezuma Valley Market, and Badwater Beverages. 
All official finishers will receive the coveted Badwater Salton Sea belt buckle pictured below.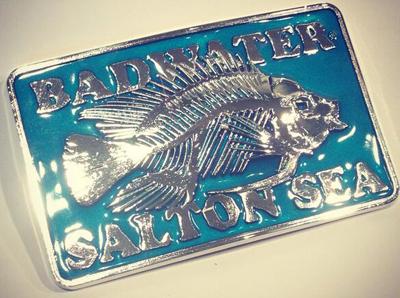 ---
Image Galleries on Flickr
CLICK: Pre-Race Activities – including visiting Ranchita, a social run through some of the amazing sculptures in Borrego Springs' Galleta Meadows, visiting the start line at Salton City, Racer Mugshots, Racers posing with their Support Crews, and then the Pre-Race Meeting – by Chris Kostman, April 29, 2022.
CLICK: Image Gallery of 485 Race Day images from the Salton Sea start line to Borrego Springs (mile 35) by Ian Parker, April 30, 2022.
CLICK: Image gallery from the Salton Sea start line to Borrego Springs (mile 30) to Hellhole Canyon (mile 35) by Chris Kostman, plus images of Runners posing with Rancheti in Ranchita by Paul Tourkin (mile 50), April 30, 2022.
CLICK: Image gallery from Borrego Springs to the Palomar Mountain finish line, including incredible scenery shots, runners mid-way up the trail, plus the last few teams ascending to the finish line by Ian Parker, April 30 – May 1, 2022.
CLICK: Image gallery of the triumphant finishers at Palomar Mountain (mile 81) by Chris Kostman, May 1, 2022. (Click here for these images on FB.)
CLICK: Selected highlight images from the race by Ian Parker, April 30-May 1, 2022.
---
Facebook Live Videos
CLICK TO VIEW: 36-second video from Borrego Springs Resort, seeing the entire race field at the conclusion of the pre-race meeting. April 29, 2022.
CLICK TO VIEW: 23-second video of the start of the race, April 30, 2022.
CLICK TO VIEW: FB Live 43-minute video from the Salton Sea Start Line and the first 3.4 miles of the race, April 30, 2022.
---
Special thanks to the Race Volunteers!
Russ Reinbolt and Chris Kostman: Checkpoint 1 (Mile 14.4, Microwave Tower)
Dave and Margaret Nelson: Checkpoint 2 (Mile 35.2, Borrego Springs Resort)
Regina Peters and Lori Engle: Trail Marking, Checkpoint 3 (Mile 40.5 Lower Trailhead), and Trail Sweep
Paul Tourkin: Checkpoint 4 (Mile 50.3, Ranchita)
Dr. Russ Reinbolt: Medical Support
Dr. Kent Wang: Medical Support
Ian Parker: Photography
Finish Line: Chris Kostman, Mark Olson, Carie Olson
Chris Kostman: Race Director, Roving Official, Photography, Webcast, and Finish Line
---
Thank You!
This event is held under permits from Imperial County, San Diego County, Anza-Borrego Desert State Park, and the California Department of Transportation. We thank all our permitting agencies and local area friends for their support!
---
Official Race Sponsors