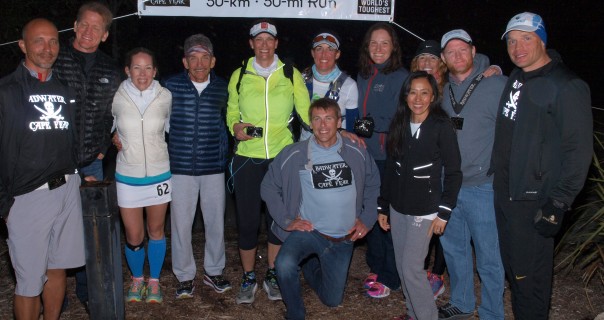 2015 Badwater Cape Fear 51.4, by Jodi Weiss

In 2014, I signed up for the inaugural Badwater Cape Fear 51.4 in the same manner I climb on board for any other ultra event: a new location + beach = fun weekend. I was in! Soon the word was out amongst my Florida ultra buddies, and before we knew it we had gathered a group of 10+ runners and their families to share a house on the remote Bald Head Island in North Carolina. This turned out to be one of the funniest and most memorable race weekends of the year for our group – grammar lessons and kitty cat shenanigans and all – so when it was time to sign up for the 2015 race, it took all of about three hours for 14 of us to jump on board and opt to share a house, fly down together, and race!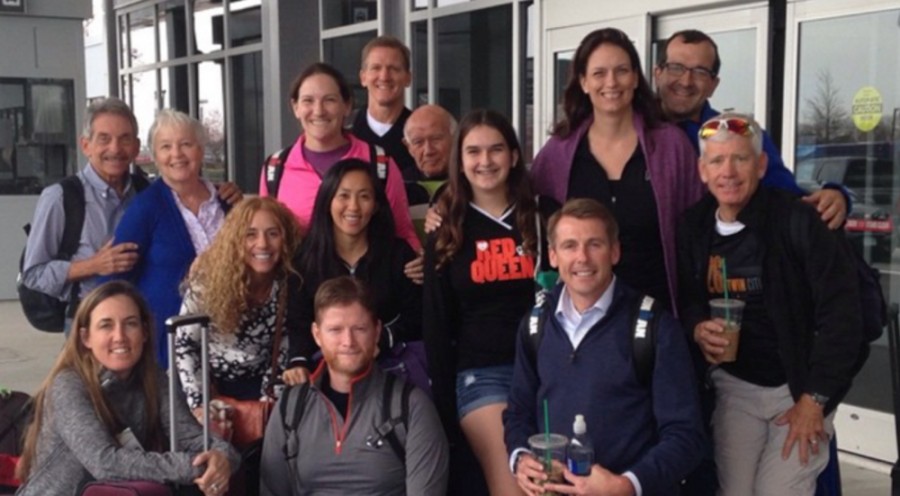 Destination: Bald Head Island
If you seek serenity, beauty, the chance to room with buddies in rustic, beachy mansions, and life with seriously limited internet/Wi-Fi for the weekend, Badwater Cape Fear is the perfect destination race. Add to that no cars – bikes or golf carts are the transportation mode on the island – and less than a handful of restaurants + one market, and you are truly in getaway heaven. There is a quaintness to the island that is reminiscent of New England charm, only a bit more down to earth.
This year we rented the roomy Marsh Madness, which overlooked – you guessed it – a marsh, that Bob Becker noted would likely be mosquito heaven in the summer months. Within a few hours, MM became our home away from home, with each of us cozy on the living room couches, the fireplace blazing, magazines sprawled across the dining room table, and the kitchen humming with our famous chefs, not to mention enough food and treats tucked in our refrigerator and across our countertops to feed a small army versus a dozen runners. The best thing about sharing a house with buddies is that it alleviates pre-race jitters as we are all too busy discussing everything but the race to worry.
51.4: Road, Trail, Beach
After a pleasant day of lounging around the island, it was time to lace up our running shoes and get moving! The race commences at Old Baldy Lighthouse, and continues along the winding roads of Bald Head Island, weaving in and out of alleys and paths filled with sprawling mansions and picturesque beach landscapes. A tad over 10 miles, just when you start to feel super at ease and comfortable with your gait, you enter the enchanted tangle of North Carolina trail, which requires you to maneuver tree branches overhead, roots and tree stumps below, and the occasional log and other trail debris to stumble over. And yet, the trail is a magical element of the race. For 1.4 miles you are immersed in a faraway world that forces you to focus, navigate, and utilize your obstacle-course skills. Just when you get comfortable in the trail's shade, you are back on the road, making your way towards the beach: Endless stretches of majestic, solitude-ridden beach. The waves crashing the shore and drifting out to sea. Birds coming in for a landing and flocks of baby birds scattering the shore like school children out to play. This year the high tide coincided with the mass of us runners hitting the beach, along with a fierce wind that permeated your ears and chest, so that each step forward was a bit of a struggle, until you acclimated, and were absorbed by the ocean's mesmerizing crash and retreat.
For me, the 39 or so miles on the beach stretch is a time to think and not to think. A time to push and a time to be pulled. An opportunity to be alone in your own mind, which is something that we so rarely achieve in our everyday on-the-go lives. I am a believer that monotony forces us to go inside, to a place where the possibility of change and growth resides – a place where our true magic is born. The first 30 or so miles I was more silent than not, which is untypical for chatty me. But I was afraid that if I spoke, I would break down and all sorts of "I can't do this; it's too hard; I don't have it in me" would come out of me. I was scared I would talk myself out of the possibility of success. And so I let silence take over. I let the rhythm of my feet guide me. I listened to my breath. I followed my running partner and moved and breathed and tried not to project ahead. I tied my goals to arriving at one aid station after another. In an ultra-race, there are so many little mini triumphs: hitting the halfway mark, the 50K mark, then knowing that it is only one more stretch of 10 miles separating you from all the things you want to enjoy in life when the race is over!
Beyond the running, beyond the struggles, and the triumphs – PR's and 1st-time ultra finishes – one of the most fulfilling aspects of running ultras for me is the camaraderie on the course. At Badwater Cape Fear, you get to run amongst 100+ of your old and new friends, cheering one another on and offering accolades along the way – "you got this," to "almost done," to "great jobs" abound. Crossing the finish line is a perk, but it is by no means the reward. For me, when it comes to ultra races, what I gain is deeply internal and personal and something that is in no way tied to a finish time or performance: I get that much closer to accepting and understanding elements of myself.
The Badwater Cape Fear Groupies
But a race is about so much more than a race. It is about friendship. It is about the day before the race traveling via planes, shuttles, ferries, and trams to arrive at your race-weekend digs. It is about sitting around on couches in a rented mansion and sharing stories and laughter. It is about fun and games and taking a time out from our everyday lives. It is about setting the long dining room table for the pre-race house dinner, and the morning-of-the race 5 am foot-taping party. It is about waiting at that finish line to cheer in each and every runner friend, and sharing a glass of wine or beer when the race is over. It is about the following day, when a bit broken, a bit more put together, you all attend the post-race group breakfast, and then catch the ferry to journey home together, to your own little lives and back into worlds that are not about races, not about finish lines, not about medals and buckles, but about memories and friendships that last throughout the year. It is about not hesitating for one moment when it's time to sign up for the 2016 edition of Badwater Cape Fear – and immediately starting the dialogue about which house you want to rent on the island come next year.