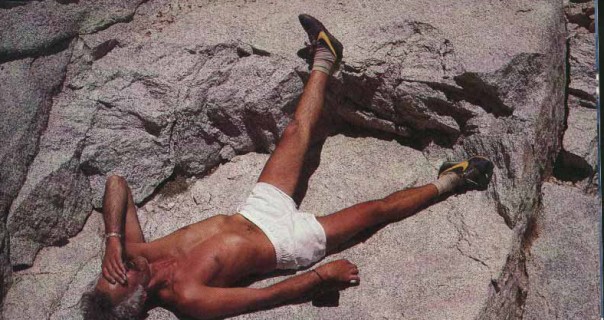 THE RAT TALE' all started about 35 years ago. I was working in San Francisco at the time, long slow distance running became my "refuge". Eventually, all ULTRA runners "lose their senses" as to their conscious awareness and beyond. But, this wasn't the case while pounding the hard surfaces, darting between the dark and cold surface below the granite canyons of tall buildings lining the commercial districts of San Francisco. The solace of my daily runs was constantly being inundated with loud, and unfriendly blasts of insidious outrage!  Automobiles with irritated drivers were, it seemed, at every intersection just waiting to thwart my peaceful intentions of being "different", fit and enjoying the conquest of just being able to put one foot in front of another, forever! The challenge of survival was indeed powerful; my life depended upon it.
Alas, peace of mind was not to be had. It was time to find that place where I could mentally disappear, that private place, while just placing one foot in front of another. It was during this phase of transition that I started to train for my Death Valley venture AND, to have Peace of Mind.
Coincidentally, I relocated to Walnut Creek, California and soon became an advocate of a beautiful site, right in my own "backyard": Mount Diablo. Click here and here for some photos of the mountain.
It was on this Mountain that I would enjoy many years of "Adventure Roving" with peace of mind and solitude. I soon became part of a new individuality of being "aware and apart" simultaneously. I seemed to be protective of my whereabouts and the surrounding challenges, but, at the same time, moving "forever forward." Thus 'The Rat', one of many wonderful and personal experiences while traversing the spiritual slopes of this 4000′ ancient fossil encrusted sea-bed.
Training, for me, has always focused on its environment. I wouldn't allow too much non-environment time in preparation. Rather than jog through city streets, on my way to my "metaphysical cave," I would drive to Juniper Camp, two miles below the summit of Mount Diablo. The next 25 miles was an invasion of the "past". I would become an extension of its history.
Drought and exceptional high temperatures were the norm for California during the 70's. Mitchell Canyon, during July, is an extension of the struggles for survival, in any of life's form.
The 'Badwater 135' is such an environment. As on Mount Diablo, areas do exist that provide comfort, but once you leave those "safe areas", you're on your own. If life's form is not prepared for the risk, then it should not be taken. That is the basic rule. Failure is the ultimate consequence.
Years of arduous training had disciplined my training options. It was all a consideration of a "risk factor." After all, when an ULTRA athlete decides to go it alone, alone is what it is!
The power of being "above it all" eventually consumes the lonely runner. Every venture has the potential of beauty and horror. This is a tale of beauty.
I had been on the trails for many hours and there was no refuge from the blazing heat of the mid-afternoon sun. I had left a hidden spring/oasis a few miles below me. Everywhere, signs of parched bones of the unfortunate: plants and small creatures of the mountain. It was a risky venture for man or beast. But, that's being a survivalist. It was an ULTRA'S ideal training camp, especially for running through Death Valley. It never ceases to amaze me as to the balance of knowing where you're jogging, yet, hours disappear without any recollection of those footsteps left behind. That is, unless the unexpected alerts your hidden safeguards. The sudden, yet faint, movement of the hot and dusty trail directly in front of my pathway was one of those precious moments.
As I examined the area VERY closely, I spotted the parched and almost fur-less hide of a giant rat, with it's glaring eyes darting helplessly. Crazy as it may seem, I spent a few moments "talking to" this pitiful looking creature.
Eventually I sensed a "communication" and gradually coaxed this nearly dead inhabitant to slither its Godforsaken body on to the safety of a dried up branch. I couldn't distinguish the better: the branch or the rat. Slowly, I removed my new found "friend" from it's potential gravesite and, while "talking" in a reassuring rat manner, I portaged
"hairless" nearly three miles down to my hidden spring. It was quite an exchange of body language between Mr. Rat and myself.
Eventually the rat became aware of its coming salvation. That scraggly looking rat tail really went into motion. Reaching the cool shade and flowing spring water was too much for my branch passenger. He wanted off! I gently placed the branch at water's edge and watched a very grateful creature begin a new life. I hope it was a long and wiser one. I paid homage to its peaceful and thankful body language. A few hours later, I passed by the point of our "meeting" and I said: "Not this time!" – AL