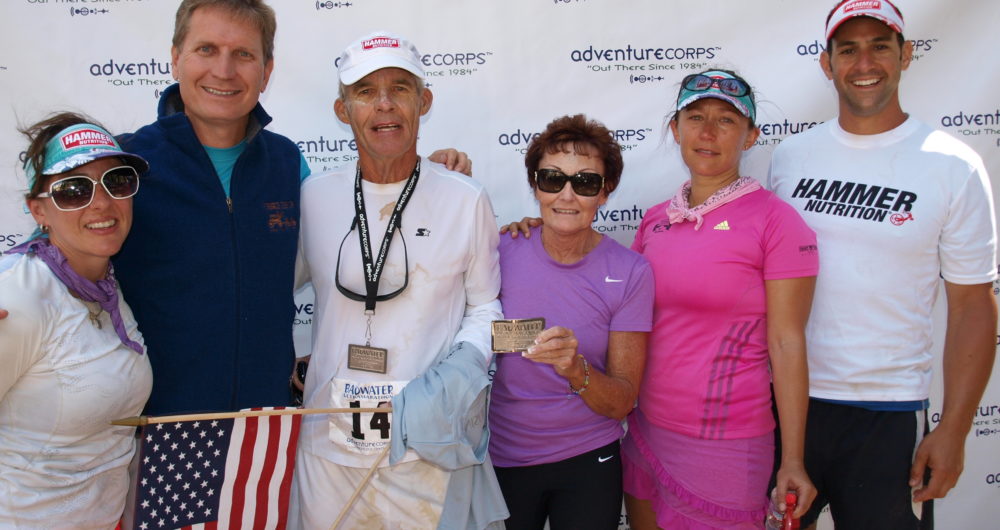 By Arthur Webb
Fifteen-Time Finisher: 1998 through 2012, including a Personal Record of 33:45:40 at age 70 at his final Badwater 135 in 2012. His stats.
The heat in Death Valley in July is extreme. The official weather station is located at Furnace Creek where it can reach 130-degrees. But, in micro-climates, like the Stovepipe Wells area, it is always hotter. Since running in suffocating heat on 200-degree pavement presents health and safety issues, I strongly recommend that all runners take heed and do some type of heat training. I rate its importance in the race survival equation equal to, and possibly greater than race pacing, food or fluid intake.
There are a number of ways to train for the repressive heat that one encounters during the Badwater Ultramarathon. One effective method is to train in the desert as presented by Dr Ben Jones.
Another is to simulate the heat conditions by running in layers of clothing as suggested by Stephen Simmons. Articles by these two gentlemen are posted on the Badwater.com website.  Either method or a combination of both will help you acclimate and contribute to a successful trek across Death Valley.
When desert heat is not available and one has problems running in lots of clothing, there is the Tom Crawford/Richard Benyo's bake in the sauna option. I have used their method and firmly believe that it has been a key factor for my eight Badwater finishes.
1. The sauna serves two extremely important functions: First, it prepares the body to deal with the blistering heat in Death Valley. Secondly, but equally important, it gets the body used to drinking and processing the large volume of liquids you are going to need to survive and finish this incredible race.
2. Train every day: Although you may have to take a day off to hydrate or rest, a daily blast works best. Dry saunas simulate Death Valley conditions, but if a steam sauna is available use it at least one day a week. Sometimes storms lash the Badwater area and it becomes extremely hot and humid. Fortunately, I have rotated between dry and steam saunas and have been ready for anything. It has made a difference.
3. The goal is to stay in the heat of the sauna for as long as possible:  When I rigorously workout in the sauna I have to leave it too soon, which defeats the purpose (Remember, at Badwater, you are in sauna-like heat all day with no doors to escape). I have better results sitting on the planks doing a light abdominal workout. I save my harder workout for the daily run, which I do first and then use the hot box. Running after a sauna session is extremely difficult. Save this time for hydrating.
Some athletes have favorable results using treadmills and stationary bikes inside the sauna. (The extremely elevated heart rate is a concern and may stress the body too much).
Dr Lisa Stranc-Bliss has had success (37-hour Badwater) using an infrared sauna, which she says "the lower temperatures penetrates deeper and heats the body from the inside just as the sun does."  She is able to stay in much longer in the 130-145 degree range.
4. Be patient: Most saunas top out at the 160-180 degree range. The first few days are the hardest and hottest. After fifteen minutes it becomes overbearing and its time to leave. But, as time goes by you will be able to stay in longer. By the fourth week, you should be able to handle 30-minutes or more at 180-degrees. I use the sauna at a more relaxed level throughout the year, which helps me ease into the extensive four-week regimen listed below.
5. Drink, drink, drink: It is important to hydrate while inside the sauna to replace all the liquids you copiously sweat out. This simulates race conditions and after three weeks the body has been trained to process all the liquids it is going to need. I usually take in three 2-liter bottles of ice water. Two bottles are for drinking and the third is for rinsing the body; it acts as a coolant for a minute or so, which helps you stay in the sauna longer.
6. Endurolytes: I take a few Endurolytes while in the sauna. They restore the potassium, magnesium and sodium that I sweat out. I would not run Badwater without them. They work.
7. Time element: You may be pressed for time because of all the training. Everyone has run more than enough mileage, so skip a run or two and just bake in the box. Besides, heat training is much more important.
8.   Recovery:  After the sauna I lay on a bench for about ten minutes as the body continues to sweat. After the elevated heart rate returns to normal levels, its time for a cool shower and an evening of hydrating. Liquid intake is essential. It enables you to properly train each day. 
9. Heat training in the sauna should take no more than four weeks and usually three are sufficient: When you get unexpected goose bumps at work/home or when it's 100-degrees but feels like eighty, you are acclimated. It is best to stop sauna training at least three days before the race. Don't worry; it takes weeks to loose the saunas heat benefits. It's now time to hydrate.
10.  Race Day: Pace yourself, lather up with sun protecting skin products and wear white clothing from head to toe, including long sleeves. It makes a big difference if you keep the jacket / shirt and hat wet. We use a super-soaker (large squirt gun) and I get sprayed with cold water every mile. If the suit dries out it may keep out the ultra violent rays, but it tends to retain the heat and you start baking.
11.  Sample four-week sauna training:
Day

Minutes
in Sauna

Temperature

01

15

160

02

15

160

03

15

160

04

15

160

05

20

160

06

20

160

07

20

110 (steam)

08

25

160

09

25

160

10

25

110 (steam)

11

25

160

12

30

160

13

30

160

14

30

160

15

35

160

16

35

160

17

40

160

18

40

160

19

40

160

20

30

110 (steam)

21

45

160

22

30

170

23

40

170

24

45

170

25

30

180

26

35

110 (steam)

27

40

180

28

45

180
That's it. Regardless of the schedule or method you select, any heat training will make running Badwater more tolerable.
Hopefully everyone will complete this incredible race, because crossing the finish line at Badwater is as good as it gets.
Good Luck.
 – Arthur Webb