About Us
---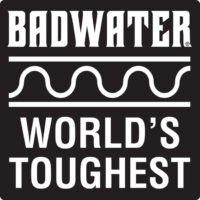 BADWATER®: It's a frame of mind, a global family of horizon-chasers, and a statement to the world about priorities and preconceived notions of what is possible. Badwater isn't just a brand or a series of races, it's a way of life!
BADWATER® is an iconic, authentic, worldwide American brand representing:
• An exotic, extreme, mythical place.
• A state of mind, one with a worldview that embraces difficulty.
• The most epic endurance races on the planet.
• The brand, products, and services known world-wide for authenticity.

Founded in 1984 by Chris Kostman, AdventureCORPS® is dedicated to exploring the inner and outer universes, seeking adventure, energy, and insight both in daily life and "out there."
AdventureCORPS®, Inc. is an athlete-run firm which owns and represents BADWATER®, "The World's Toughest Brand, Gear, and Races." As a brand, BADWATER represents digging deep and going farther; it is the lifestyle brand for all who push their limits while exploring the outer and inner universes.
BADWATER® is a federally registered trademark owned by AdventureCORPS® in variety of classes, including – but not limited to – Sports Event Production; Entertainment Services and Broadcast Media; Broadcast over Video Media and Internet; Adventure Travel; Charitable Fundraising; Clothing and Footwear; Sunglasses; Skin Care Products; Belt Buckles and Patches; Medals and Medallions; Backpacks and Fanny Packs; Publications; Decals and Stickers; and Beverages including Water and Sports & Energy Drinks.
AdventureCORPS® is also a federally registered trademark owned by AdventureCORPS® in a variety of classes.
AdventureCORPS' world-class events for athlete-adventurers include epic running races such as BADWATER® Cape Fear in March, BADWATER® Salton Sea in April, and BADWATER® 135 Ultramarathon in July, together comprising the BADWATER® Ultra Cup. We also host BADWATER® Presents ARMENIA ULTRA Stage Race.
Past events we've hosted include Badwater Presents Mustang Trail Race in Nepal in 2015 and Badwater Presents Mt. Gaoligong Ultra in China in 2016. Additionally, we hosted the Furnace Creek 508 ultra cycling race from 1990 through 2013 and the Silver State 508 ultra cycling race from 2014 through 2016. New BADWATER venues and events are in development across the USA and abroad, while new BADWATER products, gear, and services are also in development.
AdventureCORPS is a member of the Adventure Travel Trade Association.
For more information about the company behind the Badwater® brand, visit adventurecorps.com.
---
Digital Copyright
The entire contents of www.badwater.com, www.adventurecorps.com, www.chriskostman.com, www.xo-1.org, and all other AdventureCORPS URLs, websites, and blogs — text, images, data — are © Copyright AdventureCORPS, Inc. unless otherwise noted and are intended for personal information only. Downloading of information or graphic images contained herein for private, non-commercial use is not discouraged; however, written permission from AdventureCORPS, Inc. is required for the publication in any way of any material, including online.
---
We reserve the right to refuse service to anyone (mostly meanies and whiners.)
---
AdventureCORPS®, Inc. Disaster Policy
(Adopted from the Challenged Athletes Foundation Disaster Policy)
General Policy
If an Act of God / Act of Terrorism / Community Disaster occurs leading into or during any AdventureCORPS, Inc. event, we will take the following actions:
We will make decisions based upon the principle of "safety first."
The event will be altered as necessary, e.g., shortened, modified, or alternate course, or will be cancelled.
What Happens if an Event is Cancelled?
Athletes participating in an event impacted by an Act of God / Act of Terrorism / Community Disaster will have first right to sign up for that same event the next year. A date will be set for them to accept their registration spot.
Financial Ramifications of an Act of God / Act of Terrorism / Community Disaster which causes the Cancellation of an Event
AdventureCORPS, Inc. cannot assume the risk of a disaster for everyone. Each athlete needs to accept the risk of his or her entry fee.
There will be NO REFUNDS nor free entries to future events. The money you paid was spent developing the event for which you signed up.
AdventureCORPS, Inc. does not save any money if you do not complete the full course. We pay for all or nearly all event supplies or services associated with an event, regardless of the outcome.
This is not a policy that is unique to AdventureCORPS, Inc.. It is standard procedure in the event business. We must all share the risk.