About Chris Kostman
---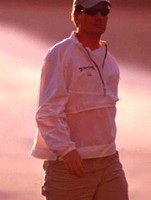 Chris Kostman is the Chief Adventure Officer at AdventureCORPS, Inc. and the Race Director of the entire worldwide series of Badwater® events.
Chris got his start early in ultra sports: He set world ultra cycling records in high school in 1984 and 1985 (riding against the clock from San Francisco City Hall to Los Angeles City Hall) and completed the 3127-mile, eleven-day Race Across America bicycle race at age 20 in 1987. That was a springboard to competing in events as diverse as the Triple Ironman in France, the 6.5-mile Skaha Lake Ultra Swim in Canada, three 100-mile snowshoe races in Alaska, six Ironman Triathlons, the Boston Marathon, and many other endurance races.
Hand in hand with his athletic career, Chris has been producing some of the toughest endurance events on the planet since 1984 through his company, AdventureCORPS, Inc. Hosted in Death Valley, on the slopes of Mt. Whitney and Palomar Mountain, on the beaches of North Carolina, in Nepal, China, and beyond, Chris has now produced well over 150 endurance sports events. These include the world-famous Badwater 135 Ultramarathon and its sister events, Badwater Salton Sea and Badwater Cape Fear. Chris also produced and directed the venerable Furnace Creek 508 bicycle race from 1990 through 2013, and its sequel, the Silver State 508 bicycle race, from 2014 through 2016.
Chris has also published over 250 articles about the endurance world, adventure, travel, and lifestyle. He is trained and educated as an archaeologist and works part-time in that field, both undersea and on land in the Middle East and South Asia. Further details are available at www.chriskostman.com