THE WORLD'S TOUGHEST FOOT RACE CELEBRATES 46th ANNIVERSARY OF ICONIC ROUTE FROM DEATH VALLEY NATIONAL PARK TO MOUNT WHITNEY
For the duration of the 2023 race, fans can follow the race through a "live" webcast at this link (which will remain archived there.)
AS in 2022: Facebook Live-Streaming at the Start Lines and along the route, thanks to our satellite internet system!
Follow the 2023 time splits and results at this link.
To download the July 2023 issue of BADWATER Magazine, click here.
For the 2023 Press Kit, click here.
See the bottom of this page for many more useful links.
FOR IMMEDIATE RELEASE
Lone Pine, CA:  On July 4-6, 2022, AdventureCORPS will present its legendary BADWATER® 135 Ultramarathon, the 135-Mile World Championship. Now in its 46th year, this world-renowned event pits up to 100 of the world's toughest athletes against one another and the elements in a crucible like no other. From below sea level in scorching temperatures to altitudes as high as 8,360 feet (2548m), 100 endurance athletes representing 26 nations plus 25 American states will face off in a grueling 135-mile non-stop running race from Death Valley to Mt. Whitney, CA. Widely recognized as "the world's toughest foot race," the invitational Badwater 135 is the most demanding and extreme running race on the planet.
The start line is at Badwater Basin in Death Valley National Park, which marks the lowest elevation in North America at 280' (85m) below sea level. The race finishes at Whitney Portal at 8,300' (2530m). The course covers three mountain ranges for a total of 14,600' (4450m) of cumulative vertical ascent and 6,100' (1859m) of cumulative descent. Whitney Portal is the trailhead to the Mt. Whitney summit, the highest point in the contiguous United States. Competitors travel through places with names like Mushroom Rock, Furnace Creek, Salt Creek, Devil's Cornfield, Devil's Golf Course, Stovepipe Wells, Panamint Springs, Darwin, Keeler, Alabama Hills, and Lone Pine.
The Badwater 135 Ultramarathon is held under permits from – and in close collaboration with – Death Valley National Park, California Department of Transportation, U.S. Forest Service, and the County of Inyo.
Above: Death Valley National Park Superintendent Mike Reynolds welcomes the 2022 Badwater 135 runners, crew, and staff (2023 video coming soon)
AdventureCORPS – on behalf of all competitors and support crews – also gratefully acknowledges that these lands have been lived upon for at least 1000 years by native peoples, including the Timbisha Shoshone and the Lone Pine Paiute-Shoshone tribes who live on the race course today. We honor and share their deep reverence for these lands.
While runners began running the course in the 1970s, the race itself has been part of the fabric of life in Inyo County since 1987. A recent study indicated an annual economic impact of 1.2 million dollars, half of it spent in Death Valley National Park and surrounding gateway communities such as Lone Pine, CA. The race is supported by former U.S. Congressman Col. Paul Cook (Ret.) of California's 8th District, the Inyo County Board of Supervisors, the Lone Pine Chamber of Commerce, and a wide panorama of businesses and charities which are positively impacted.
---
---
THE 2023 RACE FIELD
The ultimate "challenge of the champions," the 2023 Badwater 135 features 34 Badwater veterans and 66 rookies: die hard "ultra-runners" who have the necessary running credentials to not only apply for, but be selected, to compete in the race.
As always, the race will boast a very international field. The 100 athletes in the 2023 Badwater 135 represent twenty-six nations: Argentina, Australia, Brazil, Canada, Cayman Islands, Czech Republic, El Salvador, Germany, Hungary, India, Ireland, Israel, Italy, Japan, Jordan, Luxembourg, Mexico, Norway, Philippines, Poland, Romania, Slovenia, Spain, Sweden, United Kingdom, and United States of America. See the full roster here.
Twenty-five different American states are represented: Alabama, Alaska, Arizona, California, Colorado, Connecticut, District of Columbia, Florida, Idaho, Indiana, Iowa, Maryland, Massachusetts, Nebraska, Nevada, North Carolina, Ohio, Pennsylvania, South Carolina, Tennessee, Texas, Utah, West Virginia, Wyoming, and Washington.
There are 40 women – a record number – and 60 men. The youngest runners are Kaylee Frederick, 18, of Johnstown, PA, – the youngest entrant ever – and Kornel Miszczak, 25, of Klecza Dolna, Poland; both are rookies. The oldest runners are Linda Quirk, 70, of Las Vegas, NV, and David Jones, 71, of Murfreesboro, TN; both are Badwater 135 veterans. The overall average age is 49.
Of special note, this year Amy Costa, Jonathan Gunderson, and Keith Straw are going for their ninth finishes, Joshua Holmes is going for his ninth consecutive finish, Karla Kent is going for her eleventh consecutive finish, Harvey Lewis is going for his twelfth consecutive finish, David Jones and Pam Reed are going for their twelfth finishes, Ray Sanchez is going for his 15th consecutive finish, and Danny Westergaard is going for his 16th consecutive finish.
Every year is a new year at the Badwater 135, with both veterans and rookie athletes impressing everyone with incredible, gutsy performances. With every single runner hungry to go home with the coveted Badwater 135 Official Finisher Belt Buckle – and give their absolute best performance – both known and new stars will shine as the race unfolds.
Full roster details, including links to personal website, charities, social media, race results, and more are available here.
---
COURSE RECORDS and FINISHING TIMES:
Men's: Yoshihiko Ishikawa, 2019, Japan: 21:33:01. (He will compete again this year.)
Women's: Ashley Paulson, 2022, USA, 24:09:34. (She will compete again this year.)
For Age Group records and more info, click here.
It is expected that the winners of the 2023 Badwater 135 will finish in near record time for both men's and women's divisions. The average finishing time is approximately 40 hours, while the overall time limit is 48 hours. For those who finish in less than forty-eight hours, their reward is the coveted Badwater 135 belt buckle, referred to as "the Holy Grail of Ultra Running." There is no prize money.
WAVE STARTS
As detailed on the race roster, the race will begin in three waves on Tuesday evening, July 4. They are assigned according to their predicted finishing time, with the Fast Runners going first, Faster Runners going second, and – at least on paper – the Fastest Runners going third.
• Wave 1 (800pm): 22 men and 17 women; 30 rookies and 9 veterans = 39 runners
• Wave 2 (900pm): 18 men and 14 women; 22 rookies and 10 veterans = 32 runners
• Wave 3 (1000pm): 20 men and 9 women; 14 rookies and 15 veterans = 29 runners
---
A LEGENDARY HISTORY
This year's race celebrates the 46th anniversary of Al Arnold's original trek from Badwater Basin to Mt. Whitney in 1977. Arnold, an ultrarunning pioneer, human potential guru, and health club manager, competed in a solo effort: it was just Arnold and his support crew against the elements and the clock. It took him three efforts before he was successful, having first attempted the route in 1974 and then 1975.
Four years later, Jay Birmingham also completed the course, in 1981. The official head-to-head race began ten years after Arnold's pioneer trek, in 1987, and has been held annually since then without serious incident, fatality, or any citations issued by any branch of law enforcement. (The race was sadly canceled due to COVID-19 in 2020.)
AdventureCORPS brought Al to the race in 2002 and inducted him into the Badwater Hall of Fame. This was the 25th anniversary of his run, and he was treated like a rock star by everyone in attendance. Sadly, we lost our incredible friend Al Arnold when he passed away on September 6, 2017 at the age of 89.  He is sorely missed, but his spirit lives on with each year's edition of the world's toughest foot race.
Jay Birmingham, who turns 78 in July, remains very active with the world of Badwater, not only by serving on the Badwater 135 Application Review Committee for more than 15 years, but also as an athlete. He has competed in all of the Badwater races over the past twenty years.
The first women to complete the course were Jeannie Ennis (USA) and Eleanor Adams (United Kingdom), both of whom competed in the inaugural race in 1987. Ennis was brought to the race as a special guest in 2005 and inducted into the Badwater Hall of Fame.
For more info about Al Arnold and the original race click these links:
1977 Al Arnold / 1981 Jay Birmingham /  1987 Race
---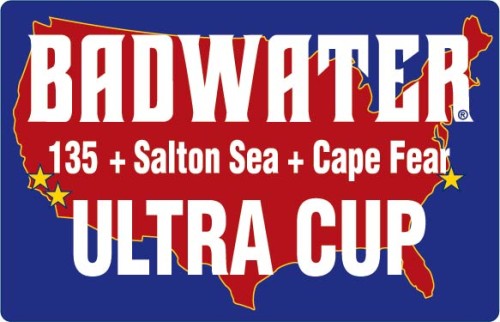 The Badwater 135 is the final event in the Badwater® Ultra Cup, a three-race series which began with the 51-mile Badwater® Cape Fear in March, continued with the 81-mile Badwater® Salton Sea in late April, and now concludes with the Badwater 135 in July. Those runners who complete all three events in the same calendar year are featured on the Badwater.com website and their virtues are extolled throughout the Internet and in future editions of BADWATER Magazine. In 2014, seven athletes completed the entire Badwater Ultra Cup, nine completed it in 2015, sixteen in 2016, fifteen in 2017, eight in 2018, eleven in 2019, six in 2021, and seven in 2022. In 2023, thirteen Badwater 135 runners have already completed both Badwater Cape Fear and Badwater Salton Sea, and will now attempt the final – and most difficult – leg of this epic, three-event series.
---
OFFICIAL SPONSORS AND CHARITIES
Now in its twenty-fourth year producing this race, AdventureCORPS is pleased to recognize Joe Nimble Shoes as the Official Shoe of Badwater. We also thank the Oasis at Death Valley, Stovepipe Wells Resort, Panamint Springs Resort, and Dow Villa of Lone Pine, the community of Lone Pine, CA, the County of Inyo, the Lone Pine Chamber of Commerce, De Soto Sport, and other generous companies and individuals who support Badwater 135 each year. More info about our sponsors.
Official Charities of Badwater include the Challenged Athletes Foundation.  As one of the very few charities that provides grants directly to athletes with a physical disability, the Challenged Athletes Foundation has raised over 159 million dollars and directly assisted more than 44,000 challenged athletes in all 50 states and 70 countries world-wide. Since 2002, together with our athletes, we have raised over $900,000 for Challenged Athletes Foundation.
AdventureCORPS also supports the Bald Head Island Conservancy, Death Valley Natural History Association, Conservation Alliance, and One Percent For The Planet. One of the goals of the Badwater 135 is to raise funds for, and awareness of, these organizations. More info. Additionally, many of the race entrants are competing on behalf of a charity of their choice, and these are noted and linked from the race roster.
---
FOLLOWING THE BADWATER 135 ONLINE
For the duration of the 2023 race, fans can follow the race through a "live" webcast at this link (which will remain archived at that link.)
Follow the 2023 time splits and results at this link.
Follow the race on Twitter @Badwater: http://twitter.com/badwater
Official Hashtags across all social media: #Badwater135 and #WorldsToughestFootRace
Follow the AdventureCORPS staff's live photostream on Instagram @BadwaterHQ
Follow the AdventureCORPS race staff's photostream archive on Flickr
Follow our Facebook @Badwater135 page and the #Badwater135 Facebook conversation
Download the July 2023 issue of BADWATER Magazine at this link.
WEBCAST, RACE UPDATES, PRESS CREDENTIALS, AND FURTHER INFO:
A stock image gallery – for bona fide media use only – may be accessed at this link, with Photographer Name / Badwater.com attribution required.
For media wishing to attending the event in person, please contact us directly.
---
ABOUT ADVENTURECORPS, INC.:
Oak Park, CA-based AdventureCORPS®, Inc. has made its name producing the world's toughest endurance races in dramatic, remote locations that few people would ever visit, let alone run or bike across. Held under the Badwater® banner, these events have allowed runners and bicyclists to explore the Death Valley, Salton Sea, Cape Fear, Mojave Desert, and the Nevada outback regions in the USA, as well as the Okanagan Valley of British Columbia, Mustang region of Nepal, Yunan Province of China, the Republic of Artsakh, and now Armenia and the Santa Ynez Valley.
AdventureCORPS®, Inc. owns and represents BADWATER®, "The World's Toughest Brand, Gear, and Races." As a brand, BADWATER represents digging deep and going farther; it is the lifestyle brand for all who push their limits while exploring the outer and inner universes.
Badwater® is a federally registered trademark owned by AdventureCORPS, Inc.
More info: Adventurecorps.com and Badwater.com.
CONTACT:
Chris Kostman
Chief Adventure Officer and Race Director
AdventureCORPS, Inc. 638 Lindero Canyon Road, #311
Oak Park, CA 91377 USA