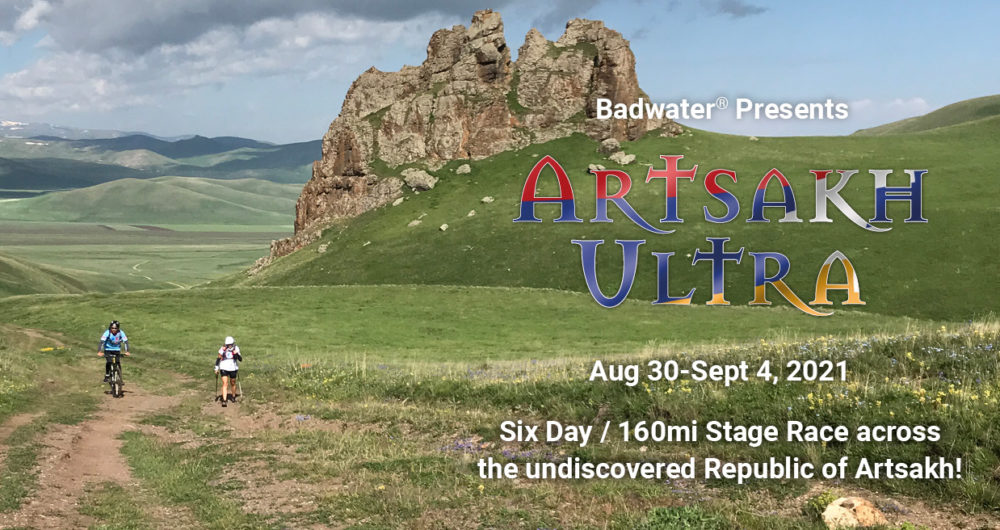 Above: Race Director Chris Kostman announces and explains the race.
PRESS RELEASE – FOR IMMEDIATE RELEASE
AdventureCORPS presents Artsakh Ultra, a six-day running race through the Republic of Artsakh
Oak Park, CA – In 2021, AdventureCORPS® – organizers of the world-famous Badwater® ultramarathon running races in Death Valley and across the USA – will host a six-day, point-to-point, 160-mile (260km) trail running stage race from Armenian into and across the Republic of Artsakh. The inaugural race will be held August 30 through September 4 of 2021, and the goal is to have 50 runners representing at least ten different countries participating.
Formerly known as Nagorno-Karabakh during the Soviet era, Artsakh is a fascinating, wonderful country that few people have even heard of, and even less have visited. AdventureCORPS aims to change both of those facts by bringing runners from all over the world to compete in the Artsakh Ultra™. The event will be held annually and AdventureCORPS already has plans underway to develop additional endurance sports events in Artsakh in the near future.
The Artsakh Ultra race will be held primarily on the Janapar Trail, a hiking trail network which stretches from adjacent Armenia into and across Artsakh.  The route is primarily held on jeep tracks, along with single track trails, some dirt roads, and about 10 miles (16km) of paved roads.
The race will be organized in a "stage race" format, in which runners will run a certain section of the Janapar Trail each day. Each day's "stage" will be timed separately, and overall results will be calculated by adding all six days' times together. The first stage will be 22mi / 36km; the next four stages will vary from 26 to 34 miles (42 to 55km), while the final stage will be 16mi / 26km. With a total distance of 160mi (260km), there is a total of 26,000 feet (8000m) of elevation gain along the route.
Beginning in the northeastern Armenian city of Vardenis, after 15 miles (24km) and at the top of a 9000-foot (2743m) pass, competitors in the Artsakh Ultra will leave Armenia and cross into the Republic of Artsakh. From here they will follow the Janapar Trail – with a few side diversions to see ancient sites – and transect the majority of this magnificent country. The six nights on the trail will include tent camping the first three nights and hotel stays the final three nights. Luggage transport will be provided each day and most breakfast and dinner meals will be provided. (Runners will provide their own energy food while running, and will be on their own for restaurant dining on two nights: in Vank and in Stepanakert.)
Some of the exciting landmarks along the route include the monasteries of Dadivank, Gandzasar, and Hakobvank, Zuar hot springs, the lofty peak of Kachaghakaberd, the "We Are Our Mountains" sculpture in Stepanakert, and Hunot Canyon. Towns and villages along the route include Tsar, Karvachar, Zuar, Vank, Patara, Stepanakert, and Shushi.
The final stage will begin with a festival hosted by the Artsakh government in the capital city of Stepanakert, and will conclude with a celebratory bonfire, music, food, and dinner party in the city of Shushi, known as Artsakh's cultural capital.
While the route will be incredibly beautiful and challenging, the race itself will also be a culturally immersive experience. Each day's route will pass through one or more villages, while the overnights will be in or near villages and cities. Runners will eat the local, super healthy, incredibly fresh food. They will enjoy Armenian music, dance, and culture. Along the way, the runners will visit 1000-year-old Armenian churches, monasteries, and historic sites. And while each competitor will run as part of an international field of runners, they will be embraced, surrounded, and supported by the people of Artsakh and their Armenian food, music, language, and culture.
AdventureCORPS' local charitable partner is Trails For Change NGO, the organization which is developing and signposting the Janapar Trail, along with other trails in Artsakh and Armenia.
This event is fully supported in principle and in action by the Government of Artsakh:
The Ministry takes the opportunity of this letter for expressing its readiness to provide this race with organizational support and all the other assistance that may be required from the Ministry's side.

We highly appreciate your efforts to promote Artsakh as a welcoming destination for runners from all over the world and to show the great potential of adventure tourism of our country.

We wish you all the success in your endeavours to promote Artsakh's tourism potential in general and Janapar Trail in particular through organizing such a great event.

– L. HOVHANNISYAN, Minister of Culture, Youth Affairs, and Tourism, Republic of Artsakh
The catalyst for the race is Armenian ultraunner Telma Ghazarian Altoon, who ran the entire 178-mile (286km) Janapar Trail in just two days, ten hours in June of 2017. (See video.) Her run effectively put the Janapar Trail on the map and led to a dramatic increase of support for trails by the Artsakh government and for Trails For Change NGO. Telma is a veteran of multiple Badwater races and a neighbor, friend, and ally of AdventureCORPS' Chris Kostman. Telma is a major supporter of Artsakh Ultra™ and will be on hand to support the runners during the inaugural race. (See interview.)
"I have proudly carried the Armenian flag in ultra running races all around the globe, but nothing prepared me for the beauty and wonderful people of Artsakh when I ran the length of the Janapar Trail in 2017. I was entranced by the landscape, the warm hearts of the Artsakhzi people, and the awe-inspiring majesty of the historic monuments and gorgeous green mountains. But even as I finished my run, my dream turned to the idea of bringing runners from around the world to enjoy these adventurous trails and to soak in the Armenian culture. Ours is an ancient civilization, alive and well in the 21st century. I can't wait to have runners come see and experience Artsakh!" – Telma Ghazarian Altoon
Chris Kostman, the race organizer – whose biography is below – had this to share:
"I have never been more excited on both personal and professional levels: First, Artsakh Ultra features the hallmarks of all my AdventureCORPS events: 1) Challenging Route. 2) Beautiful Route. 3) A fantastic, off-the-beaten-track location. 4) An intimate event experience organized to world-class standards.

But Artsakh Ultra goes even beyond my usual standards because of its focus on cultural immersion coupled with a close working relationship with the locals along the route and the very supportive Artsakh government. Also, as a lifelong lover of history, culture, language, and travel, it's an absolute thrill for me to merge my personal passions with my professional pursuits.

"I'm organizing Artsakh Ultra for many reasons. First, yes, to provide an awesome racing experience in an extremely unique location, but also to promote the Republic of Artsakh as a tourism destination, to spur development of eco-tourism there, and to directly support the local economy. Back in the USA, I have all of my usual, tried-and-true vendors, but for this event I want to support the local economy as much as possible. As such, in either Artsakh or Armenia, I will have our race shirts produced, our race magazine printed, our race awards manufactured, and more. I will also hire locals to support the event. And beyond that, I am also working to promote running and outdoor adventuring in Artsakh as fantastic pursuits for the local citizens. (We have very special pricing, too, for Armenian citizens who live in Armenia or Artsakh; please inquire.) Trails For Change NGO is our local charitable partner, so we will promote and support their efforts, too. Also, Artsakh Ultra is the first in a long-range plan to develop and produce several endurance sports events in Artsakh. It's an incredible country with so much to offer and I want to be at the forefront of making exciting things happen!"
Race organizer Chris Kostman hosted a Facebook Live announcement of the race on November 12, 2019 and that can be viewed at this link or at the top of this page.
2021 Artsakh Ultra Schedule of Events and Route:
8/29, Sunday:  Racer Check-In and Gear Check, Yerevan. (Hotel)
8/30, Monday:    Bus drive from Yerevan to Vardenis; Stage 1: Vardenis, Armenia – Tsar, Artsakh (Camp)
8/31 Tuesday:    Stage 2: Tsar – Karvajar – Nor Verinshen – Zuar Hot Springs (Camp)
9/1 Wednesday:      Stage 3: Zuar Hot Springs – Dadivank Monastery – Zuar Hot Springs (Camp)
9/2 Thursday: Stage 4: Zuar Hot Springs – Andzavner – Vank – Gandzasar Monastery (Hotel)
9/3 Friday:    Stage 5: Vank – Hakobvank – Kachaghakaberd – Patara – Stepanakert (Hotel)
9/4 Saturday:         Stage 6: Stepanakert – Vararakn Canyon – Shushi – Hunot Canyon – return to Shushi (Hotel)
9/5 Sunday:     Bus drive from Shushi to Yerevan
WEBSITES, SOCIAL MEDIA, PRESS CREDENTIALS, AND FURTHER INFO:
For more information about the Artsakh Ultra, visit the event webpage on the Badwater website.
For more information about visiting Artsakh, visit www.artsakh.travel
For accreditation for foreign journalists to attend and cover the event, click here.
An image gallery showing highlights of the entire route is available here, with "Photo Courtesy AdventureCORPS" attribution required for any posting or publication.
Official Hashtag across all social media: #ArtsakhUltra
Suggested Hashtags: #VisitArtsakh   #PutArtsakhOnTheMap   #TrailsForChangeNGO
Twitter: @Badwater
Badwater Instagram: @BadwaterHQ
Race Director Instagram: @ChrisKostman
Flickr Photostream: @AdventureCORPS
Facebook pages: AdventureCORPS and Badwater
ABOUT ADVENTURECORPS, INC.:
California-based AdventureCORPS®, Inc. is an athlete-run firm producing and promoting ultra-endurance sports events and the world's toughest brand, BADWATER®. Adventure is their way of life. AdventureCORPS' world-class events for athlete-adventurers include epic races such as the Badwater® 135, BADWATER® Salton Sea, and BADWATER® Cape Fear, ARTSAKH Ultra™, and other events. Their products include the Badwater® line of apparel, skin care products, gear, and services. Founded in 1984 by Chris Kostman, this group effort is dedicated to exploring the inner and outer universes, seeking adventure, energy, and insight both in daily life and "out there." More info about AdventureCORPS and Badwater is available at  www.adventurecorps.com and www.badwater.com
Badwater® and AdventureCORPS® are U.S. federally registered trademarks owned by AdventureCORPS, Inc. AdventureCORPS additionally claims "Artsakh Ultra™" as its exclusive trademark.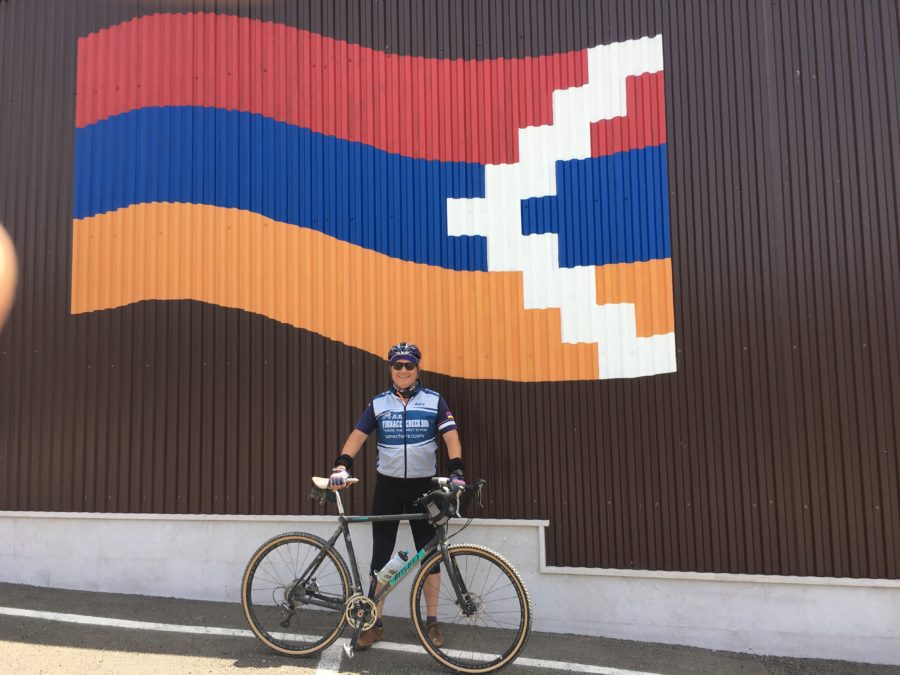 ABOUT CHRIS KOSTMAN (shown above while cycling across Artsakh):
The organizer and race director of the Artsakh Ultra is Chris Kostman, the Chief Adventure Officer at AdventureCORPS, Inc.
As an athlete, Chris Kostman got his start early in ultra sports: He set world ultra cycling records in high school in 1984 and 1985 (riding against the clock from San Francisco City Hall to Los Angeles City Hall) and completed the 3127-mile (5000km), eleven-day Race Across America bicycle race at age 20 in 1987. That was a springboard to competing in events as diverse as the Triple Ironman in France, the 6.5-mile Skaha Lake Ultra Swim in Canada, three 100-mile (162km) wintertime snowshoe running races in Alaska, and scores of long-distance road and mountain bike races.
His special event production career began in high school and grew in tandem with his athletic career. Chris has now produced over 150 world-class sporting events through his company, AdventureCORPS. Hosted in California's Death Valley and Borrego Springs and on the slopes of Mt. Whitney and Palomar Mountain, as well as on the shores of North Carolina's Cape Fear, these events include the world-famous Badwater Ultramarathon 135-mile foot race and its sister events, Badwater Salton Sea and Badwater Cape Fear.
Chris also directed the venerable Furnace Creek 508 ultracycling race from 1990 through 2013, and the Silver State 508 ultracycling race from 2014 through 2016. He also co-hosted an eight-day trail running stage race in the Kingdom of Mustang, Nepal in 2015 and a 100-mile (162km) trail race in the Yunan Province of China in 2016. Chris has also published over 250 articles about the endurance world, adventure, travel, archaeology, and human potential.
Chris holds bachelor's and master's degrees in archaeology – with a focus on the Middle East and South Asia – from the University of California at Berkeley. He has worked on archaeological excavations in Pakistan, United Arab Emirates, Turkey, and Egypt. His deep love of history, culture, language, and travel – and a lifestyle based upon "seeking and sharing adventure" – were instilled in him by his school teacher parents, Wayne and Shelby Kostman.
CONTACT:
Chris Kostman,
Chief Adventure Officer and Race Director
AdventureCORPS, Inc.
638 Lindero Canyon Rd #311
Oak Park, CA 91377 USA
Email: adventurecorps "at" gmail.com
Subscribe to the AdventureCORPS email newsletter at this link.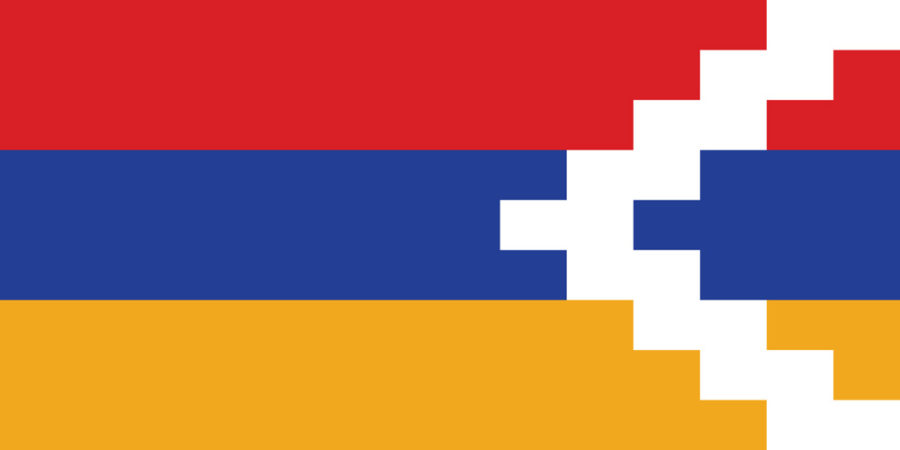 Please enjoy this five-minute video about the cultural and geographic wonders of Artsakh: