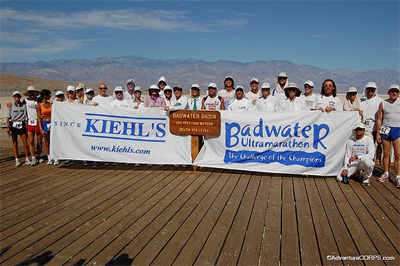 2006 official finisher
There have been many times when I've sat alone and cried and wondered if life was worth it. The possibility of ending it all has come to mind a number of times. I've sought out death and wanted to die, yet I went to Death Valley in search of life. A journey through the desert would teach me many lessons that ultimately would bring out my inner strength and desire to live my life to its fullest. I would be forced to persevere through the toughest conditions that in the end would teach me that I can be successful at anything life has to offer if I just try. Never be afraid, never give up and always look ahead and success will follow.
Before I could meet the challenge of Death Valley I first had to overcome many obstacles that blocked my path. An injury to my right leg in February hindered my progress and virtually stopped my progression toward my goal. I was diagnosed with a stress fracture that relegated my training to pool running and elliptical training for six weeks. Upon my return to running I found that I still had pain and returned to the doctor to find that I now had tendonitis in the leg along with a pinched nerve. I forced myself to withstand the pain these injuries generated as I trained diligently for my run. The pain never subsided yet my will to succeed allowed me to push forward. I solicited the help of several health professionals including a neurologist, vascular specialist, acupuncturist, and chiropractor to help ease the pain. In the end no one could help and my training along with my mindset suffered immensely. Still determined I set my goals high as the time neared to the start of the race.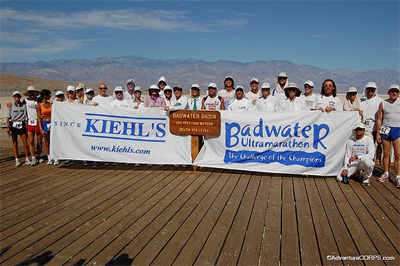 Having focused so much on getting healthy, I failed to fully prepare for the race as much as I would have liked. My crew was put together haphazardly but the one constant that always remained was my good friend Rick Palmer. He stood by my side during every set back of the injury and never pushed me into any decision about whether I was going to attempt Badwater. What he did instead was he made me a part of his family. My other crew members came to me by way of recommendations of friends. Lisa Bliss recommended Dori Robertson and Beth Simpson recommended Phil Rosenstein. Just through our few conversations by phone Dori struck me early on as someone I could count on in tough times. She had the experience and background that our team would need for us to be successful. Phil, less experienced than both Rick and Dori, has accumulated quite a resume in the one year he has been involved in ultrarunning. I liked the fact that he has shown determination and guts in several races both qualities that I would need to survive Badwater.
The race itself started in Badwater which, at 282 feet below sea level, is the lowest point in the United States. The view as we started consisted of mountains tight to the side of the road on the right and salt slicks on the left with mountains further in the distance. The shiny salt slicks looked like small lakes or ponds from where I stood on the road. The heat was brutal with start time temps of 110 degrees and humidity around 17%. I felt very odd standing in an area where I knew living things did not exist. One of my concerns going in was whether I would allow my crew to care for me. I've always been an independent person and have never leaned on anyone my entire life. In order to succeed in this event it would be imperative for me to step outside of that box and do something that would not feel comfortable.
There were a number of pre-race events that took place before the actual start including fulfilling my responsibilities as a test subject as part of a research study being performed at Slippery Rock University. Periodically during the race a doctor would take blood and urine samples to use to collect data for the study. I had to report to Dr. Lisa Bliss prior to the race to supply the first of these samples. After I fulfilled this obligation I then weighed in and reported for our group photo.
In order to control traffic and pedestrian congestion on the road the 85 participants were divided up into three separate groups, which were scheduled to start at different times. The groups were scheduled to start at 6:00, 8:00, and 10:00a.m. My group was the last to start at 10:00 a.m. Immediately after the group photo we were directed to the start line where the Canadian and U.S. National anthems were played. I patiently waited for the start as some final instructions were given and pictures taken.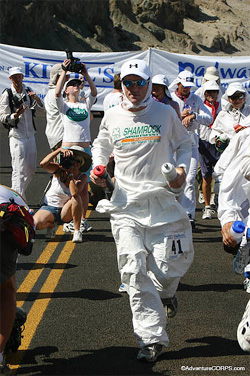 I wore a white long sleeve shirt, running shorts with white Tyvek covering my legs, and a white hat with a bandanna covering my neck to stay protected from the sun. I also covered my face with 50 SPF sun block and protected myself from blisters by spreading Vaseline on the most susceptible areas. The race director Chris Kostman counted down from ten and we were off. I felt very strong at the start and initially did not feel the impact from the heat. We ran for about a mile when I saw the first of the crew people caring for their runner. There were a lot of experienced runners and crews in my wave and it showed early on. This was the first time either myself or any of my crew members had participated in the event and because of that our team got off to a bit of a rough start. We were one of the first to the starting area so our vehicle was blocked by others double parking around us. They had to wait for the others to move out of their way before they could get on the road to begin crewing me. I was a little worried when I saw the other runners being helped out so early on and my crew were nowhere to be found. I figured, though, that if I couldn't run at least a couple of miles through Death Valley on my own I didn't deserve to be there in the first place. Things were a little confusing once they caught up with me because instead of pulling up the road a mile they stopped immediately. This kind of start made it very hard to get into a rhythm of meeting me every mile. Finally I told them I was willing to bite the bullet for awhile and I asked them to pull up a mile so we could get in sync. It would also give them time to catch their breath and allow them to prepare properly for my arrival. It was at this point that I realized just how hard of a job crewing was going to be. Imagine having to stop at least 135 times over a two-day period with little time to rest.
A group of runners took off very fast but I recognized immediately that last year's winner Scott Jurek stayed behind so I followed suit. I went into the event like I do any race I enter with the belief that I could win but in order to do so I had to be smart. I had no real plan but thought it would be wise to try to stay behind Jurek even though his pace was very slow. I was a Badwater rookie but smart enough to realize going out too fast could come back to burn me later. Staying behind Scott would keep me in check. I slipped in front of him when Lisa Bliss pulled him over to remove his sweat patch. It kind of threw me off and I was now feeling uncomfortable ahead of him. I watched as his crew of three methodically met his every need. The experience his crew had gave him a definite advantage over those of us who were first timers.
Despite their lack of experience my crew was now on track and doing an awesome job. How could I complain being served with water, getting sprayed down and getting a sponge bath every mile? I told them ahead of time that water would be sufficient for at least the first five miles at which point we could discuss whether Gatorade would be needed from then on. Along with water they started to maintain a schedule of supplying me with two Succeed caps every half-hour. The caplets would be critical in helping me control muscle cramps as the race progressed. Their purpose was to replenish the sodium and potassium that my body would lose through sweating.
I noticed at the five-mile point that my crew had slipped some Hammer Gel into my water. It didn't set well with my stomach so at the next point I asked them to give me straight water instead of the gel/water mix. They satisfied my request but because the bottle wasn't rinsed I detected a distinct aftertaste. As soon as I tasted the Hammer Gel I became angry and turned to throw the bottle back in frustration. When I did so a couple of things happened to change my whole outlook of the race. First I slipped and fell on the ground and secondly when I did this my calves cramped immediately. I couldn't believe that I cramped so early in the run. I became concerned and realized the seriousness of taking care of myself. The fall also made me realize that I was taking things way too seriously and that I needed to lighten up. I had to treat my crew with the respect they deserved because they were there for me and helping me. The least I could do is be respectful. I then told them that no matter what we were there to have fun. I made sure from then on that I always thanked each of them as much as possible and I also checked to make sure they were taking care of themselves. It took a fall but I came to my senses and did what I knew in my heart was the right thing. People in general are important to me but these people in particular would come to mean a lot to me over the coming days.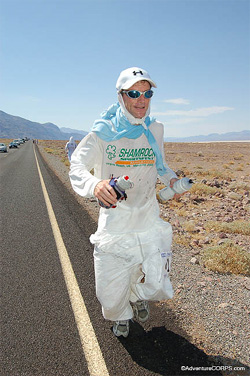 The next major event occurred around mile ten when I started feeling a pain on the side of my left knee. The course was flat to rolling the for the first 17 miles so even though I had a slight ache the pain was manageable except when going down the few hills. I didn't let it concern me until I hit the last half-mile downhill stretch going into Furnace Creek when the pain in the knee became excruciating. Furnace Creek was designated as the first major checkpoint and an area where civilization existed so I stopped to rest and refuel. I even took a couple of minutes to stand in the air-conditioned General Store where I could get relief from the heat. When I returned to my crew vehicle Don Lundell recognized that I was having trouble with my knee and allowed me to use his massage stick. The pain was localized on the side of the knee, which immediately told me my IT band was inflamed. Despite the localization of the pain I was sure the cause was actually closer to the hip. Instead of focusing only on the knee I massaged the entire leg from the hip down to the knee.
When we left Furnace Creek I was allowed a pacer for the first time so Rick stepped up and ran with me. We were already running low on ice so Phil volunteered to go to Stove Pipe Wells to buy ice while Dori crewed with the other vehicle. I think it was at this time that Rick realized it was no longer a race but rather survival. I was frustrated and in some serious pain, yet I forced myself to run as much as possible. I planned to take it easy from miles 17-42 anyway because it was the hottest part of the day. Even with that planned ahead of time, being forced to take it slow frustrated me. I schemed and plotted and tried to find ways to reduce the pain so I could run again. My first attempt at this was to try running backwards. At first it felt very comfortable and pain-free but I couldn't fathom the thought of running the whole race this way so I tried turning around periodically and running forward. The pain made it virtually impossible to do so. Finally I succumbed to Dori's offer of massage and stretching of the knee. It was painful as hell as she kneaded her fingers deep into my muscle tissue. I just grinned and beared it as much as possible, hoping that what she was doing would help. Before heading back out to run she instructed me to try to modify my stride by either skipping with the affected leg or speeding up the motion of the leg. I thought it might be beneficial to run off the road onto the dirt where the slant was in the opposite direction of the crown in the road. I was hopeful that this would put less stress on the bad knee and reverse the negative effect of the first 17 miles. When I went back out it hurt at the start but after forcing myself to run through the pain it significantly decreased and I was able to run comfortably.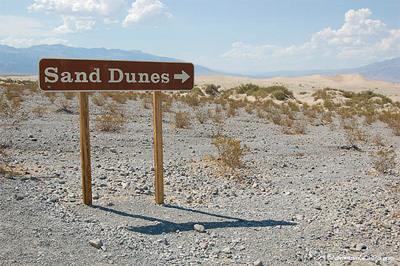 The scenery from miles 17-42 was pretty consistent with what looked like large farmer's fields on either side of the road, but instead of crops growing the fields were covered with rocks. In the distance, beyond the open fields, beautiful orange colored rocky mountains could be seen. It just didn't feel real. It felt as though I was caught up in a time warp and I was somewhere I didn't belong. The course remained flat from mile 17 until about mile 30 when the road gradually started to ascend. I used a run/walk method to get up the hill using the road reflectors as landmarks of where to run and where to walk. I felt good for several miles and still felt confident in my ability to do well. I kept reminding my team that we were in this together and that I needed them to take care of themselves while at the same time taking care of me. I constantly checked to make sure each was eating, drinking and taking salt when needed. They were working so hard and I thought it was important for me to put them at ease. I didn't want them to worry about me. The knee hurt but I hung in there as I descended the short hill that ended around mile 35.
Dori, Phil, and Rick took turns pacing me only staying in the heat for about one hour each early on. I trusted their judgement as to how long they could withstand the elements, and they did a good job of making appropriate decisions. I was able to handle the heat pretty well early on myself. I was constantly taking precautions to care for blisters, stave off stomach ailments and recognize hydration issues. I weighed myself consistently to keep accurate data as to whether I was gaining or losing weight. I took Pepto Bismol on a regular basis whenever I felt any type of stomach pain. I reacted quickly to burning sensations on the bottoms of my feet by stopping and bandaging the affected areas. My feet stayed in excellent condition until I felt the first burning sensations around mile 40, at which point I stopped and cared for them.
My crew was doing a bang-up job with only minor problems through 40 miles. I did become concerned when Phil started talking about his 17-year vomit streak. It was early on so the conversation didn't bother me too much but I certainly hoped that he wouldn't bring up such topics as the race progressed.
A bit of a sand storm kicked up as we made our way toward the mile 42 checkpoint at Stove Pipe Wells. While the sand never reached us, we could see it in the distance being blown around by the breeze that was now in our faces. Again, running was a little bit of a struggle at this point as my knee continued to ache. I was resolved to gritting my teeth and running short stints before relenting to the pain and slowing to a walk. We were only about eight or nine hours into the run so I was still strong both mentally and physically, but now with the knee still aching I realized this was going to be a struggle the entire way.
The road that had been straight for so long now veered sharply to the left as we passed some sand formations that looked like old Egyptian pyramids. Even though I was frustrated I still took the time to soak in the scenery that Death Valley had to offer. David Bliss caught up with us about five miles from Stove Pipe Wells, and since I was at my crew vehicle I stopped to chat with him for awhile. I refused to tell him about my knee problem because I didn't want him to think I was making excuses for my poor showing. In reality he seemed very impressed with the progress I was making which made me feel good. David is a real upbeat guy and I've never heard a negative word come out of his mouth so it wasn't surprising to hear his encouraging words. Despite David's encouraging words I knew I wasn't making good time, so I only spent a couple of minutes talking with him before moving on. Rick and Phil hung around to chat more with him as Dori and I headed back on the other side of the road to continue our journey.
There always seemed to be someone in close proximity to me the entire run either in front or behind me. Noora Alidina and I were bouncing back and forth for a while and Linda McFadden was also near. I only know Linda was around because of the presence of the one and only Catra Corbett who was crewing for her. As we approached Stove Pipe wells I passed ten-time finisher Scott Weber who seemed to be holding his own again this year. I patted him on the back and told him it was a pleasure to share the course with him as I went by. I entered Stove Pipe Wells a battered and beaten man. I stopped at the medical checkpoint to have some blood taken out for the research study and a new sweat patch applied to my back. As I sat down I was flattered to see that the beautiful Leigh Corbin had been waiting for me to arrive to take my picture. Her appearance and enthusiasm was an uplifting moment for me. It made me realize that there were many people out there rooting for me. Phil didn't allow me to dawdle too long talking with Leigh before he pulled me out of the medical station and up to the pool to dunk my head in what seemed to be 130-degree water. I guess he thought it would be refreshing but in reality it was hard to bend my body over and put my head in. I thought I would make it worth his while though as I dunked my head and kept it under for as long as I could. I really felt out of place as I could feel the cold stares of the others in the pool probably wondering what this dirty, sweaty guy was doing. Once I pulled my head out of the water I quickly made my way back to the van to ask for some aspirin and get my bottles refilled. Every time I stopped moving it made it that much harder to get cranked back up again. The knee would loosen some while moving but when I stopped it tightened up and hurt like hell when I started again.
As I left, David Bliss fed me encouragement and gave me a quick idea of what to expect in the coming miles. He mentioned something about a long section of switchbacks that would be coming up so I assumed he was referring to the first long climb that was staring me directly in the face. Turns out though the switchbacks he was referring to didn't show up until we left Panamint at mile 72. He also reminded me that darkness was imminent and he said I'd be able to let it loose at that point. Night fall was something I targeted early on as a milestone and definitely thought I would be able to put the jets on when it arrived. Now with a bad knee my strategy had to change and instead of darkness being a blessing it could turn into a curse. I had to stave off the demons of the dark and do my best to control my own mind.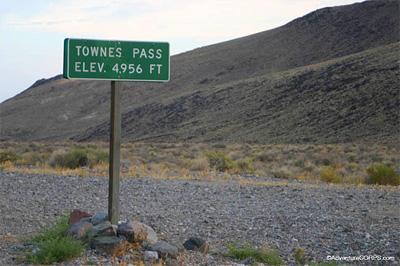 Dori took over the pacing reigns as we made our way up the long climb to Townes Pass. We actually did a lot of running from reflector to reflector because the knee didn't hurt as much on inclines as it did on descents or flats. I still had a lot of energy and once the sun went down I was able to focus on the beauty of the nighttime sky and the million stars it held. Neither of us astrologers, Dori and I pointed out a couple of constellations that could easily be seen from below. Personally the only formation I could find was the Big Dipper, but with the stars seemingly so close any knowledge at all I should have been able to point out everything the sky held. It was such a perfect night—so peaceful and quiet that I felt at ease even though I knew I had a long journey ahead of me. I never once thought about the work that lay ahead but rather the beauty of the area.
Peacefulness aside, there was the intermittent whines of the suffering runners that could be heard in the distance. Jody Lynn Reicher who took off like a bat out of hell at the start had slipped dramatically and was now close by. I passed by fellow east coaster Bill Ladieu who was not too happy, but based on his pace compared to the other year he did the race he was doing well. It was right around this time that Dori and I saw the first living creature in the dessert. A mouse scampered across the street in the darkness moving his little feet as fast as possible probably in hopes of not getting baked to the street.
Dori took the responsibility of pacing me up the hill while Phil manned the vehicle. It was decided early on that each of the crew members would take some time off during the night to rest, and Rick was the first to take advantage of this. It was so hot and sticky that little sleep could be had, but even just a few moments away from the crew responsibilities had to be welcomed. Once we reached the top of the hill Rick returned to take over the pacing duties while Dori manned the vehicle and Phil napped. I had trucked up the hill at a decent rate of speed, but going down hill would be a different story. What should have been an easy glide downwards toward the Panamint Valley turned into ten miles of pure hell. The knee couldn't withstand the pounding I was trying to put on it, so we were forced to a walk. Every once in a while I would try to skip down the hill only to be brought to a halt by the pain. It was frustrating but I tried my best to remain upbeat. Obviously at this point I knew the run was going to take a very long time so I couldn't allow any negative thoughts to enter my mind. Negativity would only make it more of a struggle so I did my best to enjoy the fact that I was participating in the premier event the United States has to offer.
Since we were walking down the hill and those behind us were running, we were passed by more than a few people. First to go by was Maria Lemus. She was sprinting down the hill. I honestly thought that because she was giving so much of an effort that we would meet her later on down the road, but as it turns out she put in a very strong effort and finished well ahead of me. Second to go by was Jody Lynn Reicher. As I was taking a break by my crew vehicle I heard her yell out in the night, "is any one else out here hurting?" I immediately raised my hand and yelled back that I was. I certainly didn't want her to think she was alone. When we got back out on the course nine-time finisher Art Webb caught up to us. He wasn't moving too fast himself, but he was gaining more ground than we were. He seemed distant as he talked, but it was understandable that at this point in the race he would be more focused on what he was doing than our conversation. I commented on the fact that he was running without a pacer and his response was that it was the only way to do it. I thought to myself, "not really, you could use a pacer." I took his comments lightheartedly, as what I saw in Art was a tough man out to prove a point, and a point he did prove as he went on to finish in just over 45 hours. Later on down the road we passed my favorite runner Shannon Farrar-Greifer. She and her very attractive crew made up of four very pretty young ladies and two guys had been very kind to Rick and I the night before in giving us advice about the race. When I went by she was just so pleasant and told me how well I was doing. Normally that would fluster the shy side of me but now a confident runner, I handled it well and even flirted with her a bit before pulling away. This wasn't the last I would see of Shannon however, as later on in the race she pulled even with me and eventually went on to a strong finish in about forty-five and a half hours.
Despite the fact that I wasn't giving much of an effort to run down the hill, I was tiring quickly. A bright spot came when Dr. Lynn drove up alongside of us with Dr. Lisa Bliss in the passenger side of the vehicle. A familiar song was blaring loudly from their vehicle. My favorite song "Bridge over Troubled Water" by Paul Simon. Lisa had remembered this from one of our many conversations while I was pacing her at Western States the prior year. It was a heartfelt moment and one that I will not forget. While it didn't generate any energy or get me moving any faster it touched my heart. Her kindness once again showed me that there are people out there that honestly care about me.
We barely reached bottom before Phil returned from his nap to relieve Dori. He took over pacing duties and Rick took over crewing for the time being as I continued my march toward Panamint. I became bored and disinterested with the course, as what I thought was a steep ascent turned out to be just another flat section of road. The boredom, pain, and frustration from the long downhill had now wore me down to a point where I was thinking about taking a nap. The sun began to rise and my eyes began to close as my pace slowed to that of a turtle. Knowing that it was going to be a tough road to hoe, I made a very difficult decision to take a quick nap. I was hoping a little rest would relieve the pain in my knee and also brighten my spirits. Physical pain and mental pain can be managed when dealing with either alone but in combination with one another it was a constant struggle. If nothing else, a nap would remove the negative thoughts from my mind and give me a whole new outlook on things. The race was now between me and he clock, so it truly didn't matter who passed me while I was resting. Rick offered to stake me out and run me up to the hotel in Panamint where I would be more comfortable but I stubbornly refused. I had no plans of ever staking out and removing myself from the course and now was not the time to change those plans. The van would be perfectly comfortable enough for me to rest in. I situated myself in a comfortable position and asked Rick and Phil to wake me in 20 minutes. I just happed to look at the clock before going to sleep so I knew exactly what time it would be when they woke me up. I fell fast asleep and before I knew it Rick woke me out of a sound sleep. Boy was I pissed when I found out he had only let me sleep 15 minutes instead of the 20 I requested. Unfairly I chastised him, but later on I told him he did the right thing. The rest indeed gave me new life and I felt very strong, however the pain in the knee not only didn't get better, but it intensified. It felt as though someone were stabbing me in the knee with a knife. It was constant and throbbing and now hurting not only when I ran but also when I walked. Another fabulous thing happened to me when I fell asleep. A nice big blister formed on the left side of my tongue making it difficult for me to suck water out of my bottle.
Things were growing bleak, but never once did quitting enter my mind. I fell back heavily on my experience and relied on the knowledge that as long as I moved forward things could always change for the better. These were just challenges that I had to overcome, and overcome them I would. In order to keep me full of fluids my crew was now feeding me liquid in a cup rather than my water bottle. I was also now on the verge of having stomach problems so my crew fed me ginger ale. I was always able to settle my stomach with ginger ale and Pepto Bismol, so despite all the other problems I incurred never once did I have to deal with stomach issues.
The sun was now in full bloom and the town of Panamint could be seen in the distance. The buildings seemed to be right around the corner but I could tell we still had a good distance to travel before reaching town. I'm never satisfied, as I either am frustrated because nothing can be seen in the distance or I'm pissed because I can see the town but it never gets closer. I was griping and whining to my crew about my thoughts but with each step we gained ground and the buildings neared. The town of Panamint from a distance looks like a kingdom sitting on a mountaintop but in reality it is just a few nice buildings sitting in a valley. I hobbled into town somewhere around 6:00 a.m. without stopping other than to check in. It had taken me an unbelievable 20+ hours to go 72 miles. Upon leaving the town, we were headed toward the second major climb of the day—a 3000+ foot climb up to Father Crowley. It was at this point that I first realized we were in an ice crisis. My crew had anticipated buying ice in the General Store in Panamint but by the time we arrived there wasn't a cube to be found. Rick, Dori and Phil put their heads together and came up with a plan. Phil would drive 50 miles to Lone Pine where surely he would be able to buy ice while Dori paced and Rick crewed. It sounded good on paper but Phil wasn't too happy about the plan. He was sleepy and didn't feel comfortable making the two-hour out-and-back trip to Lone Pine. Finally, though, he gave in and went. In the meantime I was writhing in pain with every step. Dori offered to once again massage and stretch my knee before I could beg her to do it. It had worked the last time and my only hope was that this time it would allow me if nothing else to walk pain free. She had me lay in the van with my leg hanging out where she could access it. She kneaded, pressed and rubbed deep into my muscle as I literally screamed silently in pain. What she was doing hurt more than when it did while walking on it but if it worked I was okay with it. When she was done with the massage she immediately placed ice on the affected knee and left it there for a couple of minutes before allowing me to go. She warned me that it could be really painful to get started again but as I walked it would loosen up. She was right as it hurt when I first moved, but because she said it would get better I didn't pay it much of mind. I'm not sure whether her treatment worked or whether it was just mental but after a few minutes of walking the pain subsided to an acceptable level. The pain was still substantial enough that running was out of the question but since we were climbing I was able to accept a fast walk.
I was relaxed and as pain-free as I was going to be at the beginning of the climb, so I took the opportunity to suck in the ambience. The road switchbacked up the mountaintop just as David Bliss told me it would when we were at mile 42 the previous day. The course led us up on a two-lane road with very little shoulder on the left as the road hugged the rugged mountain. On the right there was a deep canyon that looked as if it once was filled with water. The mountains in this area were beautiful as the colors changed from granite to slate never staying consistent for long periods of time.
Just ahead of us were perennial contender Mike Sweeney who had been struggling throughout the event and 64-year-old Art Webb. Like me, both were receiving excellent attention from their crews and were moving forward at a consistent pace. I was feeling strong from the nap and the knee was cooperating for the time being so I was able to pass both Art and Mike at the beginning of the climb. Dori was great company as she seemed to have a million and one stories. I never once had to generate the conversation with her, which really allowed me to focus on what I was doing.
The sun was now in full bloom and it was time to face the heat for the second day. I had given thought to how I would dress for the daytime hours as I trudged along the previous night. The thought of wearing long clothes for a second day in a row just did not sit too well with me. I decided to gamble and continue to wear my nighttime clothes, which consisted of a tank top and shorts along with the white baseball cap. I was told the maximum temperature would probably only reach 110 degrees, which bothered me because I thought that at 5000 feet we would have gotten to a point where the temperatures would be somewhat moderate or at least acceptable. Well no matter what, I had to deal with whatever Mother Nature threw at me. Dori recognized very early on that the heat was once again going to be a factor and she immediately started spraying me with water. Rick busted his butt making sure he had water bottles filled for me each time I arrived at the vehicle. At this point I pretty much had my fill of water so he was mixing it up with different flavor sodas including Dr. Pepper and Ginger Ale. The soda seemed to sit well in my stomach and satisfy my taste buds as well as my thirst. He also periodically wrapped an ice bandanna around my neck to help keep me cool.
I was still lucid enough to make sure I asked my crew every once in a while if they were okay. It was very important to me that each one of them had fun on their trip. They were busting their butts for me so if there was anything I could do to reciprocate I was willing. They never once asked anything from me but rather continued to encourage me and lead me down the path to success.
As we climbed, the views became more spectacular. While I'm not a big fan of open fields filled with what seemed to be lava rocks, it looked so pretty from a distance. It was beautiful, peaceful and serene. It looked like a place where one might go to reflect. In reality it was a dangerous place where if anyone were stranded would become part of the desert itself.
I love to climb, but like everyone else I eventually look forward to a change. Upon every turn I hoped for the top but the hill was relentless and we continued to climb and climb. At no time was the grade unmanageable but it was a bit more than a gradual ascent. I never struggled but I did become impatient. We met up with a photographer about two thirds of the way up and he asked Dori and I a few questions of which Dori responded that she was the president of the Dave Bursler fan club. We both got a good chuckle out of her comment and wondered if indeed that audio would make it to the webcast. We went a little further before we saw Phil returning with the ice. When Phil and Rick met us at the next stop there seemed to be a bit of a power struggle amongst my crew as Dori wanted to complete her trek up the mountain and Phil thought it would be best if he took over. Rick looked a little dumbfounded for a reason that I found out later to be because Phil didn't actually make it to Lone Pine. He stopped in Darwin and asked for 4 bags of ice from the medical crew. Rick looked dumbfounded but in reality he was upset because he believed we were in an ice crisis and 4 bags just would not cut it. Now I wasn't supposed to know any of this was going on but I'm the type of guy that it's pretty hard to keep a secret from. Rick tried to resolve the problem by conserving as much water and ice as he could. He went as far as to not drink any fluids himself for over three hours. This is something I did not realize until later that night toward the end of the race when all was under control. I wasn't eating or drinking a hell of a lot at this point so in reality we were okay with both water and ice, but without the ability of telling the future Rick reacted in what he thought was the most appropriate manner. While Rick dealt with the ice crisis Phil won the battle with Dori and gained the responsibility of leading me up the rest of the hill where at the top we saw Lisa Smith-Batchen in the parking lot huddled around her crew. This was the first stage of her attempt at the double Badwater. She would be out on the course at least another four days after I finished. An amazing feat by an amazing woman, not to mention a very generous crew of people assisting her.
When we reached the top, the bottom of my right foot was burning up. The humidity was taking its toll on the bottoms of my feet. When I removed my shoe to pop the blisters on my left foot I noticed how wet and wrinkly the foot was. The combination of the moisture in the air and my own sweat had soaked my socks clean through to the skin of my foot. I changed my sock on the one foot after carefully popping the blisters and bandaging them, but I didn't touch the other foot for fear I might cause problems. Once I was back together I headed back down the road, this time with Rick by my side. I was slowly dying with every step we took. The climb up the mountain had taken its toll on me. I was weary and struggling forward toward the next checkpoint at mile 90, which was in the town of Darwin. I acknowledged Lisa Smith-Batchen as she went by wishing her luck on her double. I also made mention of the fact that Rick and I are both from the East Coast where she previously hailed from. She seemed like a very sweet lady but obviously she was also a very tough lady.
In the distance Rick and I saw what I had been hoping to see for a really long time: Mt. Whitney and the finish line. We still had miles and miles to go, but it was mentally uplifting to see our final destination no matter how far away it was. Dori snapped our picture as we pointed toward the mountain and then almost as quickly as the surge of energy appeared it was gone. I was weary and weak and my feet felt as though they were cast in stone as I raised my legs to take each step. When we came upon a sign on the left that read "Death Valley National Park," Rick told me it signified the end of our journey through Death Valley. I'm still not sure if what he said was true but it sure made me feel good. Well as good as an overheated, overtired, injured person can feel anyway. I limped my way toward the sign where Dori had parked and told both Rick and Dori that I needed to sit in the air conditioning for a few minutes. My body was beat to a pulp and I was so weak I needed to rest. While resting, Rick and Dori took a moment to snap photographs of one another next to the sign. The a/c felt good but I knew I couldn't waste too much time sitting in it. Eventually I would have to face the elements once again and what better time than now to do so. So after about a five-minute rest I plopped out of the vehicle and continued my death march toward Darwin.
Dori took over the pacing duties as Rick manned the vehicle. Immediately it seemed as if Dori recognized there was a problem and did everything she could do to figure out exactly what it was. Despite the problems we continued to trudge along at a snails pace with nothing ahead in sight other than more road. Once again, the only scenery provided to us were two big open fields full of rock and mountains in the distance. It was picturesque but I had no inclination to soak up the atmosphere in my current condition. Rick and Phil swapped duties as Rick headed off to Darwin to relax for awhile and Phil manned the main crew vehicle. Since Phil had been to Darwin already I begged Dori to ask Phil just how far we were from town and he said about three miles. Calculating quickly in my head 30 stinkin' minutes per mile times three—okay, 90 minutes until Darwin. I can do that. The only real problem I had making it from point A to point B was that Phil didn't really give us a correct distance. As we got closer he kept leading us to believe we were almost there. At 1.5 miles he said we would be able to see the tent as we reached a rise in the road that was directly in front of us. He was wrong. He insisted that we were just about there whenever asked. Every time he was wrong. The anticipation drove me crazy. Dori was still trying everything she could to revive me. She was forcing me to eat and drink and at the same time spraying me with water. Finally she got a big sponge full of water and dumped it over my head and the water went down my back and legs. When the water hit me I immediately got the chills. I was freezing in temperatures hovering around 100 degrees. My core body temperature was out of whack and I didn't realize it until then. In only a few minutes I was a new man.
Just about the same time I came back to life we reached Darwin. I thought it would be a small town with buildings and people bustling about but that turned out to be not true, or at least they didn't direct us into that part of town. We landed at an intersection where we could either go straight or turn right or left. There was a big tent on the corner of the intersection that housed the race officials. I was revived but I still sat for awhile to rest while Dori, Rick, and Phil refilled my bottles and got me food. While I was sitting there Shannon Farrar-Greifer made it into the checkpoint looking in great shape. Her crew yelled over to me that the two of us should run together since we seemed to be moving at the same pace. Running with a bunch of pretty women appealed to me so I certainly was not going to disagree. Shannon's crew was continually nice to me throughout the event. They even offered food to Phil at this particular junction of the race, which he accepted. Personally, if the offer were made to me directly, I would have graciously declined. This was a self-support style race and I truly did not want to take from others. Despite my thoughts, I must say that the fruit they offered came in handy and is partially responsible for giving me the strength to complete the next several miles.
There seemed to be some discussion amongst my crew as to who would go into town to get more supplies. Seems Phil was quite smitten with Shannon and her crew and wanted to run with us but each of my crew members had strengths and right now I needed Dori to run by my side and Rick to crew. That left Phil to go into town. I made the mistake prior to the event of not naming a leader so right then I took command and in front of the three of them pronounced Rick the leader. I knew he wouldn't be comfortable with such a title but it was a decision I had to make and an easy decision at that. Out of the three of them he knew me best and I trusted him most. I trusted his ability to make wise decisions and guide us safely to the finish line. Very quickly I told each crew member what role I would like them to play and I was off. Rick was to lead and be our crew, Dori was to pace and Phil was to go to town to get supplies. I explained to Phil how Dori had just revived me from the dead and that for some reason I listened to everything she asked me to do. I was positive I would not have responded to either Phil or Rick in that manner. I'm not sure why but I allowed Dori to take complete command over me and I did everything she requested. She did my thinking for me and took care of me and right now that's what I needed more than anything. When I left, the crew had a little pow wow but ultimately each took the role I requested and things seemed to calm.
I started down the road slowly waiting for Shannon to catch up so we could chat a little. If possible I would have loved to run all the way to Lone Pine and then finish with her but I didn't want the pressure of having to push when she pushed just to keep up with her. My energy level was now such that I thought I may have some running left in me but that was a decision I wanted to make on my own. I didn't want to feel as though I had to run just to keep up with Shannon. She still had a bounce in her step so I figured she would be doing at least a little running the rest of the way and that made me uncomfortable. I chatted for awhile and then I forced myself into a jog. I didn't make a conscious effort to pull away from Shannon but I do think subconsciously that I made myself run to gain some separation between the two of us. The pain in the knee was still sharp but the short jog gave me some hope that maybe I would be able to pull off a few more stretches like that to help get me across the finish line quicker than I projected earlier.
What occurred next was an emotional experience I should have tried to gain control over before allowing it to get out of hand. It hurt me in the long run but it was also something that defines me as a person and something that was going to happen no matter how much control I tried to maintain. While running I thought to myself how I should be able to withstand the pain generated from the knee. Thoughts of how much pain my grandfather had put up with in his lifetime without so much as a whimper made me feel like such a baby. Would he be proud of me at this moment if he saw how I succumbed to the pain of an aching knee? My only answer was no. The more I thought the more I ran and the more I ran the faster I went. Tears started rolling down my cheeks and ultimately I lost it totally. After about a mile of running I yelled to Rick to please get the picture I had of my grandfather that was in my suitcase and pass it to me the next time I went by. Quickly he did as I requested, and I continued now sprinting at max speed down the highway crying like a baby. I'm not sure if anyone other than Dori and Rick recognized what was going on nor did I care. This was a moment I shared with my grandfather. Momentarily he came down from above and watched as I ran as fast as I could for two miles just to make him proud of me to show him that I am tough and I can run with pain. At one point Dori tried to stop me and I slowed a little but I couldn't stop just yet. I pulled away and fired off another quarter mile or so at top speed before slowing down and finally stopping. I dropped my head for a split second and at that point promised my grandfather that no matter what happens from that point I will make it to the finish line under any and all conditions. I quickly came back to reality and when I did, found that my knee was now aching more than ever. Not only could I not run but also I could barely walk without pain. I felt a little foolish especially after Shannon ran by several minutes later as I hobbled down the highway with Rick by my side. My emotional outburst may have been premature, but after 90 miles and almost 28 hours of running I think I had a good excuse for losing my grip with reality momentarily. Neither Dori nor Rick ever once questioned my thought process. I totally expected to be questioned but they never judged me. They gained my respect and trust after this escapade because I knew most would have asked what the hell was I doing but they didn't. I knew at this moment that my decision to pick these two people to be on my crew was the best decision I would ever make. While Phil held his own as part of my crew both Rick and Dori would be the main people I would lean on the rest of the way to the finish.
Now with no one in sight and me hobbling in excruciating pain, Rick and I talked about how I could get relief. As he walked from behind I told him that I thought I needed to swap out shoes. He looked down and dramatically said Dave your shoes are definitely your problem. He told me they were shot and by the looks of them may have been how I got hurt in the first place. Before I knew what was going on he began to take his shoes off while at the same time he asked me to remove mine. He demanded that we swap shoes immediately if for no other reason so I don't injure myself more. Possibly, I may even get some relief from wearing his shoes. I did as he asked and removed my shoes. His absolutely felt better on my feet but they were tight up against my Achilles tendon so I told him I could only wear his temporarily until we met up again with Dori down the road where I could change into my other shoes. I certainly didn't want him to have to wear my bad shoes the rest of the night so the swap would benefit both of us. His shoes felt better but the damage to my knee had already been done and the pain never relented. We decided that now would also be a good time for Dori to once again work her magic and massage and stretch the knee to get me walking comfortably again. At this point we were about 95 miles into the run with still close to 18 hours left to get into the finish in time to buckle. My past experience told me I had plenty of time to make it. My crew was concerned but I tried to put them at ease by explaining a similar death march I had at Wasatch in 2003 where I was forced to walk the last 40 miles and I did it in less than 18 hours. That experience kept me worry-free but I don't think it did much for my crew. Despite there concerns I had to take a little time now to get my knee worked on or the pain could potentially slow me to a point where we could be in danger. When we reached Dori it was almost as if she knew what we were going to ask. She immediately went to town on my knee as I quietly screamed. I made no noise yet the expression on my face told the entire story. I teased Dori because it seemed every good thing she did for me initially put me in severe pain before I could see the benefit. I told her I thought she was enjoying watching me scream and make faces. I said it in such a way that she knew I was just teasing.
I overheard Rick wishing his son happy birthday over the cell phone as Dori tortured me. I was humbled by the sacrifices my crew made just to be at Badwater for me. Rick missing his 5-year-old son's birthday was a perfect example of this. At this time I took a moment to reflect and to thank God for allowing me to have such friends. There have been many times in my life when I've felt so alone and so unwanted but times like this make up for any of those times alone. Rick's call to his son put the thought into my mind that I should try to call my mom to assure her I was okay. I remember from the previous year that the Badwater webcast sometime leaves a lot to be desired and I didn't want my mom worrying to death about me. After all I was in a death march and certainly not where I thought I'd be at this point in the run. Rick allowed me to use his phone and even dialed the number for me and talked to my dad who answered the phone. He assured him everything was okay but I wanted to talk to him to just so he heard my voice. My dad is a strong man and wouldn't lead on to me if he were worried even if he really were. I didn't want to leave him with any doubt that I was okay so I wouldn't hang up the phone until I was certain he was confident. While talking to my dad my mom walked into the room so he put her on the phone so I could talk with her. This put a smile on my face because I would be able to speak to her personally and be certain upon hanging up the phone that I put her at ease. My mom has been to many of my ultra events before and has seen me do well and has seen me struggle mightily so I was able to give her a point of reference from which to gauge my condition. I asked her if she remembered Wasatch? She said yes. I then told her this race was Wasatch revisited. It was a struggle and I was suffering but I would persevere just like I did then. I told her to be patient and not to worry because it would take some time but ultimately I would finish. I just asked her to trust me and I promised her everything would be okay. Sometimes I'm not sure where my inner strength comes from because deep down inside this was one of those times where I wish I could have been a little boy and just whimpered away crying for my mommy. I had to be strong though and I had to persevere. I had strong reasons for being there and the only thing that was going to stop me was death itself. This was not a message I wanted to convey to my mom at this point in the run so I just assured her that I would be okay and that in due time I would finish. I felt certain that our little talk put her at ease and that her ability to relate this race to Wasatch helped her understand that all would be okay. She sounded good and I was positive she wouldn't worry so I said goodbye and started on my trek toward the next landmark.
The landmark we were in search of was a cemetery marking that supposedly signified the 100-mile mark. I honestly didn't even know the landmark existed until Rick made mention of it to me. He stayed on the lookout while I trudged forward. Dori's handiwork once again allowed me to walk with pain that I could withstand. I focused on the road in the distance hoping for a change of scenery. Seems the entire route leading from the top of Father Crowley around mile 85 to our current location of almost 100 miles was exactly the same, empty rock fields with no signs of life and mountains in the distance on either side and in front. I made mention to Rick that it looked as if there had been a fire on the mountains we were coming upon. A black shadow covered portions of the mountains on the left that led directly over the road and onto the mountains on the right. Turns out that the closer we got it was easier to determine that indeed that it was just a shadow formed by clouds partially covering the sun. It seemed really hot to me but Dori told me that the temperature had been hovering in the mid to low 90's most of the afternoon. I guess my body was just having a hard time adjusting to the different temperatures it was being exposed to and defaulted to hot all the time.
Just after we passed the 100-mile mark Dori and Rick swapped up once again allowing Rick to get some rest. At this point in the race I felt really comfortable having Dori by my side just because she seemed to know how to react in critical times. She brought me back to life when I overheated and had been massaging my knee constantly since the 17-mile mark of the race. I trusted her and I knew Rick would understand. Phil on the other hand seemed a little distant and I was concerned he felt left out. He had a role to play, however, and he did it to the best of his ability and he never once questioned my decisions. As we walked, I told Dori how disappointed I was that I hadn't seen the F-16 fighter jets that David Bliss told me we might see. As if God above was answering my prayers an F-16 came out of no where and did a fly by. A few seconds later a second F-16 flew by us. It was an unbelievable experience that gave me an emotional rush. Seems I was going to experience everything Badwater had to offer from the heat, to the sandstorms, rain and finally the pain. I thought to myself that even though I had suffered mightily up to this point this had been the best experience I have ever had in my life. The emotion quickly wore off however and once again I slowed to a snails pace. In the distance severe lightening strikes could be seen in the mountains ahead and Dori became concerned that maybe we would get caught in a storm. I told her I was considering a nap and she responded by saying she thought the group should discuss it first. We were a team so I was okay with her suggestion. Dori and I really seemed to think alike. Earlier in the day she repeated my own words back to me. She told me this was my day and they were there to take care of me. I should allow them to make all the decisions and all I need to do is run. I've spoken those same words many times to friends of mine in the past and was astounded to hear them said to me.
A decision to sleep now or to move forward a few more miles to see if we hit the storm was a critical decision. A severe thunderstorm would shut us down and we didn't have a lot of time to spare so it might be best to keep moving and sleep in the storm rather than sleep in the clear and be shut down later too. When we arrived at the crew vehicle the consensus was that the storm was in the mountains and it was doubtful that it would hit us so they allowed me to sleep. Rick proved to me the first time I napped that 15 minutes would be enough to get myself refreshed and moving again but I still asked the gang to give 20 minutes. I crawled into the van and this time in an attempt to alleviate the pain in the knee my crew told me to elevate my leg by placing it on the dashboard. They also wrapped my knee in ice hoping to keep the knee from getting even more inflamed while I rested. They left the vehicle running with the a/c cranked up to high while I closed my eyes and tried to sleep. I was unable to relax because I knew my time was limited plus I was in an uncomfortable position. I squirmed around in the vehicle before finally just deciding to relax my mind in hopes of regaining my mental sharpness. I breathed easy and thought good thoughts and finally I found a relaxing moment. Before I knew it, though, 15 minutes had passed and I decided it was time to get up and get moving again. Before doing so, I munched on a few tortilla chips that were sitting in the van alongside me. The rest seemed to stimulate my appetite and I felt famished so I was looking for everything and anything to eat. Dori and Rick seemed upbeat about my newfound hunger. Dori for the first time expressed her concern that she didn't think I had been eating enough the entire race. I couldn't deny it but at the same time my excuse was that it was way too hot. In reality I was trying to consume calories but instead of doing it through solid food I was doing it through liquids like Ensure, sodas and Gatorade.
As soon as I moved to get out of the van pain shot through my entire body. This time it was not only from my knee but every muscle in my body. Seems fatigue was setting in and this was now going to be the time to see what I was made of. I felt like the tin man in the Wizard of Oz because every one of my muscles felt as though they needed greasing. I grinned and beared it as I hobbled out of the vehicle. I left the ice wrapped around my knee because I thought the numbing affect might help ease the pain. I was taking Advil on a regular basis and was relying on my crew to keep track of how much I was taking. I would ask periodically if I could have some aspirin and they would tell me yes or no based on the time in between doses. Before leaving this time Dori gave me a pain reliever and then urged me to move forward. Once again the short nap brought new life to me. My body was dead but my spirits were up. The storm brought cooler temperatures along with a slight breeze. As we walked it began to drizzle a little which made me wonder if we made the right decision to nap or not. The rain never amounted to much but the cool drops of water gave me new life. Although still walking, we were once again moving at a good pace. The scenery started to change a little as the mountains came closer to us. I could tell we were back in an area where things could actually live because the plant life was green and the best sign of all was the jackrabbit Dori and I saw off to our right. I only caught a glimpse of the animal but it was enough to remain a lasting memory forever.
We came upon a short rise in the road where it looked as if a mountain had been blasted to construct the road through the area. We walked down the road where we were surrounded by rocks on either side making it feel as though we were in a tunnel. It was a short distance through the almost cave like structure but it was very cool. Once again the scene brought back memories of the Wizard of Oz when the story went from black and white to color because as we reached the top of the rise the scenery changed dramatically. In the distance directly ahead the town of Keeler could be seen. Mountains surrounded the entire area with salt slicks on the left and a rock field on the right. It was obvious that Whitney was closer so the end could finally be seen. I saw several crew vehicles winding around the road in the far distance and I imagined what lay ahead. The scenery change was uplifting for a moment but my spirits dropped when I saw the significant downhill section that laid before me and the rolling road that could be seen for miles ahead. When I'm healthy I don't fare well on downhills, so I knew it would be challenging with the bad kneed to traverse this part of the course.
Dori advised me to allow gravity to take me down and just relax. Unfortunately I tend to fight gravity and make downhills more work than they should be. This particular section would be no exception. I struggled down and exerted a lot of effort to do so. By the time I got down I was wiped out but time was of the essence so I couldn't rest for very long. The road was rolling so there would be more downhills to tend with but out of all of them the first would be the most difficult.
Dori and Rick had sent Phil off to Lone Pine to pick up burgers for dinner so I looked forward to his return and some good solid food. In the meantime they were satisfying my hunger by feeding me Oreos, Doritos, and slices of turkey. Dori stopped me from eating because she was concerned if I didn't allow the food to digest properly I could get sick. Once again a very good decision on her part and I listened. I'm totally amazed how such a stubborn, self-sufficient person such as myself was able to allow three people, two of which were total strangers, to take care of me for two straight days. I was fearful going in that I would fight off their help but as it turns out it was an unnecessary fear.
We continued up and down the rolling hills, as Dori seemed to be calculating our pace. In the distance I could see the town of Keeler, which I overheard someone say, was the 107-mile mark of the race. We were still a good ways out of town and seeing it so far away started to drive me crazy after awhile. If I were healthy I could have been there in less than 30 minutes but in my current condition I would be lucky to get there in less than two hours. My goal was to make it there before sunset and I thought that was reasonable based on the distance and our pace. When I mentioned it to Dori she didn't seem as confident but I remained positive and continued to push forward. Phil finally showed up with our burgers but since I had energy my crew and I thought it would be best if I just maintained my pace rather than stop to eat. I ate as I walked and I enjoyed every bite. I'd say the burger neutralized the negative effect of having to go up and down the hills headed into town. The traffic on this road seemed to be particularly bad. Not really the amount of vehicles but rather the speed they were travelling. It seemed as if some of the vehicles were going 80 m.p.h. I made a conscious effort to stay alert and stay as close to the shoulder as possible.
Badwater legend Ben Jones pulled off the side of the road about 50 yards ahead of us. I wasn't sure what his intentions were until I saw him pull his camera out of his vehicle. He took a few photos and whispered words of encouragement as we went by. Before we arrived at his vehicle Dori told me to continue on and if he wanted to talk she would do the talking.
After getting by Ben I picked up the pace significantly. Dori had been calculating our miles per hour and what we would have to average to get to the finish in less than 48 hours. She said that at this point we needed to average 2.5 m.p.h. to get in with time to spare and that included the 5000 foot climb over the last 13 miles up Mt. Whitney. When spoken the task seemed kind of daunting and maybe impossible, but I'm not a guy that lives in reality or lives by numbers. I just go and see what happens. I appreciated what both Rick and Dori were doing by advising me what I needed to do but at the same time it was hurting me. I like to focus on fantasy and what seems to be the unachievable rather than reality and what actually needs to be done. First of all, reality takes all the fun out of it. Secondly, it is mentally stressing to think you have to maintain a certain pace over a long period of time to be successful. At this point we were still more than a marathon away from the finish which was way too soon to be pushing hard. They did, however, convince me to pick up the pace and seemed happy when I banged out a few miles averaging the required 2.5 m.p.h. and even a couple at 3 m.p.h.
As we approached Keeler in our night gear, but with still some daylight left, my pace once again began to fade. As the sun dropped so did my energy level. I expended way too much energy worrying about maintaining a quick pace. By this time Rick had headed into Lone Pine to check into our hotel room to get cleaned up and get some rest. When he left I'm sure he was confident that I had made a complete turnaround and would march into the finish with no problem but in reality I was about start the most brutal death march of the entire event. Just as we left Keeler at 107 miles, my body started to slowly shut down. I was unable to control my body temperature. I became cold, yet when I put a jacket on I was too warm. I was able to keep moving for a couple of more hours at a moderate pace but by the time Rick arrived back to relieve Phil I was totally shut down and in need of another nap. I was very aware that my decision to nap at this point put my chances of finishing under 48 hours at risk. At the same time my pace had slowed dramatically, and if I continued I had no chance anyway. I continued to assure my crew that all would be okay. I'm not exactly sure how confident they were listening to words coming from a beaten man but I did my best. In my heart I knew I could do it but at this time even I began to prepare myself for the possibility of something less than what I expected.
As Dori and I made our way toward the van there seemed to be a commotion as Rick and Phil were dancing around the vehicle. As I got closer I noticed Rick taking pictures of the ground and I wondered why. I thought maybe I was hallucinating but Dori confirmed that something was definitely going on. As it turns out Phil had been standing next to a baby sidewinder snake as he was waiting for me to arrive. Eventually he must have looked down and noticed the snake and then called Rick over to look at it. Both were enamored with the reptile, and also brave as it crawled around the road. I got a very quick glance of the snake before it scurried off underneath the van. Dori asked Rick to move the van forward so they could keep an eye on the snake to make sure no one got bit. When all was done they once again got me in the van, elevated my leg, put ice on my knee, and allowed me to rest. I sat there restlessly with thoughts that the snake might once again get underneath the vehicle and somehow get in the ventilation system and bite me. Also I was concerned I had left my shoes on the ground outside and the snake might find its way inside. All these concerns along with the thoughts of the miles that I had left to traverse kept me awake. I knew that the time off my feet would still be beneficial and would allow me to feel refreshed and pick up the pace when I returned to the road.
Ironically, for the third time in a row, I got out of the vehicle after exactly 16 minutes of rest and began to move forward. I was refreshed mentally but physically my body had totally shut down. I hobbled out of the vehicle and somehow got my shoes on and moved forward. The few minutes rest allowed me to regroup and also gave me the opportunity to regain control of my body temperature. Aches and pains are easy to deal with but heat exhaustion or hypothermia would shut me down. Dori continued to walk with me and tried her best to assure me that we were making headway. Before Phil left he said we were on an 11-mile stretch of road that would lead us toward Lone Pine. It was dark but I could still make out that we were going uphill and that there was very little to look at as far as scenery goes. I was going crazy because off to my left I could see white lights lining what seemed to be a shoreline. If I didn't know any better I would have said there was a river separating the road I was travelling and the white lights I could see in the distance. The reason the white lights were so nerve wracking is because I was certain the lights were those of other runners and crew vehicles and that eventually I would need to be on that side of the fake river in order to finish.
The road I was walking went dead straight ahead for as far as the eye could see. I was certain that eventually we would need to make a sharp left but I never saw any hint of a turn. Dori was trying to get me to relax by looking at it in terms of time rather than mileage. She said look at it as two hours rather than four miles, but finally my frustration overflowed and the expletives started flowing freely. Seemed like every other sentence out of my mouth was where is that f'in town. She would respond in some manner and no matter what it was I would say I don't care I just want to know where that f'in town is. My next favorite statement was, "what are those f'in lights on the far left side? Is that the f'in town?" Dori was really cool and kept her composure. She tried her best to divert my attention by telling me stories of things that had happened in her life. It had worked earlier on when I was mentally sharp but I had now lost it completely. It was at this point that I knew I needed Rick by my side. Dori had staved off my frustrations all day but now things were slipping out of my mouth that I didn't want to expose her to. I knew Rick would listen to my whining and somehow make light of it and probably even piss me off generating energy, which would get us where we needed to be. I politely explained to Dori that she had done her job but now I needed Rick to get me into Lone Pine. She accepted what I had to say without a problem and jumped right in the vehicle to take over the crewing duties. Just before she swapped out with Rick I asked the two runners behind us if they knew how far we were from town and in which direction we had to go. Another reference to the Wizard of Oz as just like the Scarecrow in the story each pointed in the opposite direction. I was totally frustrated by this point and really needed someone to gripe to. Rick stepped up to the plate and willingly listened to my whining for the next several miles.
As the night progressed my pace declined to a crawl. It seemed we were stopping every 100 yards to rest, but the stops were short. A bit of excitement that shook things up is when I almost stepped on a scorpion that was scurrying across the road. It lit a fire under my butt and got me moving again for a few moments before I crashed and went back into my death march. I continued my constant cries about the lost town and the lights that were shining off to the left. In retrospect I'm not sure how Rick was able to listen to my constant whimpers. He was patient and kind. He tried his best to divert my attention but it was to no avail as I was frustrated. Along with my cries I begged Rick to somehow motivate me to get to the checkpoint in Lone Pine. I was certain that if he could get me to Lisa Bliss she would find the right words to say to get me into the finish. Finally we turned right off the road we had been travelling and continued a couple of more miles before headlights from the main road leading us in to Lone Pine could be seen. After several stops to rest we finally made it into town but we still had about a one and a half-mile hike before we reached the Lone Pine checkpoint. This is where Rick came up with a simple method of moving me forward. He broke the 1.7 mile route down into sections by having me walk from road sign to road sign. I might be stubborn at times but believe it or not I'm easily motivated even with what most might consider simplicity. Rick's strategy worked as I plodded forward in the direction of the Dow Villa Motel where the medical staff was positioned. While Rick pushed me Dori called Phil at the Comfort Inn and told him we were in town. It was time for him to rejoin us after his long rest. I would need my entire crew to help me face the final challenge of traversing the last 13 miles straight up hill.
I was literally trashed by the time I crawled into the checkpoint. I struggled, cried, and hurt for 122 miles and I looked and felt terrible yet the crowd of people cheered as I entered. I received encouragement from everyone as Lisa Bliss took blood out of me, weighed me and put a sweat patch on my back for the final time. While this was being done I looked straight ahead and zoned everyone else out but Lisa. I listened intently to every word she had to say while at the same time firing myself up. Lisa assured me everything would be okay but that I needed to make sure I loaded up on glucose tablets, candy and Gatorade as I climbed the final mountain. I briefly glanced down at my knee for the very first time and was shocked at how swollen it was. I also took a look at my hands and noticed that my fingers were very swollen. I had done my best to monitor my weight throughout the event even shutting down fluid intake around mile 110 because my weight had increased almost 10 pounds but it appeared that at mile 122 I had lost control. My weight was 145 pounds up five or six pounds from my initial weigh in at the start. Lisa didn't seem to be concerned so even though I was swelling, I didn't get concerned either. I sat for about three or four minutes staring straight ahead before getting up and starting off on the final leg of the run. Just before leaving I asked David Bliss how this climb compared to what Hope Pass at Leadville had to offer. He chuckled and said it's not even close to being as hard as that. This was all that I needed to hear. I conquered Hope Pass while fatigued so I was confident that Whitney would not challenge me. As I left I became very focused and was ready to get down to business. I told my crew that I would need each of them to take a turn going up the hill with me. My thoughts were that mentally it might make it easier for me to take the hill in segments of four miles. Taking each segment with a new person would mean a new personality and a new topic of discussion. I figured this would keep me from getting bored and would allow time to pass more quickly while also eating up the miles. I also told each that if we needed to we would run. I could suck it up for a few miles for the finish.
Rick took me from town to the Whitney Portal Road where we made a left across the main street and started our ascent up the mountain. Each mile mark was identified by a landmark that was documented in the race manual and Rick knew each so he was able to calculate how fast we were going. I had six hours and 40 minutes to make it to the top in order to finish under 48 hours, which I thought was more than enough time. Personally, I was ready to be done and didn't want to waste any time so I picked up the pace dramatically. I could feel the adrenaline rush through my body with each step and as the adrenaline levels increased my spirits rose. I felt like a college football player who was fired up to play a big game. There was nothing that was going to stop me. I swung my arms and breathed rhythmically as I got myself into a groove. About a quarter mile up the hill Rick and Dori switched positions because Rick wanted to have the manual handy in order to properly identify each mile mark. While Rick scouted out the mile markers and Dori paced, Phil manned the crew vehicle. Somehow I dug deep inside of myself and blocked out all the pain as we maintained 15-minute miles going up the sharp inclines. Dori fed me water and Gatorade upon request and occasionally slipped me a glucose tablet or a piece of candy to help me keep my energy up. At this point I didn't allow anything or anyone to distract me. My crew vehicle was only needed a couple of times to fill my bottles but other than that was virtually useless. The information Rick fed me about my pace and the mile markers was what I needed most. Both he and Dori made me feel great with their enthusiastic comments of how well I was doing. After we had climbed about four miles, Dori commented that a sub-48 was in the bag and now the only thing left was to see just how fast we could make it up. I responded by saying let's go then. Rick told me I was making up so much time that I was gaining on a few people in front of me which motivated me to move even faster. It wasn't long before we could see Judit Pallos in the distance. I told Dori, "let's go get her." We gained ground until the road leveled off a bit at which point we maintained the gap between us but once the road went up again I was able to pass her. I tapped her on the shoulder as I went by and wished her luck the rest of the way. Next up was Art Webb, a gentleman I had spent time with earlier in the race. He was trudging forward as I went by. Again I wished him luck and continued on without even so much as blinking my eyes. I was in a zone and focused on nothing else but the finish line. The incline was not as tough as what I expected and I kept commenting to Dori how I wanted everything the mountain had to offer. I pushed and pushed and maintained my pace through eight miles. I slowed a little as we climbed mainly because we were reaching altitude levels that were affecting my breathing but also because my sub-48 hour finish was in the bag.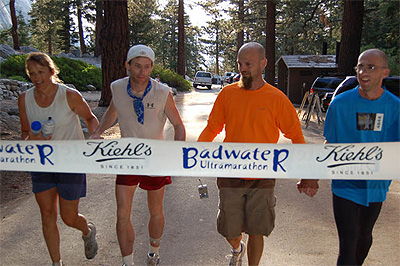 As the sun rose I wanted to turn around and look back down the mountain but I didn't want to do so until I reached Vista Point where the views would be best. The switchback climbs that took us to this point were the toughest of this 13-mile section. Overall fatigue and the altitude were taking its toll on me. I was motivated to finish strong though, so I continued to push. When I reached Vista Point I only briefly turned to observe the scenery below. It was so amazing to see what I believed to be the entire 135 mile course that I had just traversed over an almost two-day period. I was in awe of what I saw below but I was also ready to finish so I turned back around and continued on. Just as we turned to go up, a vehicle from above slowed and came to a complete stop as the ladies inside cheered me on. The ladies that were cheering were members of Shannon Farrar-Greifer's crew. They had been so nice to me the entire way and it continued even as I was on my way to finish. I'm certain I blushed in shyness, as I never had so many women make such a fuss over me. Their cheers gave me the energy to move forward up the final hills toward the 1-mile to go marker. Upon reaching this mark Rick and Dori both challenged me to move faster in order to break 45 hours. My mind wasn't sharp enough at this point to determine if a sub-45 was all that important so I put my trust in Rick and Dori and fell back into the zone that allowed me to get to this point so fast. I swung my arms in dramatic fashion, breathed rhythmically and moved my legs quickly. We reached the one mile to go marker in under eight minutes at which point Dori told me that I didn't even need and even split to break 45 but I moved faster anyway. I yelled for Rick and Phil to be ready to join us, as I wanted all four of us to cross the finish line together. As I yelled Phil seemed to disappear which upset me enough to yell at Rick to get him back. Rick yelled back that Phil needed to notify the race organizers that we were on our way so they could set up. Satisfied with his response I continued on. We made a left turn onto a paved road that led us into a wooded area where we were joined by the rest of our team. We then crossed the finish line together in a time of 44 hours and 56 minutes, mission accomplished. Once across the line Chris Kostman who placed my finishers medal around my neck greeted me and then posed by my side for a few photos.
In the aftermath of the excitement I stood off to the side and became very emotional. As I knew they would tears streamed down my face as I thought of my family and my grandfather and God above. I ran this race not for myself but rather to show my young nieces and nephews that no matter what obstacles stand in the way there is no challenge that cannot be met. My grandfather did this for me and now I have done it for them. The race was also for my family as a way to show them that I've implemented the lessons each have taught me over the years and I am successful because of them. It was for my grandfather because he can now rest peacefully with the knowledge that his toughness has been passed on to another generation. I thank God above for watching over me and my crew and for allowing us to overcome the many challenges we faced while protecting us from the elements of the desert.
I said in my opening paragraph that I was looking for life in Death Valley and I believe that the kindness, generosity, and caring that I found out there amongst the competitors and crew alike personifies the life I was in search of. I started running 100 mile races in search of death and now I'm ending because I've found life.
Dave Bursler
Bear, Delaware