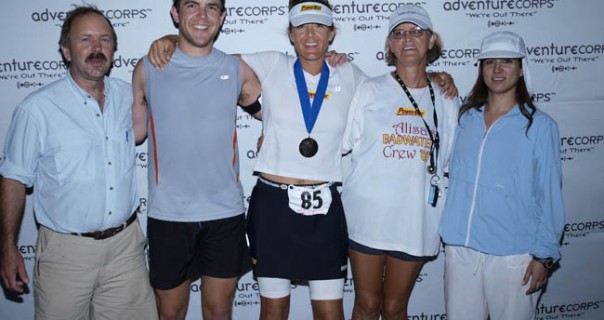 2008 official finisher
Ultrarunning is how I define myself. It is how I dance, how I create art and how I write the story of my life. No other event that I have competed in before has challenged me and changed me in the way that Badwater has. It was the organizing force in my life last year and made me cognizant of untapped human potential, of strength that I was not aware that I had, of the incredible love of my family and friends and of the transcendent beauty of the desert.
Badwater has been a dream race for me since I began ultrarunning 5 years ago. After my first ultra, the JFK 50 Miler, I went right out and purchased "Running on the Sun." I made anyone who would sit still for 90 minutes watch it and, quite frankly, I think many were disturbed by the gleam in my eye. Even ultrarunning friends thought the race was crazy, but I would not be deterred. I did not think I had the requisite strength or experience to even apply for Badwater until I completed Desert RATS 150 mile stage race and Western States 100. The struggles that I had on these courses convinced me that my mind and body were strong, strong enough to handle the challenges of Death Valley.
In 2006, while completing the 52 mile stage of Desert RATS, I took a wrong turn and became lost in the desert. Alone, with dwindling water and an aid station now at least 20 miles away, I was forced to confront my fears and navigate my way out despite never having used a compass in competition before. By the time I returned to course, I had lost three hours, but had gained an incredible strength of purpose that allowed me to race those 20 miles to the stage finish and lose only 12 minutes of the lead that I had established.
The struggle I faced in Western States 100 in 2007 was a more spiritual and mental one. At that time, just coming out of the Michigan Bluff aid station at mile 55, I knew I was on course, I knew what the cutoffs were, but my mind and spirit were flagging. I had the opportunity to share my experience at the race with our school community and here is how I described the struggle:
"Between the dark, my mental and physical fatigue and my low blood sugar, my mind begins to drift a bit. Every branch becomes a snake, every noise is a cougar or a bear waiting to attack and I am certain I hear coyotes howling. My energy and spirits fail in this section. I am staggering through the woods, barely able to move. All my muscles, not just my legs, feel as though they have been beaten. I am one big walking bruise. I give into the pain for a while and all the doubts I've ever harbored about myself come to the forefront of my mind. I am alone on the trail, in the dark, in unfamiliar territory. Surely I am not strong enough, smart enough, pretty enough or good enough to make this journey. I feel I don't belong out here with these incredible athletes. I've spent thousands of hours and thousands of dollars to get here; what could I have been thinking? My ego is crushed; I've been stripped of my pride, my vanity and most of my dignity. I want only for the pain to end. I think 'If I quit now, who would blame me? I've traveled further on foot in this one day than most do in a month. What am I trying to prove?' My mind uses every trick it knows to get me to stop, but there is a faint light still glowing in my eyes. It is a little spark of strength and the memory of all the gifts I have been granted in my life. I find myself: the woman that has strength and the ability to do that which she sets her mind to. I can overlook the bitterness, I can embrace the pain and I CAN put one foot in front of the other. This feeling is what I've come for. To have myself pulled apart. To be given the opportunity to know my soul and to choose the person I want to be. All the miles and months of training do not, CANNOT, prepare you for this moment. You must rely only on yourself, on whatever strength you can scrape together. And, in rising from that moment, I know a gratitude that I don't experience at any other time in my life. By taking away the multitude of modern life's distractions and demands, to be surrounded by the natural world where my only task is forward motion, I can clearly see that which is most valuable and important in life."
Quite simply, no other race has given me the experience of being stripped bare and pulled apart like Badwater. As difficult as they are, these low and difficult moments of each race are what I love, what keep me coming back again and again. I truly believe that most individuals really do not know themselves or what they are capable of until they are put in this sort of situation. And, though the struggle is not life and death, it truly illuminates your spirit and strength because the easy way out is almost always available. Badwater 2008 broke me down over and over again, but I was strong enough to get up every time. I want to experience that again, to see if I am strong enough to get up even faster and to hurdle over the barriers rather than crash into them.
The desert calls to me. It is my favorite place to race. I am enchanted by the barren landscape, the wild skies, the extreme weather and environment. To be given a chance to race through Death Valley again in Badwater is a gift. My 2008 Badwater experience was one of the most profound of my life and one that I still have difficulty putting into words. I crave the solitude that can be found in the desert. And while I experienced this solitude at Badwater, I also experienced, in equal measure, the love and support of my incredible family and friends that comprised my crew. Never in my life has my family operated as one unit in pursuit of a goal. As my mother and brother supported me through the race, we became close in a way that I did not think was possible. We have shared an experience that will bind us together forever and for that I am truly grateful. Badwater reinforces the truths that as human beings, we alone are responsible for how far we get along a certain path, but that the path can be made smooth and easier to travel by those who love and support you.
In my profession as a teacher and as a coach, I think perhaps the most important thing I do is to provide a living example of not only a healthy lifestyle, but of an athlete who continues to compete as an adult. I want to be an inspiration to the young women and men that I am responsible for. I wish to challenge them to think beyond the incredible material comforts that their parents have given them and to find an honest and true experience in the world that does not depend on cable TV or computer graphics. I know I have inspired a few young women to get into the sport of running and my experiences as an ultrarunner certainly give me more legitimacy as a coach, but competing in Badwater gives much more credence to the inspiration that I can provide.
Of course, I would be remiss if I did not add that I want to return to Badwater to IMPROVE! I did well last year, to be sure, without course knowledge, without an experienced crew. What I whave learned and what I am prepared to do should allow me to improve upon my performance. I feel as though I can push myself harder, that there was some more of myself I could have left on the course last year and I want to race not only my own demons, but the other athletes as well. 37 hours was great, and I could not have been happier when I finished, but after a few hours off the course, my thoughts were NOT "never again" they were "WHAT IF…" I was already dreaming about the next race.