2005 official finisher
Only The Softie agreed with me.
I made the mistake of looking at the others. Their facial expressions were unsympathetic, stern and unyielding. One by one, I scanned their faces. The Sister looked away, gazing once again at the amazing stars. The Competitor was frenzied and fanatical, ready to go as always. The Quiet One had his face screwed up in thought. Now I glanced at The Lover—I expected at least some degree of mercy from those eyes—there was none.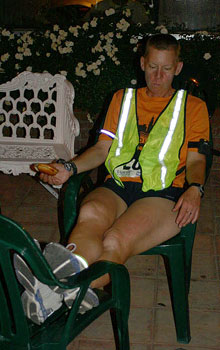 See, I thought I had a rather compelling argument after having run 122 miles from Badwater to Lone Pine in roughly 38 1/2 hours. I was completely out of gas. My legs were leaden, feet swollen, shoulders drooping. The remaining 13 miles (with over 6000 feet of ascent) to the trailhead of Mt Whitney seemed impossible. The physical pain of blistered feet and legs covered in heat rash was nothing compared to the teetering edge of complete muscular exhaustion. I could not imagine taking one more step.
I wasn't ready to give up however. I simply wanted a rest. I was willing to sacrifice a buckling time (finishing the race in under 48 hours) to get a few hours of sleep, to recover, and to finish the next day in under 60 hours. But my crew was having none of it.
Even The Softie began to equivocate, "Maybe you should just eat a cheeseburger?" (He and the lover had sweet-talked the McDonald's kids into making one last burger just after 10 o'clock at night as they were slacking away at their closing duties.)
And The Quiet One presented the plan. He explained it in terms of an energy equation. I had none. But if I would try to eat some highly sugared gels and guzzle some caffeine drinks, I might rebound. I might be able to start the climb at least.
It was the moment of truth for me. Having served as a crew person for Badwater runners in the previous three years, I knew how important a good crew is in this particular race. A runner's ability to finish this extreme run is directly related to their crew's willingness to take care of the runner's needs: fluids, food, medicines, motivation and companionship. But I had run through the desert rather easily. Sure, it was hot. Yes, I was tired after having run and walked for a day and a half with no significant rest. And the efficiency of the four folks who had been with me from the start of the race insured that I kept moving seamlessly. Finally, the excitement of having one of the crew member's husband drive my partner out on the race course in a surprise greeting just after having passed 100 miles kept me going through the most desolate part of the course.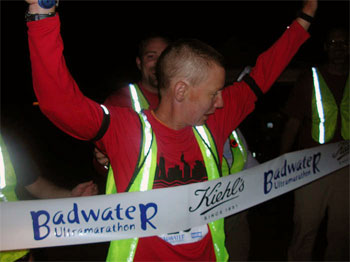 But I had really done the race on my own, up to this point. I had predicted exactly my arrival times into each of the time check points with amazing accuracy. I was able to eat and drink hardily throughout the race. The scientists who collected my blood and urine throughout the event were amazed at the normalcy of the results. I remember being happy and chipper throughout most of the miles (check details with the crew on this one!). I had executed my own race plan and done it well, until I had drained myself dry.
The plan was presented: perhaps you should try; perhaps you should go on.
And I did. That's why you pick a crew. That's why you trust them. I ate four orange flavored Gu's. I drank a double-shot expresso. I walked to the stoplight and turned left up the Whitney Portal Road. I ate six more Gu, several Hammer Gels, three Red Bulls, one Amp, another double-shot expresso, several hard candies and a few Succeed e-caps over those torturous miles climbing up Mt Whitney. I put one foot in front of the other, chanting a sing-song left-right-left-right as I stumbled beside the Quiet One. I fantasized about just sitting down in the road and staying there until I felt better. The Crew met me every half mile and prodded me along.
Perhaps you should go on. Perhaps you should try.
Perhaps you should trust your crew.
Check out the results. I finished. Tonight I'm going country-line dancing. I think I'll wear my newest belt buckle.