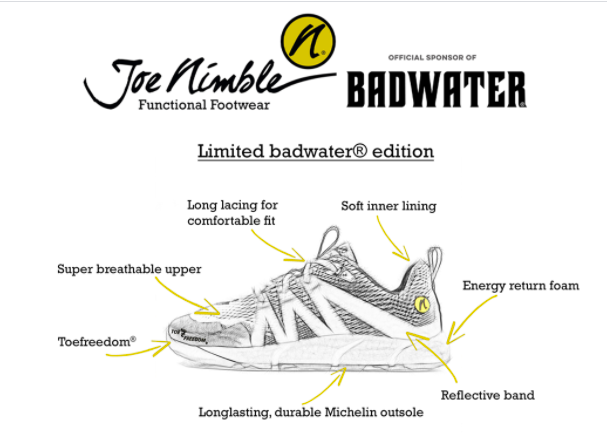 PRESS RELEASE – FOR IMMEDIATE RELEASE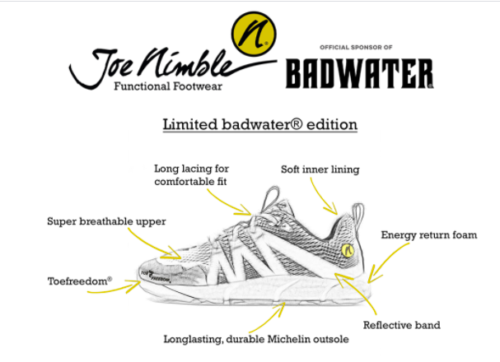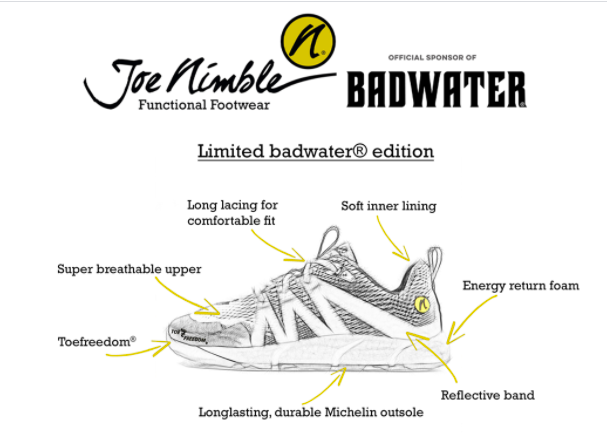 Oak Park, CA: AdventureCORPS®, the organization behind the legendary Badwater® brand and world-wide series of Badwater races, is pleased to announce Joe Nimble® as the Official Shoe of Badwater® for 2021. Joe Nimble® is the German shoe pioneer that has been championing the cause of toefreedom® since 1982 and has a long history with Badwater and ultramarathon events.
Joe Nimble® is the pioneer in the field of Functional Footwear with the mission to enable runners to run pain-free with toefreedom®. This family-owned Germany shoe company brought the foot-shaped, zero-heel elevation footwear concept known as toefreedom® to the world marketplace forty years ago. Since 2004, multiple athletes wearing their shoes have competed many times in the invitational Badwater 135, widely recognized as the world's toughest foot race because of its epic 135-mile (217km) route from Death Valley to Mt. Whitney, CA in the heat of summer. While other competitors were forced to change into increasingly larger pairs of shoes during the race, or even resort to cutting out the toe box to account for the swelling of their feet, those in the Joe Nimble shoes have completed the race in just one pair from start to finish. 
Joe Nimble® CEO Sebastian Bär was a member of Badwater 135 runner support teams in 2004 and 2007 and witnessed the debilitating effect of 135 miles (217km) of running in the world's hottest place. "The Badwater 135 is legendary and I am amazed at the human achievement, every single time. The two times I was crewing at the race, I realized there are no tougher test conditions for material in the whole world. With our toefreedom philosophy we can bring a unique benefit to the runners and help them run more pain-free!" 
These insights led to Bär and his team developing road-specific ultra running shoes in 2008 and now a special Badwater-inspired Joe Nimble shoe being specially developed and offered to every 2021 Badwater 135 competitor. These limited Badwater® Edition Joe Nimble® shoes feature the toefreedom® shape combined with the latest technology such as Michelin's long-lasting and durable outsole, energy return foam, super breathable upper, and soft inner lining, plus light colors to reflect the desert sun and reflectivity to increase visibility at night. 
Chris Kostman, the chief adventure officer at AdventureCORPS and race director of the Badwater events, added "I have been a huge fan and proponent of Joe Nimble's foot-shaped shoes ever since wearing my first pair in 2008. And now we are super excited to work with Sebastian Bär and his Joe Nimble performance team to develop a Badwater-specific shoe and to offer every Badwater 135 runner the opportunity to run in the most comfortable, long-lasting, and performance-driven shoes on the planet! This will benefit not just our athletes, but every runner who embraces and realizes the benefits of toefreedom!"
Runners and race fans can follow the July 19-21, 2021 Badwater 135 – and all the Badwater races – at Badwater.com and can learn about Joe Nimble shoes at joe-nimble.com/int/.
ABOUT JOE NIMBLE:
Joe Nimble® is the creator of the Functional Footwear design concept based on the philosophy of toefreedom® which CEO Sebastian Bär's father developed 40 years ago. Together with world renowned bio-mechanist Lee Saxby and other industry experts, Sebastian has taken these four decades of family shoe-making know-how and created a shoe concept that helps runners to run pain-free.
Learn about Joe Nimble, the German shoe pioneer with the mission to enable runners to run pain-free with toefreedom® at joe-nimble.com/int/.
Joe Nimble® is a registered trademark owned by Bär GmbH.
ABOUT BADWATER 135:
Covering 135 miles (217km) non-stop from Death Valley to Mt. Whitney, CA, the Badwater® 135 is the most demanding and extreme running race offered anywhere on the planet. The start line is at Badwater Basin, Death Valley, which marks the lowest elevation in North America at 280' (85m) below sea level. The race finishes at Whitney Portal at 8,300' (2530m), which is the trailhead to the Mt. Whitney summit, the highest point in the contiguous United States. The Badwater 135 course covers three mountain ranges for a total of 14,600' (4450m) of cumulative vertical ascent and 6,100' (1859m) of cumulative descent. The 43rd edition is scheduled to take place Monday-Wednesday, July 19-21, 2021. More info at Badwater.com 
ABOUT ADVENTURECORPS, INC.:
Founded in 1984 by Chris Kostman, Oak Park, CA-based AdventureCORPS® owns and represents BADWATER®, "The World's Toughest Brand, Gear, and Races." BADWATER represents digging deep and going farther; it is the lifestyle brand for all who push their limits while exploring the outer and inner universes. AdventureCORPS' world-class events for athlete-adventurers include epic races such as the Badwater® 135, BADWATER® Salton Sea, and BADWATER® Cape Fear, Artsakh Ultra Stage Race, and other events. More into at AdventureCORPS.com
BADWATER® and AdventureCORPS® are registered trademarks owned by AdventureCORPS, Inc. 
##