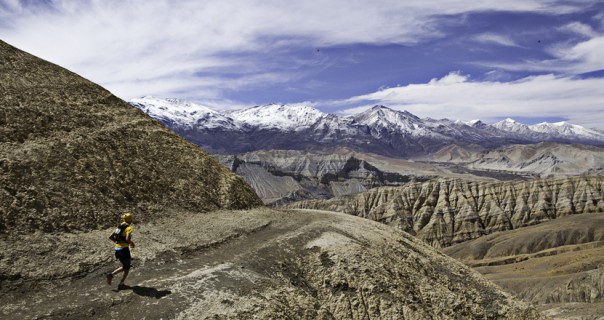 In 2015, Badwater is going to a region of Nepal that even the Nepalese consider remote: The Kingdom of Mustang! It's a dramatic, gorgeous, and exotic locale unlike anywhere else you've ever been, let alone run. To host this race and insure that the entire trip goes off fabulously, we have partnered with Richard Bull, organizer of Trail Running Nepal and the race director of the Mustang Trail Race and other events. He's a British expat who has lived in Nepal for many years. His Mustang Trail Race is held annually in April, but in 2015 he is hosting a special "Badwater Presents" edition of that event in October, just for us.
Though the race course will be challenging, on rugged terrain at high altitudes, we believe it is the cultural experience that we will remember most, along with the camaraderie with fellow Badwater runners from around the globe. We are particularly pleased to mention that your Badwater race director, Chris Kostman, will be competing alongside everyone, as will his brother Keith Kostman, who has worked on the Badwater 135 webcast for more than ten years. It is now time for us to get "out there" and run with you!
The whole itinerary for the trip – from October 17 to 29 – is here and you can read much more about the event (also held annually in April) here.
Runner Tracking
You can track each runner's movements via GPS with the Trackleaders.com service in the map embedded below. We have  "Stage Zero" hike on the 19th and then the actual race days will be October 20-22 and 24-28, so those are the days you should "see" movement below. All the data will also be archived and can be "replayed" after the race.
NOTE: Keep in mind that this service is provided for fun and for informational purposes. Accuracy, – and functionality, for that matter – is not guaranteed. Satellite coverage in the Mustang region of Nepal is not as comprehensive as in Europe and the USA, so the "ping rate" will not be as frequent. Also, it's possible that a unit could have its battery die, it could be turned off, or it could be carried / mounted improperly and thus not have its antenna pointed towards the sky. So, if some particular runner is "not moving" or just not appearing, it's almost certainly just a technical glitch. DO NOT CONTACT US OR TRACKLEADERS with any complaints or queries. We will be OFF THE GRID and NOT checking email. Thanks for tuning in, though, and for your support!
NOTE: How could our adventure in Nepal possibly have gotten any better? Well, running legend Lizzy Hawker (UTMB 5x champ, 100km world champ, 24-hour world record holder, and a Cambridge Ph.D) has just joined the race field! She will lead out the field each morning and do the course markings. Her Delorme unit will be embedded with our units, so you will be able to track her, too, via the map below.
Badwater Presents Mustang Trail Race Roster:
| | | | | | | | |
| --- | --- | --- | --- | --- | --- | --- | --- |
| First | Last | Gender | Age | City | State | Country | Nationality |
| Fabien | Billaud | Male | 35 | Singapore | | Singapore | France |
| Arvid Olav | Bratlie | Male | 54 | Løten | Hedemark | Norway | Norway |
| Richard | Bull | Male | 43 | Kathmandu | | Nepal | United Kingdom |
| Jared | Fetterolf | Male | 26 | Austin | TX | United States | United States |
| Gerald | Godoy | Male | 48 | Humble | TX | United States | United States |
| Matt | Ingram | Male | 52 | Sydney | NSW | Australia | Australia |
| Karla | Kent | Female | 52 | Las Vegas | NV | United States | |
| Christopher | Kostman | Male | 48 | Oak Park | CA | United States | United States |
| Keith | Kostman | Male | 52 | Minneapolis | MN | United States | United States |
| Rebecca | Le Baron | Female | 31 | Boca Raton | FL | United States | United States |
| Thomas | Quirk | Male | 39 | Zurich | | United States | Switzerland |
| Jacob | Reinbolt | Male | 56 | San Diego | CA | United States | United States |
| Russ | Reinbolt | Male | 50 | La Jolla | CA | United States | United States |
| Norunn | Solli | Female | 46 | Furnes | | Norway | Norway |
| Megan | Steinebach | Female | 38 | Delray Beach | FL | United States | United States |
| Josette | Valloton | Female | 51 | Wallis | Arolla | Switzerland | Switzerland |