Hello 2015 Badwater 135 runners!
This is the first of MANY updates you will receive from us over the next eight weeks. It is CRITICAL that you read each email carefully AND forward each email to your crew chief and crew members.
NOT RACING? TELL US NOW!
If you will not be able to race in July, please let us know ASAP via email and also remember to cancel your hotel reservations.
CREW INFO
If you have not sent it yet, we need the name and email address for your Crew Chief, and the email addresses for each of your crew members. Please email us immediately with that information and put BADWATER CREW INFO in the subject header.
FACEBOOK
We also encourage you and your support crew members to join, and become active in, the Badwater Runners, Pacers & Crew group on Facebook:
https://www.facebook.com/groups/BW135P.C.P/
As well as the official FB page for Badwater:
http://www.facebook.com/badwater135
RACE ROSTER WITH BIBS AND STARTING WAVES
The race roster includes each runner's bib number and starting wave, and much other information. Please study it carefully and contact us with any corrections:
http://dbase.adventurecorps.com/roster.php?bw_eid=74&bw=Go
VEHICLE SIGNAGE (race rules slightly updated today)
All support vehicles must have their racer's bib number easily and clearly visible on both sides, the front, and the left rear in digits that are at least 8″ (20cm) tall. The background for the runner number signs must be white and the lettering must be black, red, or blue. NEW FOR THIS YEAR: STICKY racer numbers will be provided to ALL entrants at no charge during Racer Check-In. These racer numbers must be displayed on the support vehicle.
Display of the racer's name is optional, but must be at least 6″ (15cm) tall if displayed, with a white background and black, blue, or red letters. Each race entrant may choose to also create or pay for vehicle identification signs. Our suggestion is to order standardized, professionally made signs for this purpose from the specific Los Angeles-based sign shop which which the race is affiliated. For those who order the signs from the specified LA sign shop, we will pick up all ordered signs immediately prior to the race, bring them to Furnace Creek, and deliver them at Racer Check-In. Here is the order form for custom signs and below is an example of what they look like: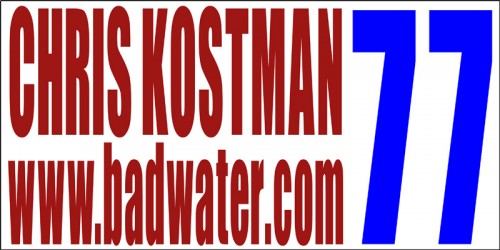 Stay tuned for many more updates from us, including the new rules governing what crew members must wear while on the race course (as per new rules from Death Valley National Park.)